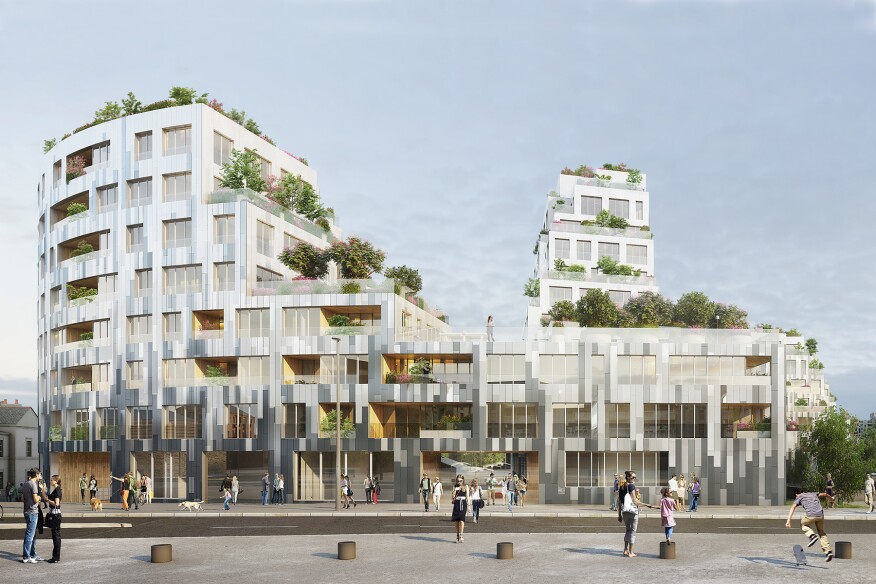 The mayor of the French city of Rennes, Nathalie Appéré, announced today that a team of MVRDV, ALL, and Giboire has won a competition for a new mixed-use development called Ilot de l'Octroi to be located on the city's waterfront edge. The Ilot de l'Octroi project will include 135 dwellings—one-third of which will be social housing, and the rest will be privately owned—within an 8,200-square-meter (88,264-square-foot) complex.
"The project is intentionally very open: [It is] open to the Vilaine, open to the city and open towards nature," Nathalie de Vries, co-founder of MVRDV, said in a release from the firm. "As part of the expansion of Rennes, we designed a dense urban area that offers more public access to nature, private greens and fantastic views. Densification only works when it comes with added qualities, and that is our ambition for these inhabitants."
Each dwelling will include outdoor space, in forms that include balconies, loggias, and terraces, arranged in stepped formation such that the structures taper as they rise. A public garden and plaza at the foot of the complex will connect to riverside pathways. Construction on Ilot de l'Octroi is set to begin in 2018, with an anticipated completion in 2020.
See more images and information about Ilot de l'Octroi in ARCHITECT's Project Gallery.