On the final day of the Venice Biennale preview—and into the next afternoon, as the crowds began to thin (if only slightly) and the last of the national pavilions officially opened their doors (some of them, the U.K. in particular, after minor delays)—visitors finally took in the full scope of the 2023 show.
In the Giardini, the political tension that flowed through so much of Lesley Lokko's central exhibition continued unabated. The Swiss delegation turned their show, Neighbors, into an elegant internationalist manifesto, breaking down the eastern wall of their pavilion to effectively connect it to the Venezuelan Pavilion next door; the Venezuelans were back in Venice after a years-long absence due to the country's ongoing social and economic turmoil, and responded with a curatorial shrug, mounting a rather tame presentation on a recent pet project of President Nicolás Maduro. Immediately next door to them, the Russian Pavilion remained shuttered, as it has since Maduro's strategic partners in the Kremlin began their war in Ukraine last year. All in, it was a lot of drama packed into 40 yards of Venetian gravel and grass.
Amid so much excitement, the Biennale jury's decision to give Golden Lion honors to the Brazilian delegation's sensitive-but-not-exactly-revelatory exposé of 20th-century outrages against the country's native population seemed, if not misguided, at least slightly anticlimactic. Still, the waning hours of the opening week still had a few surprises in store. Besides a dazzling Friday night celebration for the Uzbek Pavilion at the Chiesa dell'Abbazia della Misericordia, featuring performers in national costume playing traditional lutes and frame drums, a Saturday afternoon panel conversation at the Arsenale auditorium gathered some of the biggest names at this year's Biennale. Led by Lokko, the group—American landscape architect Walter Hood; London-based eminence David Adjaye, Hon. FAIA; MASS Design Group's Christian Benimana; Felecia Davis of the University of Pennsylvania; Ivorian designer Issa Diabaté; and Niger's Mariam Issoufou Kamara—reflected on their participation in the show, and on its unprecedented focus on architects from Africa and the African global diaspora.
"There's a radicality in gathering," Adjaye said, while lamenting that "if we were in Africa right now, an event like this would have dancers everywhere." As if on cue, a particularly agile stray cat burst into the Piccolo Teatro, balletically evading apprehension by security guards. Though eventually captured, the cat represented perhaps the real Golden Lion—another intrusion of reality into a Biennale that felt, more so than ever, determined to open itself up to the world.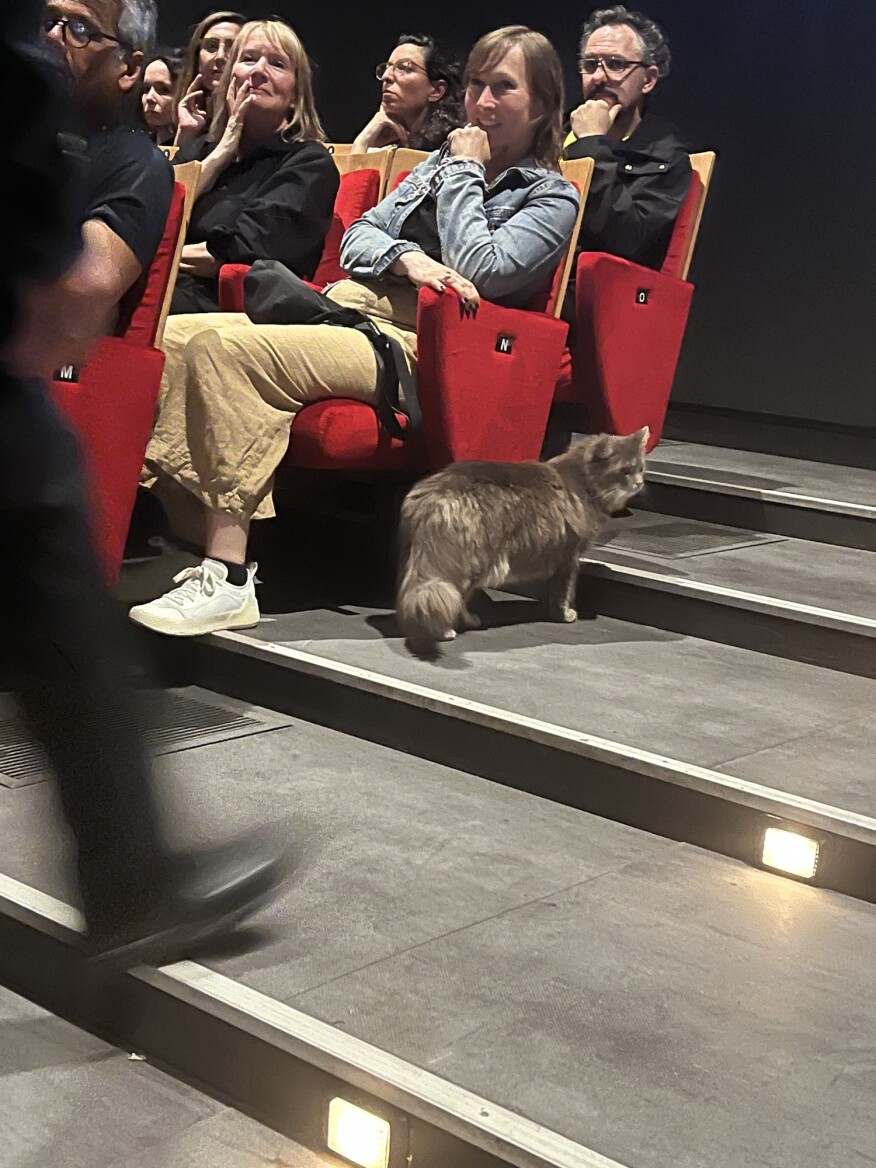 Wanting to see the national pavilions at this year's Biennale? Read more of ARCHITECT's coverage from Venice.
This post has been updated.