Architecture has lost one of its towering figures: Claude Parent, the charismatic, inventive, and subversive postwar French architect who spent most of his long career challenging the hegemony of the right angle by championing the oblique. On Saturday he suffered heart failure after he was rushed to a Paris hospital in an ambulance to be fitted with a pacemaker. He died one day after celebrating his 93rd birthday.
Parent had suffered a mild stroke not long before, but he had recovered in time to attend the January opening of what proved to be his last exhibition, "Jean Nouvel/Claude Parent: Musées à Venir," which also featured his protégé, Nouvel, who had worked for the architect in the late '60s and early '70s.
Born in 1923, Parent was enrolled in the École des Beaux Art after the war. At the time it was easy for a young, progressive architecture student to reject the sclerotic Academy, but it was harder to move out from under the long shadow of Le Corbusier, by far the dominant architectural figure in France. An instinctive radical even if from a bourgeois family, Parent sought a form of modernism outside the strict rationalist, functionalist orthodoxy that Corb represented: for Parent, architecture was not "une machine à habiter."
Parent was lucky enough to find a third way when, after sending off a confrontational letter to André Bloc, the editor of "Architecture d'Aujourd'hui," objecting to an article that had appeared in the publication, he found himself invited into Bloc's fold of artists and architects. Their mission was the integration of the arts into architecture via their common subject: space. Painting and sculpture could dislocate architecture from its traditional, limiting discourse, hybridizing the field and opening its closed system with different logics, especially those learned from the plastic arts.
Bloc introduced Parent to an evolving stable of artists with whom the architect collaborated, often by sketching their ideas: he was a master draftsman who could also translate complex visions into accessible visual anecdotes, including cartoons. Through the painters and sculptors such as Jean Tinguely, Roberto Matta, and Yves Klein, Parent re-educated himself, forging another path (much as Frank Gehry, FAIA, would later do through his association with Los Angeles and New York artists).
Through these collaborations, Parent tapped into near and distant avant-garde traditions outside the mainstream, including Constructivism, de Stijl, and Futurism, and came to pursue rupture, open form, dynamic instability, eccentric geometry, and forms of architectural irrationality outside the control of the grid and gridded architectural thought.
A natural subversive, Parent's instinctive taste for the wilder shores of architecture were confirmed by his long collaboration with Klein, the artist who, in a doctored photograph, famously performed a swan dive off a wall onto a Parisian street while impeccably dressed in a suit. Klein also painted canvases by scorching them with a blow torch in lab-controlled conditions. Together they hypothesized an architecture built out of pure air, with air curtain walls, forced air roofs, and beds buoying people asleep on pulsing jets of air: Parent drew it up. The vision, preposterous though it seemed in the late '60s, is a basis for the glassy wisps of Minimalist buildings in which SANAA now specializes, which are hardly more than architectural fumes—the mechanics supporting it all in the basements.
But Parent hit stride and full architectural maturity when he met and started collaborating with the cultural theorist Paul Virilio in what was one of the very first partnerships of its kind. Virilio, a glass artist and student of phenomenology who had no training in architecture, had documented concrete bunkers built by the Germans during World War II, some of which had lapsed on their coastal embankments by the 1950s. He introduced Parent to the strange feeling of vertigo inside bunkers that were so spatially convulsed that they lost their x,y,z Cartesian coordination. You couldn't tell which way was up.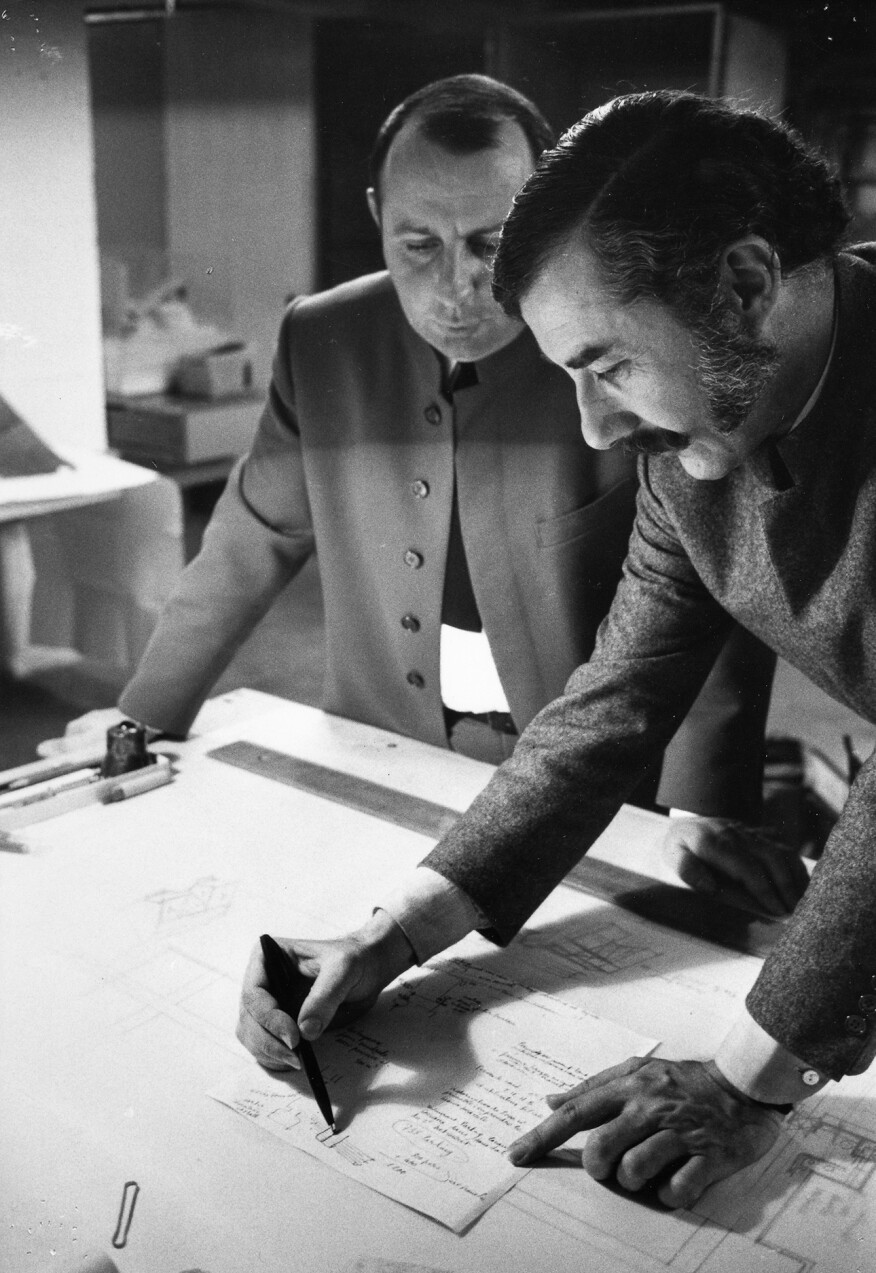 Parent was thrilled. Through his exposure to Theo van Doesburg's tilted geometries, he was already predisposed to the oblique: in 1963, he had tilted the cubic living room of the Drusch Villa in Versailles precariously on its edge. With Virilio, he theorized the concept in what they termed "the Function of the Oblique," and in 1966 they issued a manifesto on it, "Architecture Principe" (also the name of their firm). It appeared in serial form the same year that Robert Venturi, FAIA, published "Complexity and Contradiction in Architecture" and Aldo Rossi released "The Architecture of the City." All three manifestos took aim at the functionalism of orthodox modernism, but with very different conclusions. "Architecture Principe" also critiqued Modernist rationalism for a reductivism that overlooked the human body in motion.
Parent and Virilio's published manifesto was precipitated by the success of their built manifesto, the Sainte Bernadette du Banlay Church in Nevers, France, consecrated in 1966. Adapting the form of bunkers using poured concrete cast with rounded corners, the partners designed a hexagonal plan that they split in two: they slid the halves apart, creating a fissure through the body of the building, to admit light and to break open the solid. Inside, they tilted the floors at different angles up from the middle, creating a landscape of slopes that congregants navigated to their pews and to the altar, made aware of their bodies by the pushing and pulling forces of gravity. Coffins slid off gurneys.
Neither Parent nor Virilio, who had studied phenomenology with Maurice Merleau-Ponty at the Sorbonne, was interested in the Modernist assumption of inscribing a design in an open spatial field, but rather in shaping space and form to affect the body moving in space: space was active not passive, provoking what the deputy director of the Pompidou Center's architecture department, Frédéric Migayrou, has called, "the cognition of the body in the environment." The slopes alerted the inner ear. The Nevers church was designated a national historic monument in 1980.
Virilio often diminished the accessibility of his abstract writings by making synaptic leaps, but the oblique that he and Parent were theorizing and building was basically the simple slope. As Parent once said, "We didn't invent the ramp; we have proposed that it be occupied." They were essentially proposing an architecture of hillsides and landscapes, built versions of the natural topographies that have long been home to towns like Positano in Italy and cities like San Francisco, but in forms that encouraged fluidity and continuity.
The partnership broke up after five years, in 1968, as Virilio, who was sympathetic to the student rebellion in Paris that year, wanted to bring its politics into the office. Parent was more interested in building. They went their separate ways.
But Parent continued to pursue the oblique, even with commissions that would seem alien to his radical spatial experiments. He was hired to design several shopping centers, for the French concept of shopping recently imported from the United States. The most architecturally successful was the GEM Commercial Center in Sens, finished in 1970—a long, low concrete structure that surges from its sloping site like tectonic strata. He built a switchback circulation promenade into its façade, much like the escalators of the Pompidou Center.
Parent, who had a passion for cars and speed (he owned a succession of Maseratis, along with a couple of Rollses and Bentleys, some used), embraced what he considered the inevitable condition of modernity that shopping centers represented, and wanted to give them intelligently provocative rather than banal form. Similarly, he accepted a position as the head of the Electricité de France's "architectural college," to design nuclear power stations—much to the displeasure of his friends, the intelligentsia of the Left Bank. He designed two nuclear centers himself, officiated over others, and wrote and illustrated a book exploring the logic and ways of integrating these huge factories of energy into the landscape.
In France's political hothouse, his successful career designing commercial centers and power plants eventually took its toll on his professional reputation. Parent practiced through what he called the "lows and highs" of the profession and finally closed his office in the early 2000s. His hand, however, never abandoned him, and with quiet ferocity, he drew hundreds of visions, most hypothesized on the oblique, expanding his architectural purview into cities and territories. Nouvel called him the "Piranesi of our time," and Parent continued to practice architecture graphically, sometimes in intimate architectural vignettes, sometimes in bold washes of India ink, sometimes in vast panoramas of cities and territories, laced with highways of ribbons stretching to infinity. Each sheet explored an idea. Most were drawn with figures or dots representing people or populations, to denote that the environments were occupied, producing a physical effect on bodies in motion.
As the volume of the work in Parent's office had declined, his reputation paradoxically rebounded. He was rediscovered in the 1990s, his fame growing to almost legendary proportions, at least among Gallic architects. Migayrou acquired his archives for an arts museum in Orléans, the FRAC Center, and then other works for the Pompidou Center, and staged exhibitions and symposia attended by architects such as Greg Lynn, Ben van Berkel, William MacDonald, Sulan Kolatan, Hani Rashid, Lise Anne Couture, Brendan Macfarlane, and Dominique Jakob. The young generation was exposed to the spatial fluidity of the topographies that he proposed, built, and drew. His work anticipated their own digital on-screen explorations, which were leading them to similar conclusions. They built on his work.
In 2009, Migayrou re-introduced Parent to the wider public, inaugurating the major new Parisian museum Cité de l'Architecture et du Patrimoine with a career retrospective of his built and drawn work, "Claude Parent: L'Oeuvre Construite, L'Oeuvre Graphique."
Perhaps the great irony of Parent's long career came with his induction in 2005 into the École des Beaux Arts as an honored Academician. Though he had rejected the Academy as a student, never quite completing its courses, Parent accepted the invitation to join. Bemused, this architect of modernity would take off his favorite Issey Miyake jacket, put on the embroidered coat and hat of Academicians, and head off to Academy meetings armed with his ceremonial sword.