A new design for Peninsula Place, a mixed-use center in east London's upcoming cultural district Greenwich Peninsula, was proposed today by international architect and engineer Santiago Calatrava, FAIA. As his first major project in the United Kingdom, Calatrava intends to transform the peninsula's central neighborhood into a unique cultural destination.
The 1.4 million-square-foot structure includes a transportation hub on the ground that would contain a glass-encased winter garden, performance venues, restaurants, and retail shops, while three towers rise above and house workspaces, apartments, and hotels. The building will also feature a new land bridge connecting it to the Thames.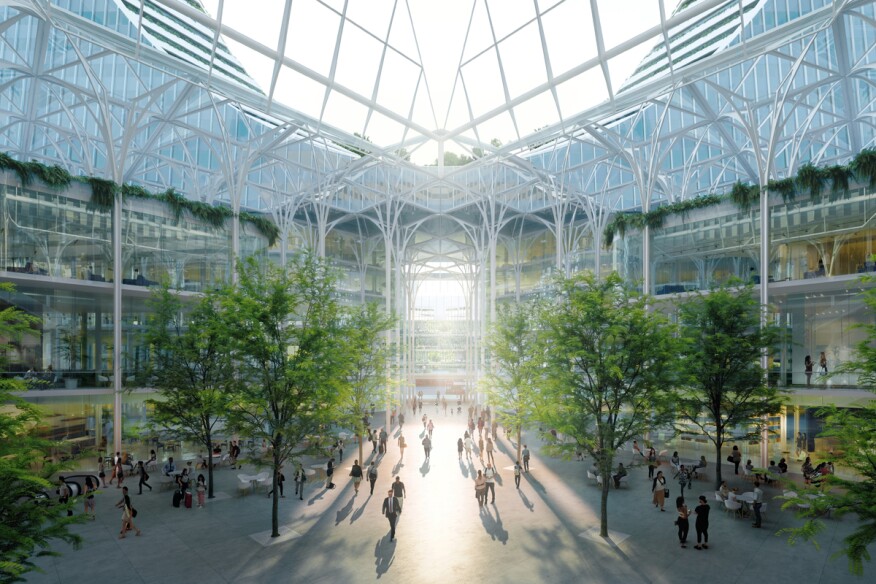 "It is an honour to be designing such a piece of the fabric of London, a city I love," Calatrava states in a press release. "In designing this scheme, I have been inspired by London's rich architectural heritage and the very special geography of the Peninsula."
Calatrava joins other architecture firms such as Allies and Morrison, Skidmore, Owings & Merrill, Marks Barfield Architects, DSDHA, Alison Brooks Architects and Duggan Morris Architects in developing the £8.4 billion ($10.5 billion) Greenwich Peninsula project. His structure is estimated to cost £1 billion ($1.3 billion) and hopes to set the stage for the intent of the district.
In a "In Conversation with … " at the Design Museum in London (Feb. 9 at 7 p.m.), Santiago Calatrava will talk about more details of the project and his work.