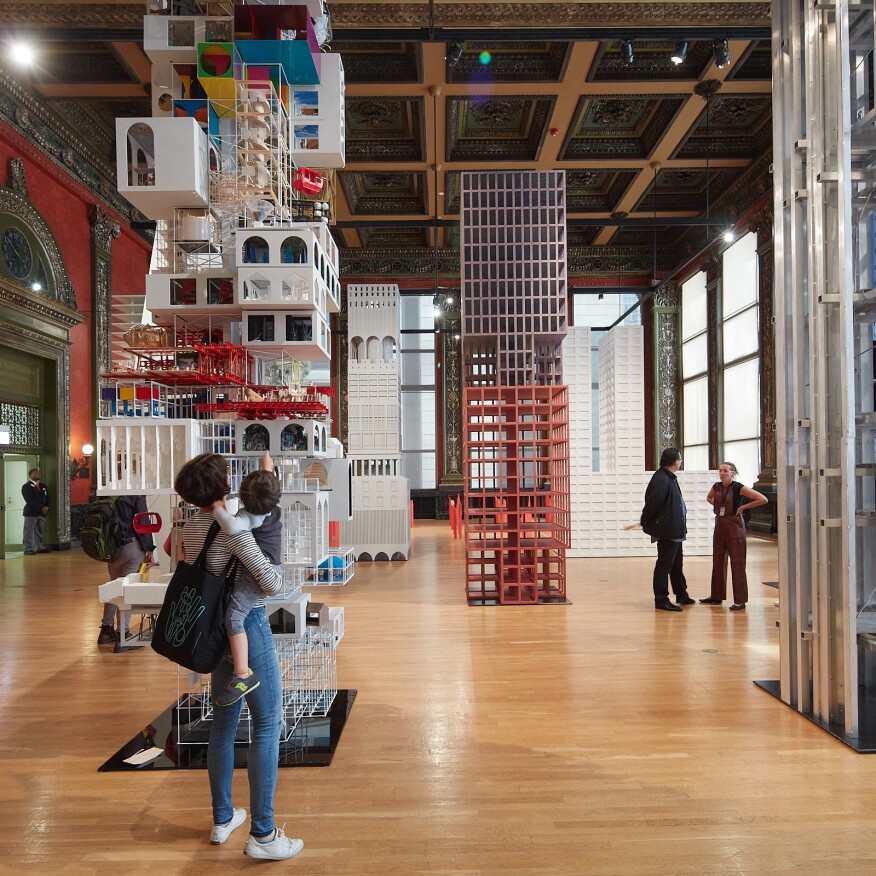 If you're heading to the Chicago Cultural Center for the opening of the 2017 Chicago Architecture Biennial this weekend, plan to spend a fair amount of time. There's a lot to see throughout the sprawling building's three floors of galleries.
Artistic directors Sharon Johnston, FAIA, and Mark Lee (of the Los Angeles-based firm Johnston Marklee) asked 141 architects to "make new history." Johnston and Lee based the theme on an artist book by Ed Ruscha that consists entirely of blank pages, so it was intended to be pretty open ended. And the participants, from more than 20 countries, have willingly complied. Installations are clustered around four sub-themes— building histories, image histories, material histories, and civic histories.
"Vertical City" is the Biennial's signature exhibit, located in the Cultural Center's dramatic double-height Sidney R. Yates Hall. In addition to a reproduction of Adolf Loos' famous 1922 design featuring the world's tallest Doric column, the new "skyscrapers" are a contemporary take on the original Chicago Tribune Tower competition, an aesthetic exercise that was previously done in 1980 at the height of the postmodern movement. While the tall installations—including notable contributions by Kéré Architecture and Tatiana Bilbao Estudio—will grab your attention at first, be sure to see the lower scaled entries at either end of the room, too.
Iñigo Manglano-Ovalle creates his own miniature cityscape at the east end, with a miniature asteroid and a full-scale Brancusi replica inserted into a grid composed of beehive boxes. At the west end, Charles Waldheim (with the Harvard University Graduate School of Design's Office for Urbanization and Siena Scarff Design) presents Heliomorphic Chicago, which reimagines alternative designs for many notable Chicago landmarks. Each building (including Willis Tower, the State of Illinois Building, Lakepoint Tower, the Chicago Board of Trade, and Trump Tower, among others) is warped into two alternative forms, based on parameters of optimized solar and ecological performance.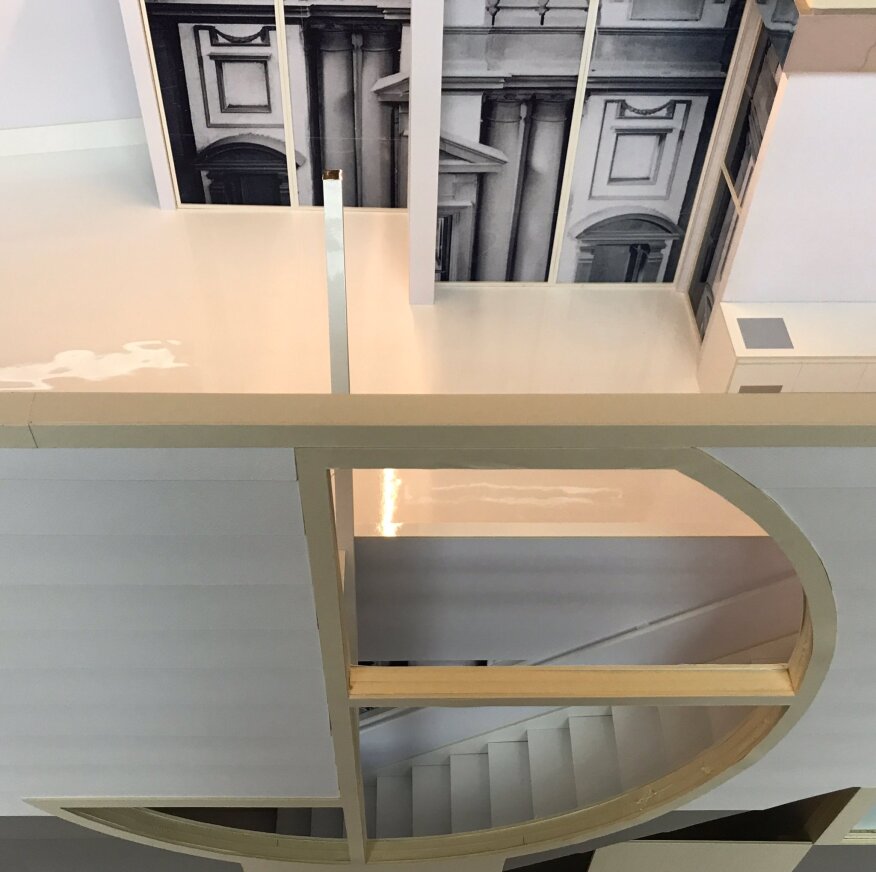 "Horizontal City" is the flip side of "Vertical City," located in the second-floor G.A.R. Hall. Its exhibits are mounted on low-lying plinths that represent Mies van der Rohe's original master plan for the Illinois Institute of Technology's South Side campus. One compelling entry is Lütjens Padmanabhan Architekten's A Day at the Beach, which reimagines the interiors of Robert Venturi, FAIA's iconic Lieb House, collaging imagery of Renaissance precedents—including Michelangelo's Laurentian Library—into the quirky house's interiors. It's one of just a few projects to include explicit architectural references to any architectural history predating the 20th century.
As with the 2015 edition, the 2017 Biennial does its best to upgrade even the smallest nooks and crannies in the Chicago Cultural Center's classically inspired 1897 building. "Don't just do cool things," Chicago cultural affairs and special events commissioner Mark Kelly told the participants. "Do cool things that will stay with us." One example is An Te Liu's Pattern Language, Levittown (Red) which warps suburban sprawl plans into richly ornamental wallpaper at the ends of select corridors.
Among the many associated off-site events is a worthwhile pop up exhibit by Skidmore Owings & Merrill (SOM), entitled "SOM: Engineering x [Art + Architecture]." It's mounted in Chicago's West Loop at 345 North Morgan Street, adjacent to the Ace Hotel Chicago. Its three sections include an extended look at the firm's renowned structural engineering research, examples of collaborations with artists, and—most dramatically—a line of three dozen 1:500 models showing built and unbuilt projects.
Check the @architectmag Twitter feed throughout the weekend for more of Keegan's highlights from the Chicago Cultural Center.