The last time an architect dared plant an icon in a New York plaza that was intended to become a symbol of the city was in 1984, when Robert Venturi, FAIA, John Rauch, FAIA, and Denise Scott Brown, Hon. FAIA, proposed a monumental Big Apple (get it?) for the Times Square development designed by Philip Johnson and John Burgee. Both concepts fell flat; they were never built. Yesterday, however, London architect Thomas Heatherwick instead proposed a pineapple (sort of) for the Big Apple, to be located at the center of Hudson Yards, the vast mixed-use complex being erected over the rail yards just west of Pennsylvania Station.
It's a topless pineapple, or maybe half a beehive, with a labyrinthine optical illusion of cascading steps at its core, a dead ringer for a mystifying M.C. Escher conundrum of impossible stairs, suitable for climbing, from nowhere to the sky.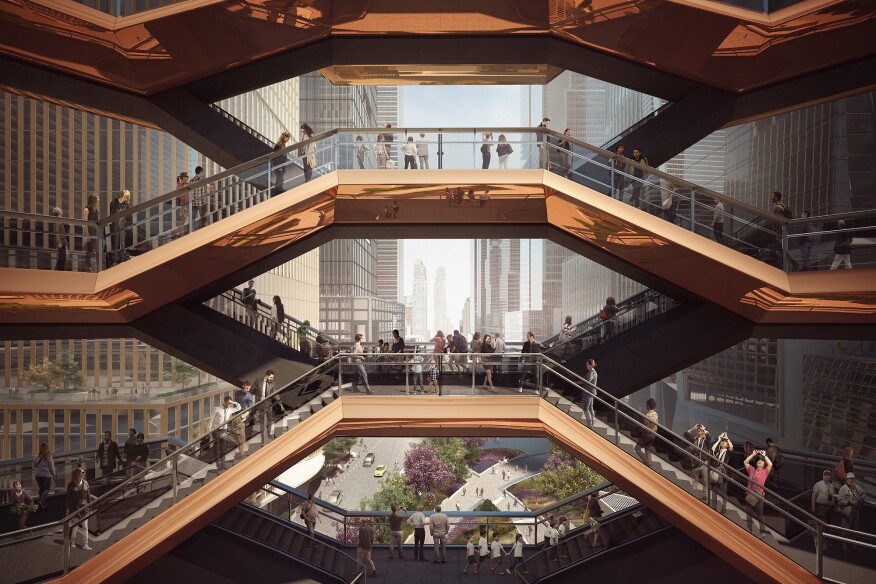 Its architect calls it "the Vessel," noting that a better name might come along. Regardless of the eventual moniker, the 15-story, $150 million project, which also looks from the outside like a human pyramid of gymnasts that cantilevers wider toward the top (one grasps for metaphors here), will be erected in two years as the centerpiece of a large, landscaped esplanade framed by a double phalanx of office and residential towers leading from 10th Avenue to the Hudson River. Like the centerpiece of Rockefeller Center, a skating rink, the Vessel is an activity zone, which joggers and walkers, New Yorkers and visitors alike, will climb, like Everest, "because it's there."
It centers the plaza in an old-fashioned way, like Marcus Aurelius on his horse on the Campidoglio in Rome, set in a ground with spinning ellipses, except that the vessel is a newfangled participatory environment. It's all frame and steps, like—permit one last comparison, please—a Statue of Liberty but without the drapery.
Le tout New York came out for the celebration on a brilliant late-summer morning, to find Anderson Cooper at the mic introducing and then moderating a discussion between the developer, Stephen Ross of the Related Companies, Heatherwick, and the landscape architect, Thomas Woltz of the Charlotte and New York firm Nelson Byrd Woltz, which developed the grounds. Glitterati included the ubiquitous Diane von Furstenberg, and city dignitaries, including about-to-retire Police Commissioner Bill Bratton, and Mayor Bill de Blasio, who invoked his own Italian roots when speaking about piazzas.
It was a morning of suits, except for Heatherwick, 46, every inch the creative in vest, baggy pants, and hair he forgot to comb. The architect explained that as a student in London, he had appropriated and kept a discarded wooden staircase, fascinated by its "unearthed beauty," and when he visited New York for the commission, he was impressed by the city's exposed fire stairs. He also discovered a town of amazons and gents who come and go to work in sneakers and suits doing their "fitness thing." His wooden stairs, Manhattan's fire stairs, and trim New Yorkers somehow provoked him to think about Indian stepwells with multitudinous staircases leading to sacred waters at the bottom of ancient, deep, below-grade stone constructions.
Blenderizing it all, Heatherwick came up with the idea of an undulating bronzed-steel and concrete frame with proliferating staircases (154 in total) with stairs (2,500 of them) rising up from the ground to stacked viewing terraces (80 in all). Besides being a lesson in counting, the structure forms a centerpiece not only for the plaza (Steve, meet me inside the Pineapple), but also a focal point for the neighboring High Line, another peripatetic monument that offers unusual and refreshing perspectives on the surrounding city.
The event was closed by a troupe of young Alvin Ailey dancers who used the choreography of everyday New York life—walking down stoops, climbing up subways stairs—to structure a chaotic, angular urban dance that wound its way up a full-size mock-up of two tiers, illustrating how the Vessel will come to life as the armature of New York's spontaneous urban dance.
Construction on the stairway is already underway in Monfalcone, Italy, famous for its shipyards, and the parts will be sent to New York for an anticipated opening in 2018.
Beguiling, true, but is the project the "plop art" that Heatherwick himself wanted to avoid? Does its unquestionable bulk dominate and kill the surrounding urban space even as it opens up its own bowl of infinity inside? Will it be a novelty that wears thin or eventually endures? Let the controversies begin.