A grand staircase was the pièce de résistance in many historic buildings, from Michelangelo's sensual take within the Laurentian Library in Florence, Italy, to San Francisco's City Hall, a backdrop for thousands of weddings. "There was a time when the staircase was a sculptural event as you entered and exited a building," says David Burney, FAIA, former commissioner of the New York City Department of Design and Construction and now a visiting associate professor at the Pratt Institute. "The design of the stair was where you could flex your muscles as an architect."
Then came elevators and building codes. While elevators allowed structures to reach new heights, they, along with the desire for more open and adaptable floor plans, pushed stairs to building perimeters and cores as largely an emergency means of egress.
Safety and Well-Being
The past decade has seen an emphasis on architecture's ability to affect the well-being of occupants. Designers and clients have rediscovered the potential of feature stairs as a means not only to convey but also to address core values of an organization, such as the health of its workforce, its spirit of collaboration, and its policies of transparency. Picture Morphosis Architects' 41 Cooper Square, in New York, and Thomas Heatherwick's forthcoming climbing structure, Vessel, in New York's Hudson Yards, the latter of which shrugs off the need for an accompanying building.
Regardless, all stairs are subject to regulation. In general, occupant loads dictate the number of stairs and their widths required for egress. Codes, meanwhile, specify the fire-resistance ratings for stair enclosures, the allowable range of rise and run for steps, and parameters for handrails and guardrails. Architects should also reference guidelines from the Americans with Disabilities Act (ADA), which prescribes specifics related to the geometry of steps, handrails, slip-resistant flooring, and stair nosings for the visually impaired.
But codes simply set forth the minimum requirements for the safe egress of occupants. To draw people away from elevators and escalators, designers can create stairs that activate spaces and become Instagram-worthy features that build upon their client's brand.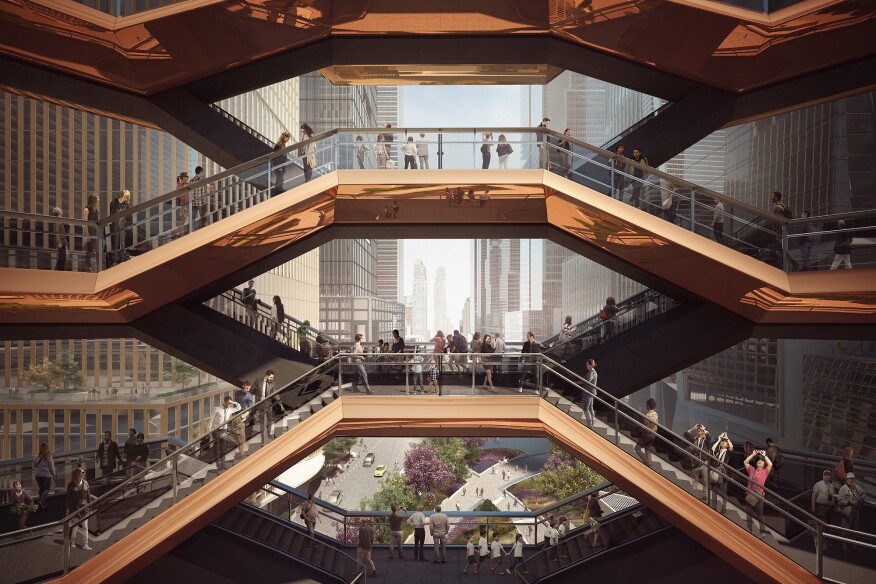 Health and Wellness
Stair designs that exceed code requirements might seem wasteful but they can lead to a slew of benefits, including improved employee health, lower company healthcare costs, and increased interaction among departments. When part of an overall well-designed space, stairs can also increase employee recruitment and retention.
Stairs that are at least 96 inches wide encourage people to linger and interact, and the deep, bleacher-style structures increasingly popular in educational and auditorium spaces can double as seating for large events. From a code perspective, the latter must be considered separately from stairs as they cannot be part of an egress system. Increased stair use should lead to a reduction in elevator use, and subsequently the potential for energy savings: Elevators and other conveying systems can account for up to 10 percent of a building's energy consumption.
Studies have shown that climbing stairs burns 50 percent more calories than walking; seven minutes of stair climbing each day can halve the risk of a heart attack over 10 years; and just two minutes of stair climbing each day is enough to counteract average, middle-age weight gain (approximately one pound per year). A 1998 Harvard University Alumni Health Study of 10,000 men revealed that those who climbed 20 to 34 floors of stairs per week (approximately three to five floors each day) experienced a 29 percent reduction in the occurrence of strokes.
Released in 2010, New York City's Active Design Guidelines is a pioneering resource for best practices that promote movement from urban to interior scales. The publication touts stair use as a way to combat the rise of chronic health conditions, such as obesity, heart disease, diabetes, and mental health issues.
"Our campaign was to bring back the staircase, and this was good news for architects," says Burney, who was instrumental to developing the guidelines. Though New York did not adopt the guidelines as part of its building code, it has required city-owned projects to implement active design strategies when feasible. Following New York's lead, several cities have adapted similar guidelines.
Beyond the U.S. Green Building Council's LEED certification, several new certification programs advocate for placing stairs prominently near building entrances and incorporating features that stimulate the senses, such as artwork, music, and daylight. These programs include Fitwel, for which the Center for Disease Control (CDC) is a research and evaluation partner (the CDC also offers many of its own suggestions to improve stair design), and the WELL Building Standard.
Above and Beyond with Design
Elevators and escalators are convenient, but stairs can be as enticing when they are thoughtfully located and articulated. "We're always looking for design elements that accomplish more than one thing," says David Goldberg, AIA, president and design partner at Mithun.
The Seattle-based firm researches stair use in a client's existing facilities to inform the design of the new space. For the Perot Family corporate headquarters, in Dallas, Mithun consolidated multiple businesses previously dispersed across several buildings and multiple floors into a single, three-story structure with a central stair as its focal point. Post-occupancy evaluations reveal that nearly 80 percent of staff are using the stairs in the new facility throughout the regular workday, whereas only approximately 60 percent were doing so in previous locations.
For tenants that lease multiple floors within mid- to high-rise buildings, an internal connecting stair punching through floors can enable interaction, but within reason—codes limit how many floors can be interconnected before they require smoke evacuation systems. "We want to try to open and connect as many floors as possible so people are cognizant of the floors above and below them," Goldberg says.
Open stairs can also double as a lightwell, illuminating spaces that might otherwise feel dark and dismal. Daylight significantly elevates the climbing experience, whether it comes from skylights or windows that frame views. For non-pressurized stairs, windows can admit fresh air to improve indoor air quality. In the absence of natural light due to location or time of day, the distribution of electric light should be even.
Final Treatments
If an open stair is not feasible, architects can enhance the fire stair by incorporating the same quality of materials and finishes as the adjacent spaces they serve. For example, when budgets allow, fire-rated glass enclosures increase visibility and can promote stair use.
Atriums are a common client request, but when these spaces connect three or more floors, requirements for expensive smoke evacuation systems kick in. For the four-story Harley and Lela Franco Maritime Center in Seattle, Mithun conceived a cost-saving solution: a horizontal smoke curtain made of fire-resistant fabric controlled by the building fire-alarm system that effectively divides the space into an upper and lower half.
While regulations can prescribe the base requirements to ensure health, safety, and welfare of building occupants, they cannot compel building owners and developers to invest in stairs that promote beyond the bare minimum. The good news is the onus no longer rests on building codes. "The biggest issues our clients are focused on now are health, establishing their unique culture, and encouraging chance interactions among team members," Goldberg says.
Burney echoes this. Speculative developers are hearing that people want healthy projects and buildings, he says. In turn, they ask architects, " 'How do we do that?' [And] they realized that the market was asking for it, and once it becomes market-driven, you don't need regulation as much."
Editor's note: The Mithun charts documenting stair usage pre- and post-occupancy have been updated since this article's first publication.