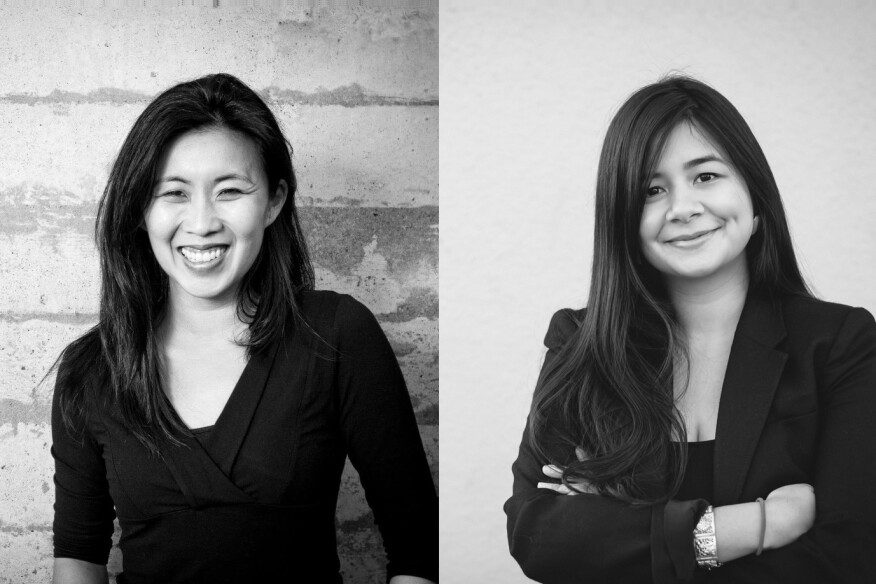 Firm name: Atelier Cho Thompson
Location: San Francisco and New Haven, Conn.
Year founded: 2014
Firm leadership: Christina Cho Yoo, AIA and Ming Thompson, AIA
Education: Cho Yoo: B.S. Civil Engineering, Stanford University, M.S., Design-Construction Integration Stanford University, M.Arch., Harvard Harvard Graduate School of Design (GSD); Thompson: B.A. Arch., Yale University, M.Arch., Harvard GSD
Experience: Cho Yoo: Arup, SHoP Architects, Mass Studies, Neri & Hu, Bohlin Cywinski Jackson (BCJ); Thompson: BCJ, Zephyr, Guggenheim Venice, Harvard Office of Physical Resources & Planning;
How founders met: We were buttmates in graduate school (Harvard GSD-speak for sharing a desk) .
Firm size: 6
Mission:
We are multidisciplinary design and concept firm engaged in the art of architecture, interiors, graphics, brand strategy, furniture, installations, and exhibitions. Our expertise and passions transcend the conventional boundaries between these disciplines, resulting in a richness borne of the cross-pollination of ideas and strategies from across this spectrum of design. This integrated design approach produces holistic environments in which all elements are deeply related to each other and to a central concept.
Memorable learning experience:
We worked on a community pavilion for the Market Street Prototyping Festival with a group of local residents and activists from 20+ organizations in a marginalized neighborhood of San Francisco. The challenge was how to build consensus among an incredible diversity of voices and come up with a design (in such a small space!) that addressed all their concerns in an aspirational way. We came in with an open mind and shaped the design based on the group's invaluable, in-the-trenches knowledge of the area's physical, social, and cultural landscape. The resulting pavilion provided a venue for voter registration, slam poetry, screenprinting, storytelling art, and dance performances.The experience taught us so much about listening and empathy—key skills for architects who want to work with multiheaded clients or communities.
First commission:
When we were working at BCJ in San Francisco, we won a small office competition to design the firm's Park(ing) Day installation. We saw a need for urban seating at street food events, so we designed a packable and portable kit of Tetris-like furniture pieces that could be used as tables, chairs, and stools.
Our process on that tiny project shaped our future collaborations: we identified a design problem, prototyped solutions, developed an approach that bridged space, furniture, and graphics, while keeping the human body and experience at the center of our work. In such a small intervention, we saw the power of design to catalyze new types of community interaction.
Favorite project:
We founded our firm with the goal of working between disciplines and with the belief that our work in architecture, interiors, and graphics could produce a richer holistic result. Our work with Goodwater Capital, a venture capital client, has been a long-term collaboration that has taken us from a logo to custom furniture to three office spaces. It's inspiring to work with entrepreneurs who are embarking on new businesses; Goodwater allows us to take calculated risks and push our capabilities in a way that every great client should.
Second favorite project:
We've been working with the San Francisco Unified School District's Future Dining Experience for the past two years on a project to transform student dining spaces. Growing out of guidelines developed by design consultancy IDEO in partnership with the District, we develop bespoke environmental design and furniture packages for schools throughout the city through close collaborations with students, teachers, and parents. Each cafeteria is distinct; we draw upon each school's mission, history, culture, and aspirations to create themes and spaces that embody the specific character of each institution and its community. It is truly a privilege to be able to go to work every day with an imperative to create better, more inspiring public spaces.
Architecture hero:
Cho Yoo: At Arup, I worked as a structural engineer for five years on Renzo Piano's California Academy of Sciences. I loved seeing Piano's napkin sketch transform into a world-class museum and the collaboration of hundreds of designers and consultants working towards creating a visually stunning, programmatically challenging, double LEED platinum museum in one of the most seismic regions of the world. Piano does an especially wonderful job of celebrating engineering systems rather than covering them up. Working on that project pushed me to make the career jump into architecture.Thompson: I discovered I wanted to be an architect in Louis Kahn's Yale Center for British Art. The balance between pure geometric forms—the circle inscribed in the square—and the warm, humane material palette—wood, linen, concrete, steel—has influenced me throughout my career.
Special item in your studio space:
An unruly tower of material samples.
Design tool of choice:
Cho Yoo: A pen and my partner Ming. Our most exciting design ideas come when we are sketching together in a notebook, and only then do we leap into the computer. Over the years, my appreciation for Ming as a design and business partner has grown exponentially. There have been countless times that I've been stuck in a design and the synergy of charretting together often leads us to a better solution than either of us could've come up with on our own.
Design aggravation:
When stair guardrail posts are perpendicular to the handrail rather than the tread.
When I'm not working in architecture, I:
Cho Yoo: I am cooking, gardening, hiking with my daughter, or scheming a new home improvement project with my husband. Thompson: I am illustrating children's books, reading, and creating new recipes at home.
Skills to master:
We frequently design furniture, and we'd both like to know more about details like wood joinery and metalwork.
Morning person or night owl?
Both! Now that we both have kids, we have to be both morning people and night owls to finish our work.
Social media platform of choice:
Instagram
Vice:
Cho Yoo: Metallics.
Thompson: Wild and ornate wallpapers.