Firm name: Firm Architecture and Design
Location: Brooklyn, N.Y.
Year founded: 2011
Firm leadership: James Khamsi
Education: B.Arch., Cornell University; M.Arch., Harvard Graduate School of Design
Experience: Before starting Firm, I worked at—the now dissolved—Foreign Office Architects (FOA) in London on projects ranging in scale from the London 2012 Olympics Materplan, to a 7-foot inflatable cube. I currently teach at the Columbia University Graduate School of Architecture, Planning and Preservation and the City College of New York.
Firm size: One to three
Mission:
Firm works at the intersection of architecture, urbanism, and art. My goal is to catalyze public spaces and public networks in cities through design. To that end, I've pursued a wide range of work beyond traditional architectural commissions which allow me to think differently about design's agency in the contemporary city.
I believe that design is a fundamentally inclusive and collaborative process. Creating vital places within the city isn't a task for compartmentalized specialists, it is best achieved by cross-disciplinary teams that understand how to combine the social and cultural in a larger ecology. We have an ongoing collaboration with artists Jennifer Marman and Daniel Borins.
Memorable learning experience:
The first lesson I learned from Farshid Moussavi—formerly of FOA and founder of Farshid Moussavi Architecture—was "in architecture, one must be opportunistic." This has inspired me to seek out interesting collaborators and non-standard design projects.
First commission:
C24 Gallery in New York.
Favorite project:
The SFC Bridge in Toronto is at once a piece of urban infrastructure and a work of public art. It came out of a multidisciplinary collaboration between artists, architects, and engineers, and it demonstrates how novel experiences can be brought to the more prosaic elements of the city. As a privately owned public space, it was an opportunity to test ideas I had been developing with in my research and academic work.
In practice, the project was exciting because it doesn't have any orthogonal lines—it bends in plan, it's sloped, and it's structured by trusses. Out of this geometry, we developed a language of wrapping on the exterior to allude to the role the bridge plays in binding its site's fragmented pedestrian realm. Thinking of movement, perception, and diagonal geometry led us to wrap its walls and ceiling in dazzle camouflage, which challenges the bridge's confines optically.
Since it opened in 2015, the space has developed a following on Instagram and I collect the photos people have been posting. We are particularly keen to see what catches peoples' eyes and how the environment invites behaviors beyond its intended use.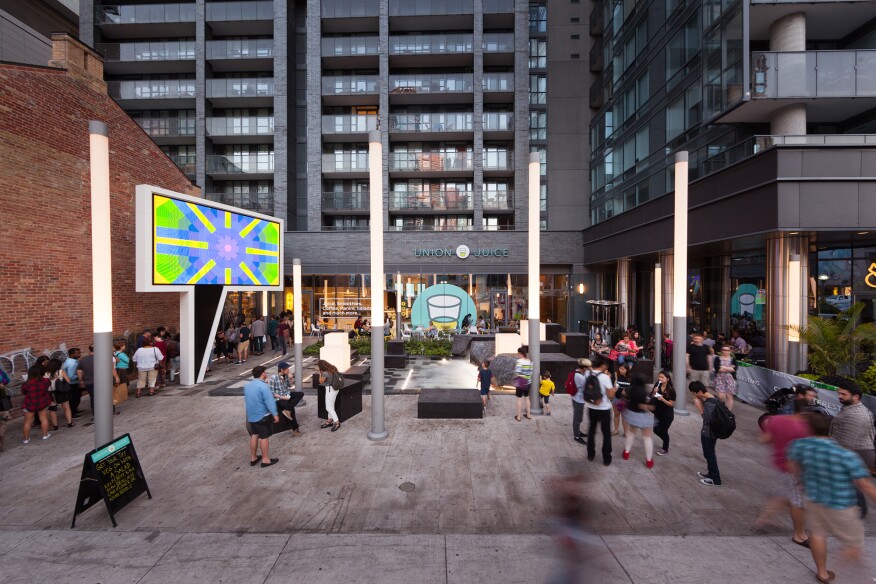 Second favorite project:
Since 2015, I have been the architect for Art Toronto, an annual art fair that takes place over four days. We've built two iterations of the fair and I'm currently working on the third. I approach it as though I'm masterplanning a pop-up city, so it combines architecture, urbanism, and art. Thinking about the experience of visitors and exhibitors, the design organizes the fair into streets, blocks, and public spaces. Because it needs to be built fast—in around 72 hours—it's been a chance to experiment with inflatable structures and geodesic domes.
Origin of firm name:
Firm refers to the Vitruvian trilogy of commodity, firmness, and delight. In contemporary practice, commodity is dictated by the client and their brief; delight is experienced by the end user after design and construction; and firmness is the realm of action for the architect—where we transform commodity into delight through our work.. Also, I like the tautology of having a firm called Firm.
Design heroes:
Danish designer Verner Panton and British painter Bridget Riley: I work with strong figures and patterns, and they've influenced how I blend tectonic and graphic expression.
Special item in your studio:
My studio itself. I work in a collaborative space alongside designers, filmmakers, and programmers at the Metropolitan Exchange in Brooklyn. It's an exciting environment, where a lot of ideas emerge.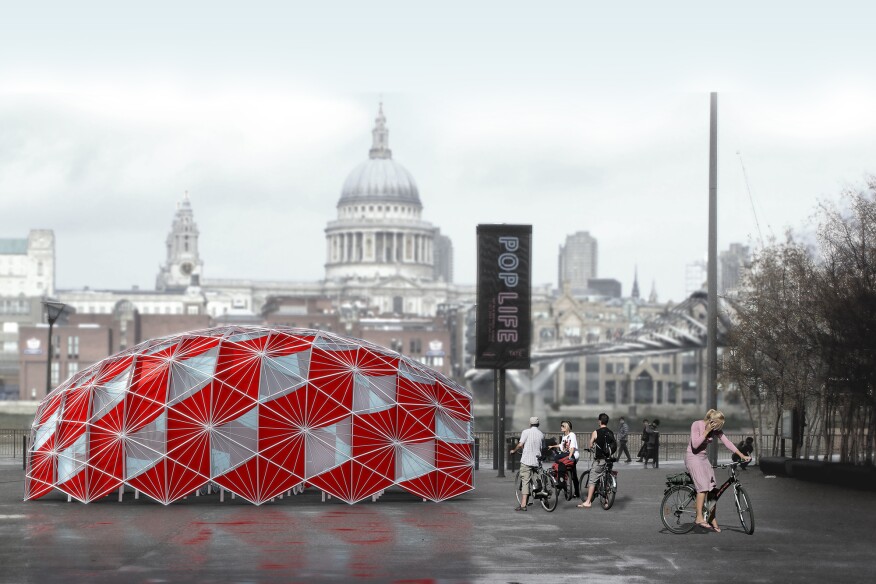 Design tool of choice:
Rhino and Grasshopper.
Design aggravation:
Antisocial design. As designers, our work in the public realm cannot be discriminatory.
Social media platform of choice:
Instagram (@jamesmsk)
Vice:
$5 lattes.