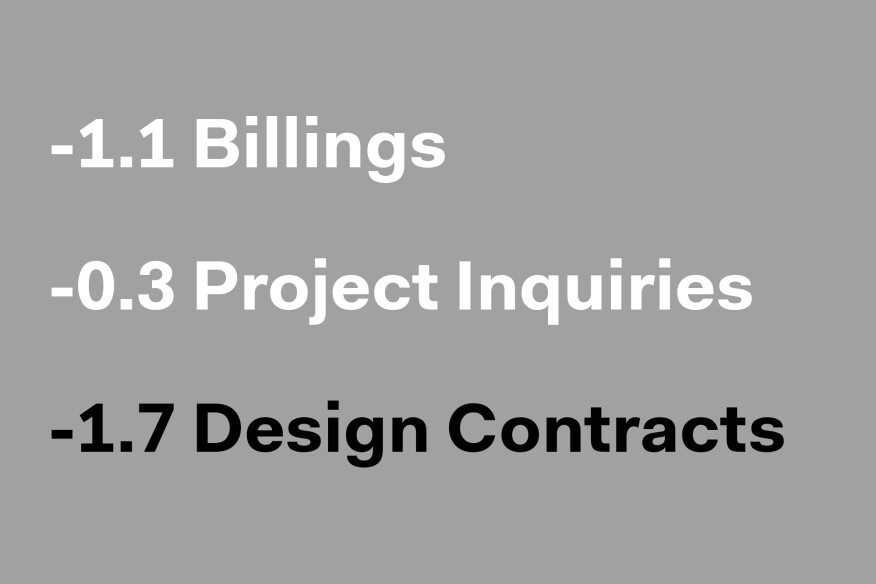 The American Institute of Architects monthly Architecture Billings Index came in at 46.6 in November, a 1.1-point decline from October's score of 47.7. The ABI is a leading economic indicator of construction activity in the U.S. and reflects a nine- to 12-month lead time between architecture billings and construction spending nationally, regionally, and by project type. A score above 50 represents an increase in billings from the previous month, while a score below 50 represents a contraction.
"The slowing in the index mirrors the broader economic slowdown," says Ali Wolf, the chief economist of ARCHITECT's parent company, Zonda. "Like many other parts of the economy, architects need to return to a place of selling their services versus just being order-takers."
The scores for project inquiries and design contracts, however, were mixed in November. New project inquiries came in at 52.0, falling 0.3 point from October's score of 52.3. Design contracts remained negative with a score of 46.9, down 1.7 points from October's score of 48.6.
"Given the slowdown in new project work, many architecture firms will rely on their near record levels of backlogs to support revenue," said AIA chief economist, Kermit Baker, Hon. AIA, in a press release from the organization. "Still, firm leaders remain largely optimistic about future business trends. Almost two-thirds of architecture firms project that 2023 will be either a good year or great year for their firm."

The month-to-month changes in scores for regional billings—which, unlike the national score, are calculated as three-month moving averages—fell in November. All four scores lost ground and only one score remained above 50.0. Billings in the Midwest dropped 3.2 points to a score of 47.6, while billings in the West declined 3.8 points to a score of 45.8. Billings in the South decreased 0.1 points to a score of 50.5, and billings in the Northeast fell 7.9 points to a score of 42.4.

Only one of November's sector billings scores remained above 50.0 and increased slightly. The commercial/industrial sector fell 1.7 points to a score of 44.2; the institutional sector dropped 6.6 points to a score of 47.7. The multifamily residential score remained flat at the score of 46.1, and the mixed practice sector increased 0.7 point to a score of 51.5. Like the regional billings scores, sector billings scores are also calculated as three-month moving averages.
Read more business news: Moderated September billings reflect pressures in housing market