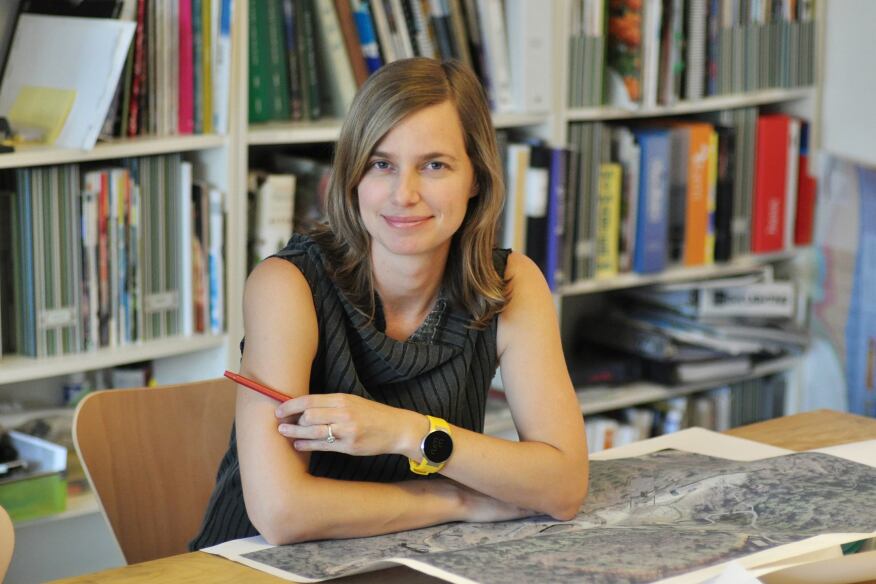 Today, Columbia University named Kate Orff the director of the Graduate School of Architecture, Planning and Preservation's (GSAPP) Urban Design Program. Formerly serving as an associate professor at GSAPP, Orff taught studios and seminars that integrate the earth sciences into the design curriculum. Orff is also a registered landscape architect and the founder and director of SCAPE, a landscape architecture firm based in New York that focuses on biodiversity, community-based change, and sustainable design.
SCAPE is dedicated to the design of public spaces through landscape architecture, focusing on how to alleviate climate change and social and environmental challenges. They have won several local and national design awards, including an AIA Institute Honor Award for Architecture for Milstein Hall with OMA and KHA Architects (2013), and the Architectural League's annual Emerging Voices Award (2012). Some of their projects have also been exhibited at the Museum of Modern Art (2010, 2012), and the Lisbon, Seoul, and Hong Kong biennales.
Orff is also responsible for founding and co-directing the GSAPP's Urban Landscape Lab, an applied research group focused on the role of design in urban ecosystems. The group's project, Safari 7, was installed at Studio X and Grand Central Terminal, and won a National ASLA award (2010).
After graduating from the University of Virginia in 1993 with a Bachelor of Arts in political and social thought, she went on to earn her Masters in landscape architecture from the Graduate School of Design at Harvard University. During her studies, she took part in a small research group led by Rem Koolhaas, Hon. FAIA, focusing on the urbanization of Pearl River Delta in 1996, graduating Harvard a year later. She later went on to work on Hargreaves Associates and OMA/AMO.
Orff has received several individual distinctions, including being named a National Academician (2013), a United States Artists Fellow (2012), a Dwell Magazine "Design Leader" (2007), and H&G's 50 For the Future of Design (2007).
The innovative landscape architect regularly gives lectures across the country on urban landscape within the anthropocene era. One of her leading design concepts is "oyster-tecture," where she sees the oyster as a vital agent in reviving rivers in the New York area.
Watch the video below to learn more.