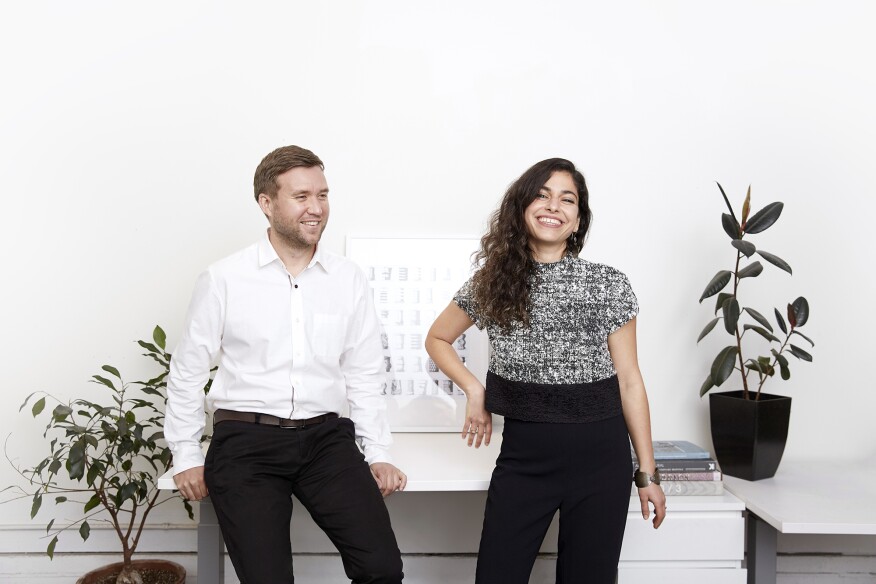 Firm name: Studio BANAA
Firm leadership: Dane Bunton and Nastaran Mousavi
Location: San Francisco
Year founded: 2016
Firm size: Five permanent members, but ongoing collaborators can grow the business to eight.

Education: Mousavi: B.S. in architectural engineering, University of Tehran; M.Arch., California College of the Arts; Bunton: B.S. in business/managerial economics, Arizona State University; M.Arch., California College of the Arts
Experience: Mousavi: Spiegel Aihara Workshop, BCA Architects; Bunton: BCA Architects, Quezada Architecture
How founders met: At the M.Arch. program at California College of the Arts in San Francisco.
Firm mission: Our mission is simple: We are serious about weaving curiosity, diversity, and pleasure into the narrative of cities through hospitality, cultural gathering, and mission-driven public spaces. We deeply consider users' experience and try to find creative ways to surface small moments of delight. Whether it's a hospitality project or a community center, we dig deep into the stakeholders' history and culture. Their mission becomes our mission.
First commission: A friend's parents' ground-up beach house in foggy Pebble Beach, Calif. We were both working for other firms at the time and did not possess the hustle mentality of finding our own projects, so we gave them some referrals to our favorite local architects. However, our future client insisted that we do the job. As a favor to them, we decided to take it on. Eventually, we found out how much we loved working together and finding our own creative voices. After getting the taste of being out on our own, we decided to take the plunge and start our own shop.
Defining project: Voyager Craft Coffee was one of our early hospitality commissions and is a relationship that continues to this day. We are currently under construction on Voyager's fifth shop, and all its locations are new and unique, which keeps things fresh on all ends. Working with the company since the beginning has allowed us to see its eclectic personality and successful brand develop through our design explorations. Because of this collaboration, we realized the value we bring to small and thriving business owners that are up for a challenge and are driven to make a change.
Firm name origin: BANAA is derived from a Farsi word that means "built environment, a distinguished building, or a mason." It also contains various letters from our names. Originally, we called ourselves "Bunton Mousavi Architecture," which is still our legal name, but later decided to separate ourselves from the company. We wanted to go for a more collective name that has an independent meaning and is less egotistical and less focused on the founding partners. As an added bonus, it's easier to spell.
How would you describe the personality of your practice? Joyful, passionate, and curious. Oftentimes, we hear from our prospective clients that our design is playful, fun, approachable, and colorful. While that is not necessarily a style or theme we are after (we don't design based on themes), we do think that our design is primarily reflective of our clients' personality. As a team, we resonate with these personalities.
Another important project and why: The United Irish Cultural Center is our largest and most important project to date. After taking it on in early 2020 (amongst mass chaos and world collapse), we are now three years into planning and environmental review for this six-story new building. Within its confines, one will find: a theater/event center, two restaurants, an aquatics center, a museum equipped with a digital gallery, and a scenic rooftop garden, to name a few! It will be a place to celebrate all things Irish, and an important community gathering place for the west side of the city.
This project has become a key factor in opening opportunities for our involvement with nonprofit organizations. More importantly, it aligns with our values regarding cultural and community project typologies. We hope to see it built by 2025.
Which architects or firms have influenced your practice and how? We have been following the work of Studio Elemental and Tatiana Bilbao for quite some time. What is inspiring about both architects is their design process and socially conscious projects.
Tatiana Bilbao's famous collage drawings stem from the belief that the process of design is never-ending and as a result should not be considered finished. She has a "no polished renderings'' policy in her studio which allows the AOC team to modify, improve and complete the project during the design and construction process. Rather than looking at a finished product so early in the process, they go for a natural growth of a design that is malleable and can improve and iterate over time. We share that belief with her studio.
In the case of Studio Elemental, this malleability and flexibility is apparent in a lot of their socially driven public housing projects and we are impressed with the impact they set themselves up to have on social and public projects, which is at the forefront of our firm's interests.
Ambitions for the firm in the coming five years: As we deepen our expertise in navigating the jungle of San Francisco's entitlement process, we see the first-hand challenges of the housing crisis. We have continued to learn about the economic and political issues in a way many non-architects may not have.
The average multifamily housing project takes 2-plus years to get a permit here! With our blog series, "Imagine Housing", competitions and developer-client projects, we hope to explore creative and out-of-the-box (or… grid) ways to challenge archaic zoning regulations and find development opportunities in places that haven't been considered previously.
Biggest challenge in running a successful practice: Hiring the right people whose company you enjoy and communicating the value an architect brings to a project. For many of our clients, the value starts without the project even being built! Design drawings such as visualizations, animations and models have become crucial to many of our clients' fundraising efforts and help to bring the project to a reality. Having a clear visual representation of the project narrative makes it easier for investors and the community to understand the project and to get on board.
Biggest design challenge the firm has overcome: We were hired to do the first conceptual studies for the Irish Cultural Center within a six-week period, which built up to a public presentation announcing the project to the public and members of the community. This is not ample time considering the scale of the building and the many stakeholders involved, so we pressed forward—holding weekly progress meetings, in person, at the current Irish Center facility. We would present our week's progress to the board and have hours long debates over the future of the Center, ideas for programming as well as the architecture and design. Overall, it was a very stressful, challenging, yet exciting, period that only can be emulated at a high paced architecture school environment, but the pressure made us work fast and get ideas out quickly and kept the client team highly involved.
Design tool of choice: Everyone on our team owns an iPad and pencil—and we absolutely love using them. Our design process is highly dependent on sketching and creating iterations. The iPad allows us to sketch quickly, iterate and modify collectively, and create options collaboratively. It is also a great tool to take to our design meetings and site visits. This allows us to have access to all of our drawings as well as make quick sketches on site for our clients.
What are you reading? What's on your bookshelf? Lo-tek, Design by Radical Indigenism, by Julia Watson. Despite all the highly technological and revolutionary events that are happening these days with AI, ChatGPT etc., this book allows for a moment of pause and reflection on the long history of humankind. The tools we have developed for centuries, allowed our ancestors and many indigenous people around the world to live sustainably, ecologically and efficiently within their environment, without disrupting the natural flow of our Planet. There are some incredible examples of various complex systems in particularly harsh natural environments. It's a must read!
This article appeared in ARCHITECT's May/June 2023 issue.
Read more about emerging firms: Allthatissolid "pursues an architecture of alternative world-making that is less interested in exceptionalism but is instead focused on formal strategies of mischief, paradox, and idiosyncrasy." | Formation Association works to "strike a dialectic somewhere between the professional and the peculiar." |
Via Chicago Architects + Diseñadores is focused on "raising the bar of arquitectura cotidiana." | Delma Palma wants to do away with the "idea that one person behind a desk can best understand how to design for a community of users."