Just a stone's throw from Moshe Safdie, FAIA's palatial Crystal Bridges Museum of American Art, construction is wrapping up on Black Apple, a small residential development in Bentonville, Ark., that blends state-of-the-art building technology with a more traditional way of life and a vernacular architecture with strong roots in the region's agricultural past.
Located less than a mile from downtown, Black Apple stands in sharp contrast to the low-density neighborhoods common in the suburban city of approximately 40,000. The pocket community squeezes 11 homes onto a roughly 1-acre lot with a central village green. As one may imagine, the homes are modest in size, ranging from the Solo model at 850 square feet to the Silo model at 1,750 square feet—a significant cry from the median size of a new home, which was 2,453 square feet in 2014, according to the U.S. Census Bureau.
The community was designed by Falls Church, Va.–based design-build firm GreenSpur, but is the brainchild of Christy Walton, the daughter-in-law of Walmart founder Sam Walton. According to GreenSpur founder Mark Turner, Walton got the inspiration for Black Apple after reading Pocket Neighborhoods: Creating Small Scale Community in a Large Scale World (Taunton Press, 2011), by Ross Chapin, AIA. Pocket neighborhoods have popped up in several states, including Massachusetts, Arizona, Indiana, and Oregon.

Walton, who has a home in Arkansas (Walmart's corporate headquarters is in Bentonville) but spends much of her life in Jackson, Wyo., thought a pocket community would do well in Bentonville, but she wanted something besides the typical cottage aesthetic. She discovered GreenSpur through Turner's family, which has operated a 1,200-acre dude ranch in Jackson for nearly 100 years. During a dinner party at the ranch in 2013, Walton spotted a magazine article featuring GreenSpur's work. She called Turner and proposed a development that would combine contemporary building science with the rustic aesthetic for which GreenSpur is known.
The homes of Black Apple make use of pre-insulated concrete foundations, steel framing, and structurally insulated panels (SIPs) sheathed with magnesium oxide board, all of which lead to a shorter build time and better building performance. Based on the energy use of previous homes GreenSpur has built, Turner expects Black Apple residences to be 85 percent more energy efficient than a typical home of comparable size.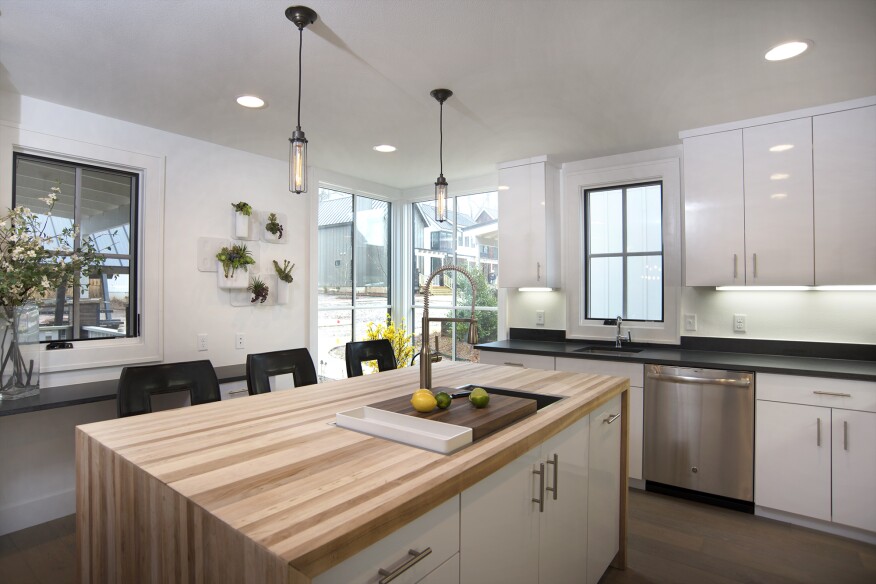 Though Turner is an advocate for sustainable design and technology, he says that high-performance buildings can have a modern, industrial aesthetic. "To us, there needs to be kind of a historical heartstring attached to the architecture so people can relate." As a result, the material palette at Black Apple is both warm and refined. Cor-Ten steel chimneys and reclaimed wood siding help create what Turner calls a "modern agrarian" style. Inside, cutting-edge technologies such as ductless HVAC systems are paired with wood and metal finishes, such as butcher-block surfaces and sliding barn doors.
Pocket communities are in demand nationwide because they encourage casual interactions between neighbors, Turner says. These relationships, in turn, become an invaluable asset to the development. "It's the community that gives richness to the people living there," he says. Every home at Black Apple has a front porch, while all parking and mailboxes are deliberately sited together to increase opportunities for a "casual rubbing of shoulders with your neighbors," he says.
The neighborhood also offers more formal gathering spaces. Inspired by sociologist Ray Oldenburg's book, The Great Good Place (Paragon House, 1989), which argues that thriving communities need neutral "third places," Turner carved out a large, central lawn with a communal fire pit and a commons building that can be used for neighborhood get-togethers. "Unfortunately," he says, "when we build huge communities in America, we [often] build very isolated communities. The only thing we have to close to [a third place] is a Starbucks."
In a nod to the development's agrarian namesake, which comes from the Arkansas Black, a deep burgundy apple cultivar once common in the Ozark region, Black Apple's commons building is designed in the style of the traditional American corncrib, with a gable roof and deep eaves, canted walls, horizontal siding, and open slats, to help prevent rot (unlike grain silos, which are tightly sealed). "It's a fascinating but familiar, almost iconic farm structure," Turner says.
To create the canted walls, GreenSpur used diamond-shaped steel trusses anchored to a concrete foundation and wrapped with SIPs. On the outside, GreenSpur mimicked the corncrib's wooden slats by interspersing weathered barn wood with horizontal mirrors that reflect the surroundings. This exterior treatment creates the illusion of seeing through the building and allows the façade's character to change with the seasons, not unlike Phillip K Smith III's Lucid Stead installation in Joshua Tree, Calif.
Inside, natural light and two large farm tables fill the commons. "Our company has always been fascinated by the architecture of an old farm table and the warm, fuzzy feeling of everyone sitting around the table having a nice dinner or a few drinks," Turner says. Each table was handcrafted from hardwood reclaimed from Walmart tractor-trailers by EcoVet Furniture Co., a local company that hires and trains veterans to be craftspeople.
Pocket communities are notable in that they are insular at a time when conventional wisdom suggests that neighborhoods should be open and porous. When Turner says they enable a lifestyle that is the "complete reverse of where society is going," there is a palpable "in-the-world-but-not-of-it" sensibility. But others believe these neighborhoods offer residents opportunities for connection at a realistic scale. And Black Apple's site does acknowledge the need for connectivity to the greater city: The newly opened Razorback Greenway, a 37-mile bicycle and pedestrian trail that connects six different towns in Northwest Arkansas, runs along one side of the community.
Though the homes at Black Apple aren't on the market yet, Turner says the community fills a distinct gap in the Bentonville housing stock. "Baby Boomers are moving back into cities and buying smaller," he says. "Millennials don't want the Baby Boomers' old houses because they're large and they're disconnected. It's ironic: You have two [divergent] demographics going after the same thing."
Walton is apparently also confident about her investment. Turner says she already purchased a second property in the area with the aim of replicating the Black Apple model. "A lot of people are watching this as a proof-of-concept," he says. "And we are too."
Note: This article has been updated since first publication to add the kitchen interior image.