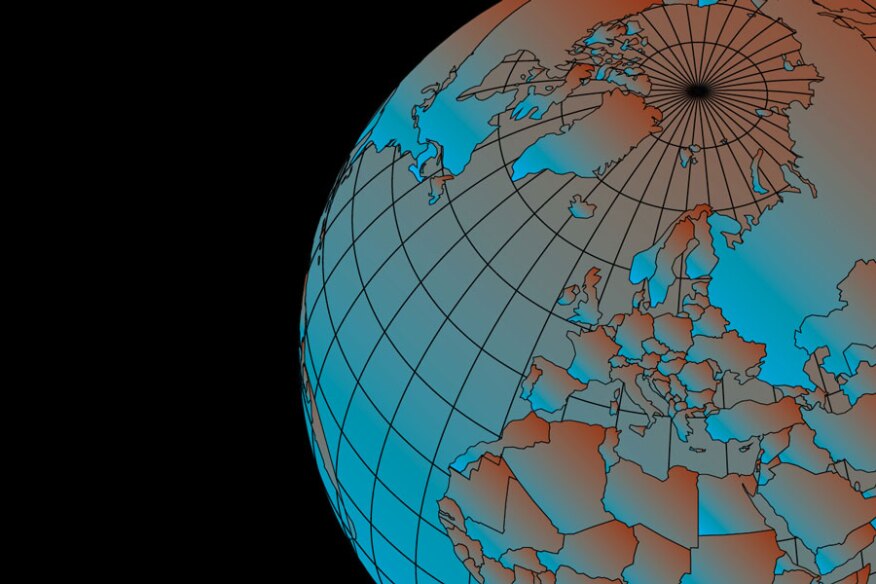 COP26, the 26th iteration of the United Nations Climate Change Conference of the Parties, began Oct. 31 in Glasgow, Scotland. More than 39,000 individuals from around the world registered to attend the event, including more than 100 leaders from nearly every major country (with notable absences from Russia and China). Attendees include members of government, environmental advocates and activists, scientists, climate change and energy experts, and architects. The American Institute of Architects sent its first-ever delegation to COP, while Carl Elefante, FAIA, AIA past president and a senior fellow at Architecture 2030, is attending on behalf of Architecture 2030.
Other architecture firms and organizations in attendance include Foster + Partners, Arup, Skidmore, Owings & Merrill, and the Royal Institute of British Architects. Prior to COP26, Architecture 2030 announced more than 60 of the world's largest architecture, engineering, planning, and construction firms have signed its 1.5°C COP26 Communiqué, asking government leaders to increase their emissions reduction targets for the built enviroment. In late October, RIBA and Architects Declare held the virtual Built Environment Summit during which the organizations released their report "Built for the Environment."
COP26 ends tomorrow with world leaders expected to formally agree to strengthen their country's carbon-cutting plans by 2022 and to increase financial aid to developing countries facing the impact of climate change. Below is a snapshot of some of the many events and presentations that occurred at COP26 since Oct. 31. Architects may find the programming from COP26's Nov. 11 theme "Cities, Regions and Built Environment" to be informational as well as the virtual programming from the event's inaugural Buildings Pavilion. Many COP26 presentations are available for online viewing here.
This story will be updated as additional news and events occur.
On Nov. 2, famed and beloved naturalist Sir David Attenborough opened COP26 with a sobering message about the gravity of climate change and our "failing to see the bigger picture in pursuit of short-term goals."
Did you miss the full speech from #COP26 People's Advocate, Sir David Attenborough? 💬

We've got you covered.

📺 Watch his full speech on @YouTube#TogetherForOurPlanet | #ClimateAction

— COP26 (@COP26) November 2, 2021
On Nov. 2, the United States was one the 100-plus countries that agreed to end and reverse deforestation and land degradation by 2030.
"The U.S will help the world deliver on our shared goal of halting natural forest loss and restoring at least an additional 200 million hectares of forests and other ecosystems by the year 2030."

-@POTUS on his new plan to preserve global forests, announced today at @COP26. pic.twitter.com/EtnB8jSLb4

— The White House (@WhiteHouse) November 2, 2021
Also on Nov. 2, more than 100 countries agreed to the Global Methane Pledge, a U.S.– and European Union–led initiative to reduce methane emissions by at least 30% from 2020 levels by 2030—though some climate science experts debate its usefulness.
ASLA commends the agreement reached at #COP26 to reduce global emissions of methane, one of the most potent greenhouse gases. 100+ countries have signed on to the Global Methane Pledge, led by the US and the EU, to cut methane emissions by 30% by 2030. https://t.co/V2CMsbqAdw

— American Society of Landscape Architects (@NationalASLA) November 2, 2021
A lot of of talk about *methane* coming out of #G20 and heading into #COP26.
Yes, reducing methane is important/helpful.
No, it isn't even remotely a substitute for the more critical reductions in CO2 emissions.
Methane lasts for decades in the atmosphere
CO2 lasts for centuries.

— Prof Michael E. Mann (@MichaelEMann) November 1, 2021
2021 Earthshot Prize finalist Vinisha Umashankar, inventor of the solar ironing cart, spoke with optimism and ferocity on Nov. 3:
"We are proof that the greatest challenge in the history of our Earth is also the greatest opportunity.

We lead the greatest wave of innovation humanity has ever known." - @Vinisha27738476, Finalist of The #EarthshotPrize speaking at #COP26 pic.twitter.com/kdfohxrtP7

— The Earthshot Prize (@EarthshotPrize) November 3, 2021
Current AIA president Peter Exley, FAIA, and HKS principal and director of integration Julie Hiromoto, AIA, are two of AIA's four delegates to COP26.
Speaking up for resilient, equitable communities and the part @AIANational members will play #actionzone #COP26 #COP26Glasgow #blueprintforbetter pic.twitter.com/4aHjXfqkWK

— Peter Exley (@funarchitect) November 2, 2021
I spoke up for #architects in @COP26 Presidency Open Forum- for the leadership role we must play reversing the #ClimateEmergency, transforming the #BuiltEnvironment for #ClimateJustice, and enhancing health and well-being of people, ecosystems and all life. #TogetherForOurPlanet https://t.co/sww1m3gPL0 pic.twitter.com/ajiWCilFqP

— Julie Hiromoto (@Julie_Hiromoto) November 4, 2021
Carl Elefante has been sharing daily COP26 observations.

The Global Alliance for Buildings and Construction, whose members include Autodesk and the International Code Council, hosted continual programming [PDF] at its Buildings Pavilion.

Our #BuildingsPavilion is staying busy, with great people and events working towards a decarbonized, efficient and resilient #BuiltEnvironment - if you work in this sector, makes sure to drop by, get some coffee and meet great people invested in a decarbonized future💚 pic.twitter.com/Fh5e749r11

— Global Alliance for Buildings and Construction (@Join_GlobalABC) November 4, 2021
On Nov. 10, Architecture 2030 and ASHRAE hosted a panel moderated by Carl Elefante and featuring Peter Exley, Architecture 2030 founder Edward Mazria, FAIA, and other signatories of the COP26 Communiqué presented "65% by 2030 / Zero by 2030" at a COP26 side event.
Also, the U.S. and China announced the countries would work together to take climate action this decade. The two countries are the world's two largest emitters of carbon dioxide.
China and US pledge to work together on climate action, saying they recognise "the urgency of the climate crisis" #COP26BBC https://t.co/VUQfw3rzc5

— BBC News (World) (@BBCWorld) November 11, 2021
Nov. 11, Cities, Regions, and Built Environment Day, featured several notable presentations and speakers from the architecture and design sector.
It's Cities, Regions & Built Environment Day at #COP26

With 68% of the global population living in cities by 2050, it's vital we build a sustainable and resilient future.

Find out more 👇#TogetherForOurPlanet

— COP26 (@COP26) November 11, 2021
Gensler co-CEO Diane Hoskins, FAIA, and Skanska senior vice president of sustainability Lena Hök participated on a panel discussion featuring business leaders who are exploring the potential of the built environment to contribute to climate action [panel starts at the 1:30:00 mark below]. Gensler recently committed to designing all net-zero carbon projects by 2030.
Arup global sustainable development director Jo da Silva spoke at the opening plenary session, "Building Back Better: Accelerating deep collaboration for Built Environment climate action."

The World Green Building Council announced that 44 businesses, including Perkins&Will, Grimshaw, and SOM, became signatories of the updated Net Zero Carbon Buildings Commitment.
Also on Nov. 11, Skidmore, Owings & Merrill debuted Urban Sequoia, a proposal that envisions high-rise buildings as trees in an urban forest, both aesthetically and more importantly, functionally. The buildings would in theory be able to "sequester as much as 1,000 tons of carbon per year, equivalent to 48,500 trees" and be constructed with materials such as "bio-brick, hempcrete, timber, and biocrete."
Today at @COP26, we unveiled Urban Sequoia, a proposal that takes inspiration from nature to create "forests" of buildings that sequester carbon and produce biomaterials to create a new carbon economy and a resilient urban environment. Full video here: https://t.co/D8gzrXZZOi

— Skidmore, Owings & Merrill (@SOM_Design) November 11, 2021

On Nov. 13, leaders from 120 countries reached an agreement to do more on climate change, but without specifying targets or measures for countries. In the final hours of negotiation, India with the support of China pushed for wording for countries to have a "phase-down"—rather than a "phaseout"—of coal and government subsidies for fossil fuels. Though many hoped the summit would set a course that would prevent our planet from warming more than 1.5° C (2.7° F) as compared to preindustrial levels, the current plans, which include efforts to reduce fossil-fuel emissions and deforestation by 2030, are estimated to result in a warming of 2.4° C (4.3° F) by the end of this century. Currently the Earth has warmed 1.1° C (2.0° F) above preindustrial levels.

We must end fossil fuel subsidies.
Phase out coal.
Put a price on carbon.
Protect vulnerable communities.
And make good on the $100 billion climate finance commitment to support developing countries.

We didn't achieve that at #COP26, but we have building blocks for progress.

— António Guterres (@antonioguterres) November 14, 2021
Reporters from The Washington Post have annotated a copy of the COP26 agreement.
This is the full text of the Glasgow COP26 climate agreement.

The Washington Post will update this page as reporters analyze the document. https://t.co/viJEnS0f8v

— The Washington Post (@washingtonpost) November 13, 2021