This story was originally published in Architectural Lighting.
The competition winning scheme designed by Jenny Sabin Studio for MoMA PS1's 2017 Young Architect's Program, featured two types of responsive textiles: solar activated and photoluminescent. To highlight the installation's day-to-night transformation, Focus Lighting designed a custom lighting program to provide visitors with a dynamic experience. Eighteen RGBAW and UV LED fixtures were strategically placed to illuminate the two large-scale canopies that spanned the MoMA PS1 courtyard. An eight-minute choreographed sequence played during the day, while, three 90-second scenes, starting at sundown, ran on a continuous loop, accenting the installation's architectural details. The interactive experience provided visitors with a spatial and luminous journey.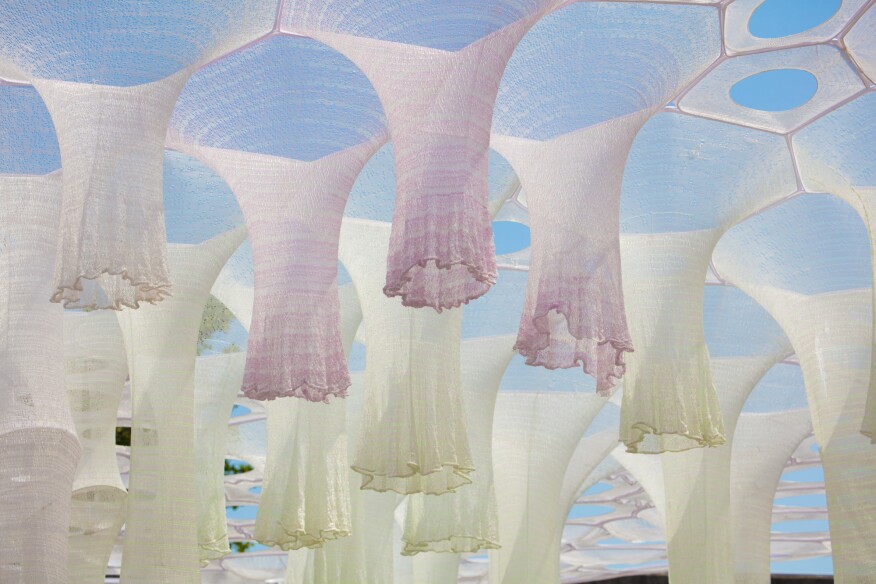 Jury Comments:
Wow • Pushes the boundaries of what illumination can do. • Creative.
DETAILS
Project: Lumen at MoMA PS1, Long Island City, New York
Client: MoMA, MoMA PS1, New York
Architect/Artist: Jenny Sabin Studio, Ithaca, New York
Lighting Designer: Focus Lighting, New York
Team Members: Juan Pablo Lira, Hilary Manners, Brian Fortin
Additional Consultants:
Content Creation: Dillon Pranger, Project lead and manager, Jordan Berta (content coordination), Diego Garcia Blanco, Elie Boutros, Daniel Villegas Cruz, Omar Dairi, Alejandro Garcia, Andres Gutierrez, Jingyang Liu Leo (senior research associate), Mark Lien, Jasmine Liu, Andrew Moorman, Christopher Morse, Bennett Norman, Marwan Omar, Sasson Rafailov, Steve Ren, David Rosenwasser, Danny Salamoun (production lead), Aishwarya Sreenivas, Raksarat Vorasucha
Engineering Design: Clayton Binkley & Kristen Strobel, Arup
Fabricators and Installers: Tom Carruthers, Bo Jacobsson, Erik Grinde, Spencer Whynaucht, Todd Fitcher, Ryan Fitcher, Shannon McElree, Mateo Baca, Jacobsson Carruthers
Knit Fabrication: Tom Shintaku, Shima Seiki WHOLEGARMENT
Sewing and Finishing: Wade Wesson & Christine Garcia, Dazian
Installation Volunteers: Mike Babcock, Luke Erickson, Laura-India Garinois Chia-Yi Hou, Rachel Kaplan, Wenli Li, Mark Lien, Irisa Llana, Lauren Lochry, Lucia Marquez, Elisa Medina, Chris Morse, Sophie Nichols, Yueer Niu, Chelsea Smith, Mat Sokol, Andrew Sullivan, Yifeng Wang, Linshen Xie, Stella Xu, Youngjin Yi
Photographers: Pablo Enriquez and JP Lira/Focus Lighting
Project Size: 10,000 square feet
Project Cost: Not Available
Lighting Costs: $7,000
Watts per Square Foot: Not Applicable
Code Compliance: Not Applicable
Manufacturers: Elation, Philips Color Kinetics
To read more stories like this, visit Architectural Lighting.