Looking to reduce your project's environmental impact? Find inspiration in these 10 sustainable wares.
CertainTeed Petals Collection
While these shapely aluminum panels add color and texture to any ceiling, they're not strictly decorative. Their trio of perforation options offers plenty of acoustic flexibility, while their composition of up to 85% recycled content promotes eco-friendliness. certainteed.com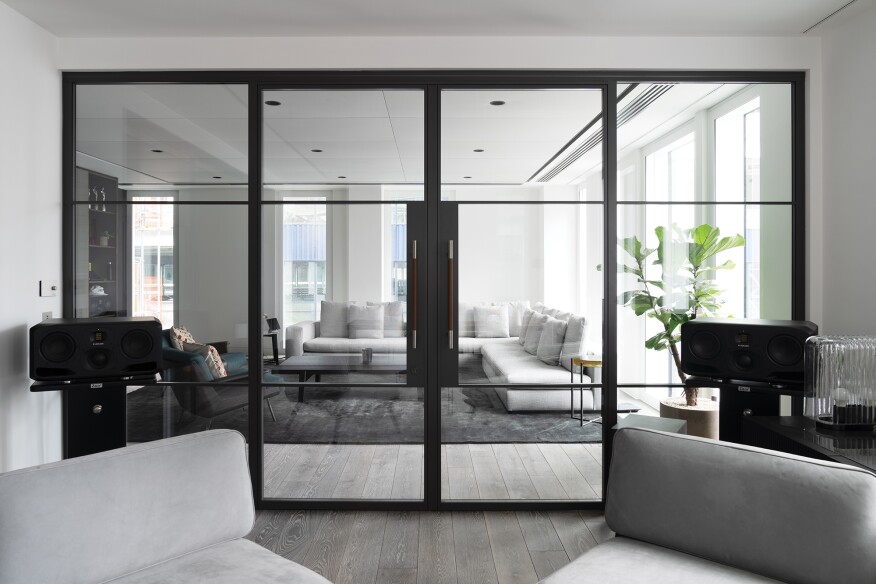 PurOptima 117 Plus Partition System
This office-ready interior glass partition earns sustainability points for its reliance on Hydro Circal, an aluminum product made with at least 75% recycled materials. Plus, the glass walls—which boast sound-blocking properties—are demountable, making it easy to repurpose them in new configurations. puroptima.com
Graphisoft Archicad 26 Software
Measuring energy efficiency is simple with this Graphisoft program, equipped with a so-called Energy Evaluation feature that assesses a structure's material usage, insulation, compliance with building regulations, and more. graphisoft.com
Alside ClimaTech PriME Glass Package
New to Alside's window product line, the Energy Star–certified ClimaTech PriME offering combines three panes of low-e glass with argon gas and warm-edge spacers that minimize heat loss. alside.com
Kingspan QuadCore Designwall 4000 Panel
Part of Kingspan's Benchmark Architectural Wall Panels collection, which is designated for exterior use, this low-VOC product utilizes the brand's QuadCore closed-cell insulation to safeguard heat retention. kingspan.com
Autodesk Forma Software
Intended for use during a project's early design and construction phases, this multifunctional web application evaluates a building's operational energy, empowering architects to gauge the effects of their design moves in real-time. The software also includes tools like microclimate analysis, which examines site-specific data on sunlight, wind, and air temperature. autodesk.com
Momentum Textiles & Wallcovering Pindrop Collection
Recycled PET takes center stage in this Momentum line, launched earlier this year at NeoCon. Available as tiles, panels, and architectural layers, the cheerful newcomer to the brand's portfolio of acoustic surfaces reduces background noise. momentumtextilesandwalls.com
Keilhauer Nova Textile
Crafted with recycled yarn and PET bottles, among other materials, Keilhauer's newly introduced Nova textile comes in 17 colors. Bonus: The company creates new yarn from any textile waste incurred during Nova's production, ensuring the fabric's status as a zero-waste product. keilhauer.com
Mohawk Group Wild Dyer Carpet Tile Collection
Mushrooms offered creative inspiration for this addition to Mohawk's product line, brought to life with dyes from various fungi species (to say nothing of the company's carbon-neutral fabrication process). Choose from two 24-inch-by-24-inch styles, available in a variety of colorways. mohawkgroup.com
Sloan CX Flushometer
This flushometer prioritizes both form and function. Its small front-access panel comes in an array of easy-on-the-eyes metallic finishes, and its conservation-focused plumbing capabilities limit the amount of water used per flush to just 1.1 gallons—half a gallon less than the federal standard, according to the EPA. sloan.com
This article originally appeared in the September 2023 issue of ARCHITECT.
More about Alside
Find products, contact information and articles about
Alside
More about Autodesk
Find products, contact information and articles about
Autodesk
More about CertainTeed
Find products, contact information and articles about
CertainTeed