The products and technology on display in Las Vegas this year showcased the full spectrum of innovation. From powerful lamps, to dynamic decorative elements, to new technology that expands fixtures' functionality, we share our top product picks from the show.
Full Spectrum Light Engines, Soraa
Building on its suite of high-color-rendering LEDs and its Snap accessory system, Soraa's new series of LED light engines puts the company closer to having a suite of component options that addresses compatibility issues between LED drivers and LED light sources. The new light engines are half the size and consume half the power of conventional integral LED fixtures while operating with higher center beam intensity, the company says. The light engines also allow the company to add elements of its signature full-spectrum light to integral LED fixtures through such technology as its Point Source Optics, VP3 Vivid Color, and VP3 Natural White. Front-facing diameters span 1" to 4". The light engines comply with California's Title 24. soraa.com
Lumenfacade Inground, Lumenpulse
Incorporating baffles as a shielding device for an integrated fixture, Lumenpulse designed its Lumenfacade Inground luminaire for wallwashing, grazing, and linear wayfinding. The luminaire offers 2700K, 3000K, 3500K, 4000K, and RGB light. Plug-and-play construction helps protect the system from damage due to water infiltration. Available in lengths of 1", 2", 3", 4", and 6". lumenpulse.com
Vessel, Todd Bracher for 3M Architectural Solutions
Designer Todd Bracher worked with 3M to experiment with different materials and form factors that would distribute LED light effectively while maintaining a transparent aesthetic for its Vessel pendant and sconce. The result is a simple, elegant, and innovative package. The luminaire's quartz-crystal cylinders wrap and diffuse 3500K and 2700K LED light. Optics with lengths of 2.4", 6.6", and 11.9" can be mixed and matched in installations. Black, bronze, gold, white, wine, and clear anodized finishes are offered. solutions.3m.com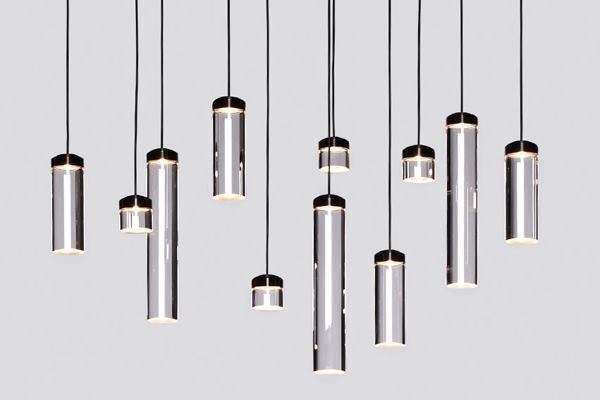 ByteLight, GE Lighting and ByteLight
Call it invasive or inevitable, indoor positioning software is changing the retail experience. ByteLight's eponymous technology smartly integrates the infrastructure of a longstanding building system—lighting—with a state-of-the-art informative and revenue-generating use. The indoor location-based software lets retailers directly engage with consumers at the point of purchase via wireless sensors in the light fixtures that push targeted information, such as coupons, to shoppers based on their identity, location in the store, and purchase history. GE Lighting has started to incorporate the software in some of its luminaires. bytelight.com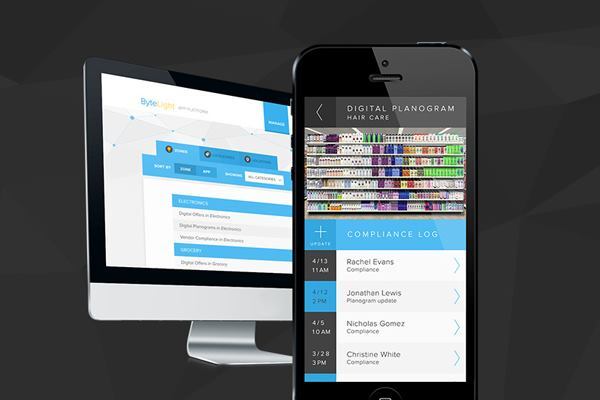 Divide Suspended LED, Eaton's Cooper Lighting Business
This replacement luminaire offers a modern but familiar form for clients considering a transition to LEDs. Part of the company's Divide series, the fixture joins recessed, surface, and wall-mounted luminaires fitted with the company's proprietary WaveStream LED technology, which improves control over light levels and optics. The luminaire offers color correlated temperatures of 3000K, 3500K, and 4000K with five lumen packages and standard zero-to-10V continuous dimming. cooperindustries.com
Color Temperature Adjusted 2.0 LED MR16, Ledzworld
Ledzworld's Color Temperature Adjusted 2.0 LED MR16 lamp could represent the end of—or at least a major milestone in—the industry's quest for a long-term, satisfactory LED replacement lamp for the MR16. Ledzworld's product includes the company's patented color-temperature-adjusting dimming technology and its Chameleon driver that adjusts to its environment and allows for the luminaire's CRI of 98. Standard beam angles of 10, 25, 40, and 60 degrees are offered. The lamps are designed for use in applications including retail, museums, and art galleries as well as residential spaces. ledzworld.com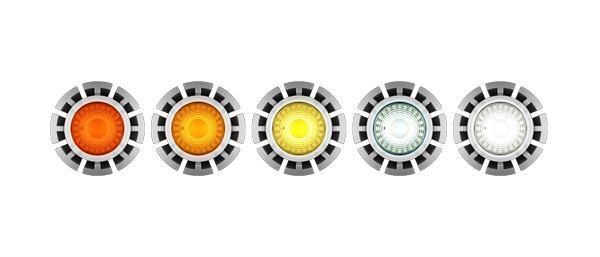 Fibrance Light-Diffusing Fiber, Corning
This thin and flexible glass-optical fiber lets designers embed colorful light in tight spaces and in other areas or applications that cannot otherwise accommodate a luminaire. Corning's Fibrance Light-Diffusing Fiber is translucent, allowing it to be nearly invisible when the light source is turned off to prevent it from obstructing a product or project's aesthetic. The bendable fiber can be curved and wrapped around objects while maintaining its light output. While prototypes displayed at Lightfair showed the fibers on consumer apparel, the technology's future applications include electronics and architectural installations. corning.com
Exo Optic Technology, Spaulding Lighting
Spaulding is among a growing group of manufacturers that are adjusting the spectrum of their luminaires' light output to respond to research findings that link light's impact to the ecological environment and human health. The company's Exo Optic Technology shifts the short—or blue—wavelengths of a luminaires' LEDs to longer, less-intense lengths. The patent-pending optic offers high efficacy and color quality. At Lightfair, the company showcased the new technology on its Cimarron LED CL1S luminaire (shown). The system is offered in dynamic and static versions, the latter functioning as a high-pressure sodium and low-pressure sodium replacement with spectral and photometric outputs. www.spauldinglighting.com
Yttrium, Lumium Lighting
Three machined, luminous spokes on an adjustable ring rotate around an open interior while offering multidirectional illumination. But it's not just about looks. Hidden in the Yttrium's three-tiered form is a little bit of chemistry: according to the company, the third spoke, also known as the ion, allows light to be distributed evenly in all directions. Removing the spoke gives the luminaire a so-called "negative ionic charge" and results in asymmetric light distribution. The zero-to-10V dimmable LED fixture offers 2700K, 3000K, 3500K, 4000K, and 5000K with 180 degrees of rotation. lumiumlighting.com
This article has been updated to include information published in the July-August issue of Architectural Lighting.
More about Lumenpulse
Find products, contact information and articles about
Lumenpulse
More about Soraa
Find products, contact information and articles about
Soraa