As decorative lighting becomes increasingly more prominent in both interior and exterior design, the marketplace has become saturated with modern pendant, wall sconce, and portable lamp solutions that promise to make spaces not only well-lit but unique and sophisticated. So how does the industry stay fresh rather than recycling old ideas? Decorative lighting company Vibia out of Barcelona, Spain manages to continuously turn out offbeat designs by working with product designers from all different parts of the globe. Here's what the minds behind the Vibia designs have to say about their process and inspirations.
Young industrial designer Stefan Diez, called by The New York Times one of Munich's up-and-coming stars, has turned an inherited knowledge of craftmanship into award-winning furniture and lighting collections. His work, characterized by its radical and avant-garde nature, consists of industrial design projects that harness the possibilities of production technology and finance offered by the new digital environment, where social media and the sharing economy have rewritten the rules for industrial designers.
One of these projects is a proposal that began with an exploration into the relationship between light and transparency, resulting in new lamp collection GUISE for Vibia.
Diez expresses that the process for this design was one of trial and error, endeavoring to create a pendant that would create a focused yet ambient lighting effect. A circular wall sconce was the original briefing, but to have a sophisticated product, Diez explains, you must also have some additional typologies for other applications. His first goal, to make a pendant lamp using a horizontally oriented glass tube with two open ends, created the desired effect, but produced "only a very weak light."
Undaunted, he continued to experiment, discovering that by scratching the surface of the glass, he could create additional edges from which the light could be projected, ultimately producing a sleek tube of glass, lamped with a strip of hidden LEDs, that featured series of finely etched lines parallel to the edges and conducting uniform light throughout.
Artist and sculptor Arik Levy, also a renowned designer of furniture, lighting, and accessories, has collaborated with manufacturers throughout the continent, receiving many awards and accolades. Hailing from Tel Aviv, Israel, he philosophizes about its contribution to his design ethos, "Tel Aviv is about survival and therefore one has to be inventive to survive and can be reborn at any moment. Rawness and upfront ideas along with the beauty of simplicity creates a connection of industrial poetry."
Devoted to discovering a way to connect space and architecture, Levy proposed two new collections for Vibia at this year's Light + Building in Frankfurt, Germany. "Light is not a fixed structure, but a way to connect walls to space. It is the illusion between architecture and light." STRUCTURAL, one of his new lighting concepts, deconstructs the light sources and integrates them with the architecture, placing the light in unexpected locations.
Spanish designer Antoni Arola is known to lead by the passion in his product design as well as in his career. Besides designing lighting products for several prominent Barcelona design companies, he is a professor at ELISAVA Barcelona School of Design and Engineering.
In addition to teaching, two of his lifelong obsessions have been lighting and plants. One of the inspirations for his new concept, PALMA, is ivy creeping up a building façade, which Arola this is the ultimate expression of nature integrating itself into architecture.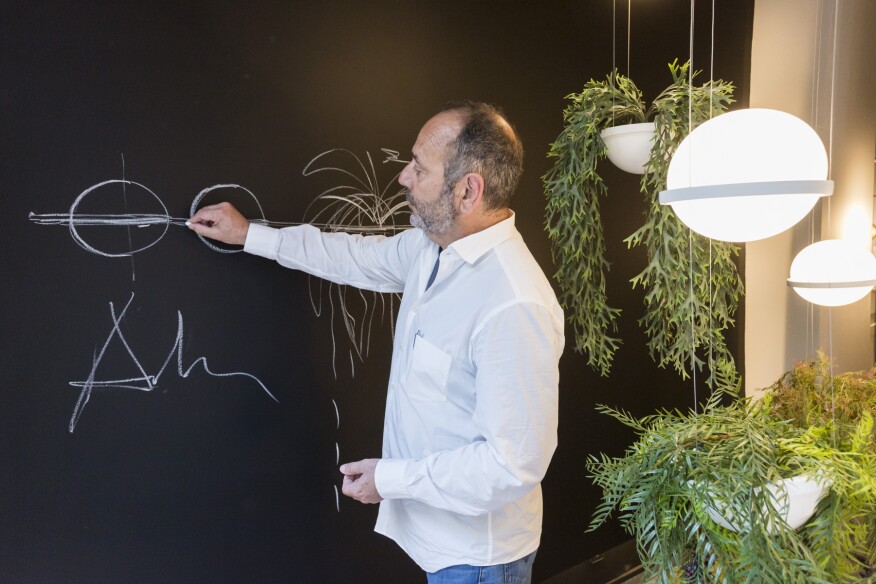 This project, he shares, began with the idea of how plants relate to wellness. The other goal of the project, which complements this idea of well-being, was to create a light that had a cheering effect. In much of Northern Europe, winters can be hard on the spirit as humans are markedly affected by the deprivation of sun and nature.
So how does Arola stay ahead of the curve and always make sure that he's creating something completely new?
"My next challenge is not a type of object," he says. "It's simply to do better, much better than the last project; it's about doing something that will last longer than a simple trend."
Learn more about these designers at Vibia.com.
These collections are not yet available in North America, contact the manufacturer for details.