Some products incorporate recycled materials while others upcycle. An increasing number are VOC-free or use only bio-based resins and sealants. Manufacturers may continue to innovate to satisfy demand by designers and end-users for eco-friendly materials, but their goodwill isn't always channeled solely into environmental sustainability. These five products tackle the task of social entrepreneurship by offering job training and other resources to disadvantaged groups in their manufacture and sale. From a salvage yard that trains ex-prisoners to craft furniture to a company that is donating solar-powered lamps to Philippines residents affected by Typhoon Haiyan, these goods exemplify social sustainability.
Reclaiming a Stake
The Rebuilding Exchange, a Chicago-based building-material salvage and reuse firm, offers job training to individuals transitioning out of the criminal justice system through its RX Made workshop. There, workers learn how to fabricate pieces such as tables (metal-base coffee table, shown), shelves, boxes, and benches from locally sourced materials. The four-year old program has hosted 82 trainees in three-month or year-long segments and has developed its own furniture line. The 2014 program will host five or six trainees for nine months under the tutelage of three full-time staff, one of whom is a graduate of the program. "It is very difficult for people who have a criminal record to get an opportunity in the workforce," says Elise Zelechowski, the organization's executive director. "What social enterprises like ours do is provide an opportunity for somebody not only to get skills and learn about new types of jobs, but they also give them an opportunity to have a job for a specific amount of time—what we call a transitional job, so they can build their resume and build their network."
Shining Bright
Denver-based solar-powered lamp manufacturer Nokero is distributing its products to individuals in communities affected by Typhoon Haiyan, which devastated the Phillipines in early November. The company is providing a few ways for the general public to help: buy one of its new N222 solar light and phone chargers and it will donate one of its N200 solar lamps to an affected family; purchase a discounted N200 lamp for donation; or purchase a case of 48 N200 lamps for donation. Founded in 2010, Nokero—short for "no kerosene"—recently launched the latest iteration of its solar light, the N180 (shown), which achieves a low price-point targeting emerging markets by streamlining its construction.
Marni's "100 Chairs" Campaign
You may have heard about Italian fashion label Marni's campaign to help Columbian ex-prisoners integrate back into everyday life by crafting furniture. Launched in 2012, "100 Chairs" turned out 90 metal-frame chairs—including chaise-lounges and rocking chairs—and 10 tables in its first iteration. Reissued for 2013, the collection was nominated for the London-based Design Museum's 2013 Designs of the Year competition in the furniture category. The limited-edition series is offered in seven models, all featuring Marni-designed threaded-PVC patterns and colorways. Proceeds from the furniture sales go to ICAM of Milan, which allows mothers in prison to keep their young children with them in order to provide care.
Grassroots Recovery
If the idea of turning the rubble from buildings razed by Hurricane Sandy into designer furniture seems a little brazen, consider this: a group of New York designers teamed up to do just that and raised $25,000 for storm-related relief organizations including the Red Cross. The brainchild of design writer Jen Krichels and designer Jean Lin, ReclaimNYC showcased the work of more than 30 local artisans—with featured pieces including pedants, tables, chairs, and a special edition of Rux's Stickbulb Big Bang floor lamp (shown) made from the wood of a maple tree felled by the storm—during two auctions held in December 2012 and May 2013. What's next? The pair is planning their third exhibit, which will address a variety of charitable causes, for the 2014 New York Design Week. "The theme grew out of the idea that people were working together to help New York after Sandy," Krichels told Core Logic in May, "and that designers working together could also accomplish more than they might be able to on their own—whether they're collaborating on a piece of furniture or they're working on larger goals, like how to help the city recover and face other challenges through design."
Prison Industries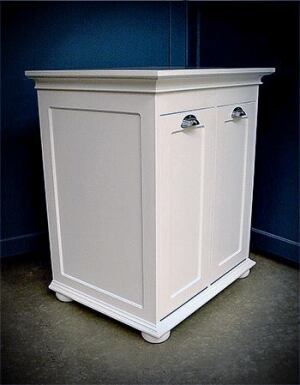 Correctional institutions offer job training and education for inmates to build new skills to smooth the transition back into their communities and reduce recidivism. Workshops that teach the crafting or restoration of furniture pieces such as tables, chairs, cabinets, and desks are among those opportunities. For example, the Florida Department of Corrections' Prison Rehabilitative Industries and Diversified Enterprises offers on-the-job training in a range of industries including furniture production and helps with job placement after individuals are released. And in New Hampshire, the state corrections department offers inmate-made products, including cabinets and office and home furniture, through a statewide program called GraniteCor Industries.