Next June, renowned land artist Christo and his team will transform Lake Iseo in Lombardy, Italy, by building a floating pier that visitors will be able to walk across. The plans—revealed on April 23 at Rome's MAXXI: National Museum of the 21st Century Arts, designed by Zaha Hadid, Hon. FAIA—feature 200,000 high-density polyethylene cubes that will swell with the water's movement and be wrapped in yellow fabric, a feature which the artist is famous for. Titled The Floating Piers, visitors can travel from Sulzano, located in the bottom right portion of the lake, up to Monte Isola and San Paolo, the islands in the middle of it that the entire installation encircles, for a 16-day period the summer of 2016.
The pier's width spans 16 meters (52 feet) and is about 50 centimeters (20 inches) above the water's surface. In some areas, the walkways stretch up to 3 kilometers (1.8 miles). For continuity, the same yellow fabric will stretch 1.5 kilometers (nearly a mile) into the streets of surrounding coastal towns Sulzano and Peschiera Maraglio. To gain a different perspective, travelers hiking in the surrounding mountains will have a clear, bird's eye view of the land art.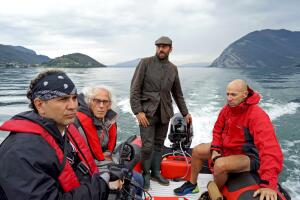 Last spring and summer, Christo's team, which includes operations manager Vladimir Yavachev, project manager Wolfgang Volz, registrar and curator Josy Kraft, and project director Germano Celant, embarked on an excursion to scout the lakes of Northern Italy—an area referred to as The Lakes District by travelers—and found Lake Iseo the most fitting for the project. The Bulgarian artist, who sells all of his original projects once they are finished being put on display to fund the ones he's currently working on, will pay for the construction. After the exhibition is done, all of the parts will be removed and recycled.
This project is a personal milestone for Christo, because The Floating Piers will be his first large scale project since he realized The Gates in 2005 in New York with his late partner Jeanne-Claude, who died in 2009.