It's always revealing when architects design their own offices. Norman Foster, Hon. FAIA's vast glass-walled London studio overlooking the Thames signals teamwork and stylish competency. Renzo Piano, Hon. FAIA's terraced hillside greenhouse complex in Genoa is both technically advanced and leafily romantic. Frank Gehry, FAIA's industrial shed in Santa Monica is messily disorganized—in an arty way.
Stephen Kieran, FAIA, and James Timberlake, FAIA's new office is situated in Northern Liberties, a gritty Philadelphia neighborhood that, in an earlier age, was home to factories, mills, tanneries, foundries, and breweries—an unexpected setting for an architecture firm. But in this case a fitting one, because their office is not a showpiece but a hands-on workplace—purposeful, flexible, open-ended. Kieran calls it "our huge sandbox."
A visitor approaching the entry lobby is not greeted by the usual display of architectural models and artful photographs of completed buildings, but by the view, through a glazed wall, of a large workshop. The assorted machine tools, workbenches, stacks of building materials, a concrete mixer, and a hand pallet truck send a clear message: This is a place where things are made.

KieranTimberlake's new home is a two-story red-brick structure built in 1948 as a bottling house for the Henry F. Ortlieb Brewing Co., one of Philadelphia's many German-style breweries. (The original sign on the exterior of the building includes "1869," the brewery's founding date.) Decommissioned in 1981 when Ortlieb was taken over by a competitor, the cavernous building stood empty, finding intermittent use as a jazz club, a brewpub, a boxing venue, and a baseball batting cage. In 2012, KieranTimberlake bought the building and spent two years renovating it. The firm, which currently employs 85 people, moved in at the beginning of this year.

Ortlieb's architect was Richard Carl Koelle, a graduate of the University of Pennsylvania whose mentor, Paul Cret, had started incorporating modernist elements in his work by the late 1930s. The bottling house's modular ribbon windows, standardized bays, exposed steel structure, and unadorned brick are typical of Philadelphia's International Style, of which the most illustrious example is Howe and Lescaze's PSFS Building.
KieranTimberlake's respectful renovation—the restored building is now listed on the National Register of Historic Places—preserves the original architecture. Workers replaced the old aluminum factory sash windows with high-performance facsimiles, repaired the glazed brick walls of the interior, restored the roof monitor, and put on a new roof. Bits of the old bottling house poke through here and there: an old refrigerator room door, a piece of overhead gantry, a pipe railing in the fire stair.

Today, the first floor contains a lunch room, a research lab, a data room, a technical library, and material samples storage, as well as the workshop, which has direct access to the street since it was originally a truck dock. A tall open room outside the workshop is what Kieran, who gives me a tour, calls a "maker space." "Most projects use site-based mock-ups, but by then the construction has started and it's really too late to make substantive design alterations," he says. "We build mock-ups in our office during the design process." For example, the architects built a life-size section of the curtainwall for the Rice University physics lab, Brockman Hall, one of the winners of this year's AIA Institute Honor Awards for Architecture. For a low-rise housing system being developed for a client in Ahmedabad, India, they modeled structural components and fabricated prototype panels of lightweight concrete. "We had a workshop in our old office," says Kieran, "but we have more space here, which will allow us to build larger mock-ups and leave them up longer."
The main studio is on the second floor, where the bottling line was originally located. Steel trusses span 76 feet and create a spectacular column-free space 190 feet long, brightly lit by ribbon windows and an overhead roof monitor. The room is filled with architectural workstations: the usual office clutter of keyboards, big flat monitors, laptops, ergonomic task chairs, file cabinets, and the occasional roll of yellow trace. Circular conference tables are interspersed among the desks.
No partitions or cubicles interrupt the sea of work tables, and the initial impression is of a Bloombergian bullpen, the sort of open office embraced by Silicon Valley firms such as Facebook, Google, and Yahoo. This impression is misleading. For one thing, the layout is not static. "Everything is movable," says Kieran. Work desks, drawer cabinets, chairs, and conference tables are all on large wheels that can be locked in place with a foot pedal. "People regularly move around as new projects come along and new teams are formed," he says, pointing to a group of architects sitting around a table. The no-nonsense furniture, designed by the architects using a workbench system with black epoxy tops, was moved from the firm's old office. "The movable furnishings have evolved over more than a decade and are now a deep part our culture," says Kieran. His own desk, like that of the other partners, is out in the open; there are no private offices.
Teamwork is fundamental to any architectural practice, but moving furniture rather than moving people from desk to desk is unusual. Instead of shifting between anonymous workstations, people take their personalized work environments—chair, work table, computer desk, and rolling file—with them. Power, telephone, and data are provided by a grid of outlets in the raised access floor. The only planning constraint is provided by heavy drawing files that define circulation spaces on the edges of the work area; otherwise the "plan" is the result of changing circumstances. The scattered layout reminds me of an improvised campground.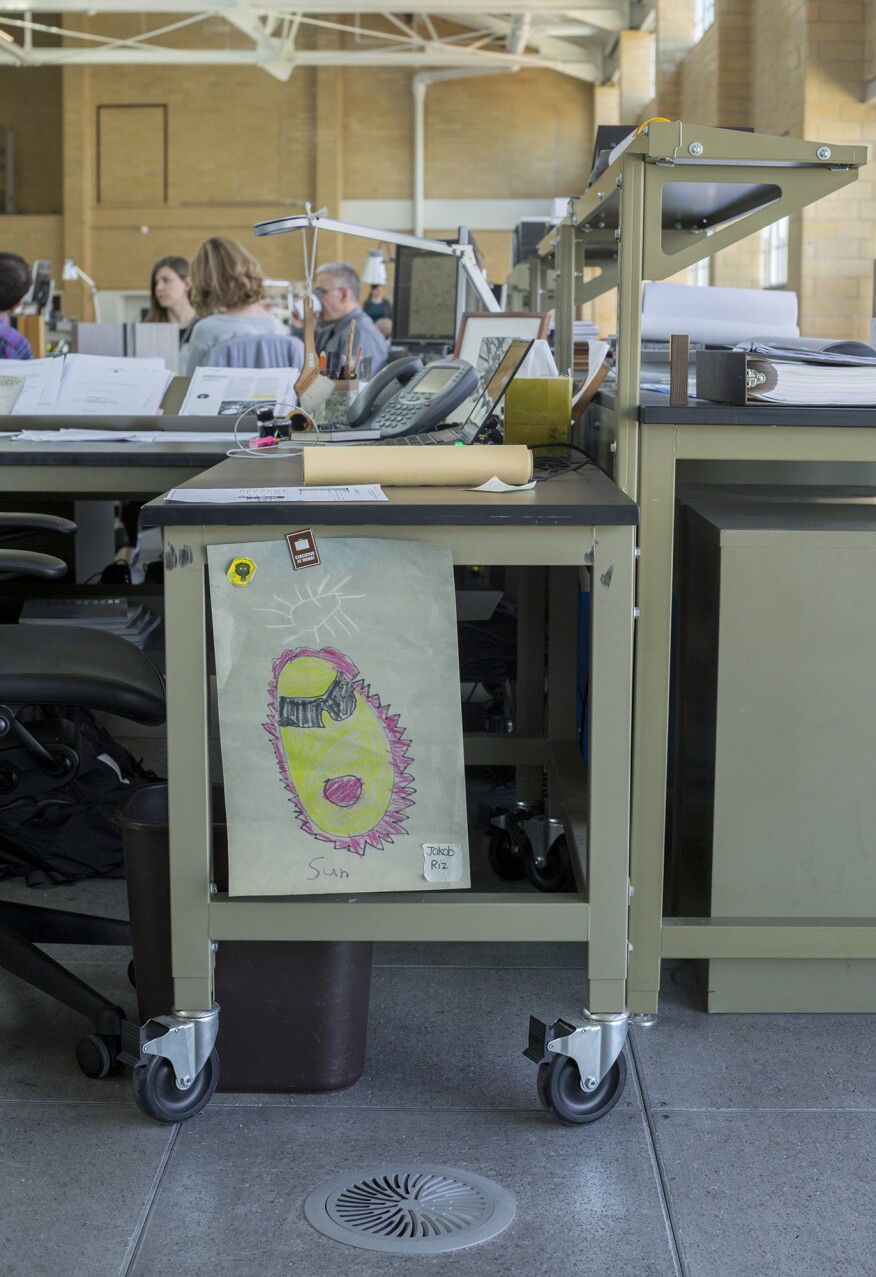 I ask Kieran if he has used mobile work stations in any of his projects. "We haven't done any corporate work yet, but we've used it in academic buildings," he says. The firm is renovating three of Harvard University's undergraduate houses, and is equipping new teaching spaces with moveable furniture to encourage active learning. "Desks and chairs are on wheels so that they can be constantly rearranged while the class is going on," he says.

The open-office concept is often criticized—and often disliked by users—because of the lack of privacy. The KieranTimberlake office provides a common remedy: adjacent to the open space are a variety of meeting rooms. Five open spaces, for team reviews and presentations to clients, are enclosed by 10-foot-tall pin-up walls that resemble huge easels—tilted to make them easier to write on. Needless to say, they are on wheels. In addition, there are five smaller enclosed rooms that provide seclusion—and quiet—for meetings, writing, conference calls, and private tête-à-têtes. The walls are painted with dry-erase paint and function as floor-to-ceiling whiteboards. "Our previous office had three open and three enclosed meeting spaces," says Kieran. "Everyone felt that we needed more conference space." The firm is using a similar arrangement of open plan and private meeting rooms in the much anticipated American embassy in London, now under construction.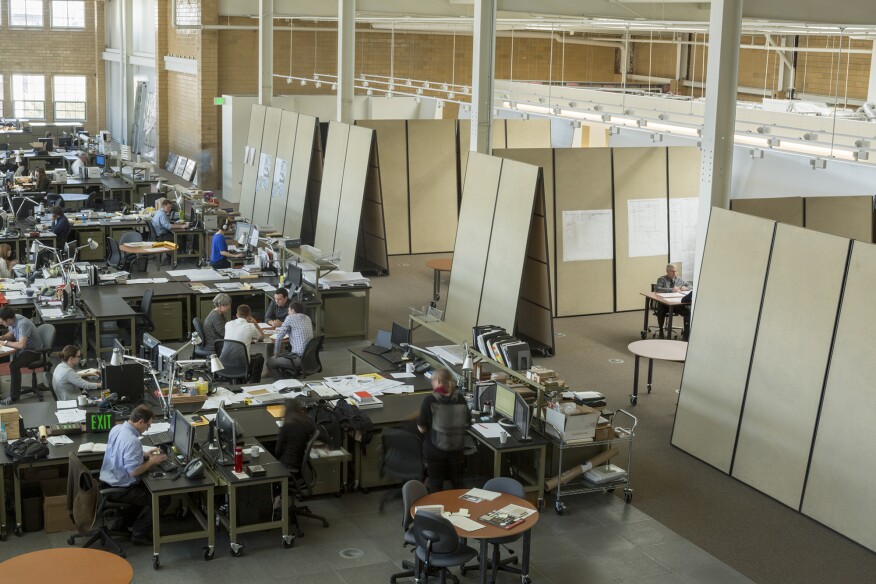 "We tend to assume that employee engagement is about the work, that so long as we give talented people challenging tasks and the tools to excel, they will be happy," observes the psychologist Ron Friedman in his recent book, The Best Place to Work: The Art and Science of Creating an Extraordinary Workplace (Perigree Books, 2014). "But that formula is incomplete. Our mind responds to the signals in our environment. And the less comfortable we are while doing our work, the fewer cognitive resources we have available." In his discussion of open plans and private cubicles, Friedman points out that research has shown that no single setting is conducive to every task. The solution is to offer choices. "When companies offer employees a choice of location, they don't just create an environment that better positions workers to succeed, they empower their team members, demonstrating trust in their decision-making abilities," Friedman writes.
At a time when many companies are adding amenities such as basketball courts and putting greens to enhance their employees' experience of the workplace, Friedman argues that feeling good at work may be the result of something much more primal. For example, he cites a study that tested participants in two different settings: a room with an 8-foot ceiling and another with a 10-foot ceiling. The surprising finding: "Participants in rooms with taller ceilings were significantly better at finding connections between seemingly unrelated objects than those whose ceilings were slightly lower."


A staff facility that is often given scant attention is the bathroom. "But for many employees, it's one of the few opportunities they have for stepping away," Friedman says, "letting go of trivial details and refocusing on the bigger picture." (The KieranTimberlake bathrooms don't post technical articles in the toilet stalls, as Google's do, but the spaces are thoughtfully designed, with bright colors, high-end European fixtures, and stylish trough sinks.)

Friedman suggests that many of our environmental preferences—sunlight, view—are rooted in evolutionary psychology. "Research even suggests that the amount of direct sunlight entering an office can reliably predict the level of employee satisfaction in a workplace," he writes, citing a 2013 study which found that employees whose offices had windows slept more soundly at night than their counterparts who worked in windowless offices. It is also likely that sunlight and view are cognitively rejuvenating. "The result is an elevation in mood as well as replenished mental energy that improves our memory and enhances our creativity," Friedman concludes.


Kieran agrees. "We all feel better—and work better—in natural light and with fresh air," he says. The Ortlieb bottling house was built when daylight and natural ventilation were the norm. The rooftop monitor, for example, had operable windows for fresh air, and the two banks of ribbon windows brought in daylight. KieranTimberlake has embraced—and enhanced—these "green" features of an earlier era. The west-facing ribbon windows are now fitted with blinds that adjust automatically as sensors read light levels. (During the bright winter day when I visited, the blinds lowered themselves partway as the sun moved around the building.) The operable monitor windows are controlled by the building's environmental management system. Lighting requirements have changed since architects labored at drafting tables, and the chief requirement for computer monitors is lack of glare, not illumination. The studio has a minimum amount of artificial ambient lighting—a single row of LED uplights on the central truss—otherwise workstations have individual task lights. Since there are no partitions, there is a spill-over effect. The 30-foot-tall space is exceptionally quiet, and its sheer volume appears to absorb sound, so that the background noise of multiple conversations rarely rises above a murmur. "It produces a church-like atmosphere," says Kieran. "You tend not to raise your voice. Sometimes I wish someone would occasionally shout out."
The raised access floor of the studio houses a displacement air heating system. This low-induction technology distributes warmed air through a floor plenum. Since warm air has a lower density than cool air, this creates natural upward convective flows. When I put my hand above a floor register, I can feel the very slight pressure of lukewarm air. Kieran explains that the new office is an experiment with the firm as the subject. "For example, we've tried keeping the temperature on the low side," he says, "and though it's been only four days since we moved in, it's amazing how quickly people have adapted, wearing sweaters and heavier clothes." (When I speak to him a month later, he says that they have made adjustments to the heating—it was a little too cool, even with sweaters.)

Roderick Bates is a member of the research group within the office that is responsible for monitoring the environmental performance of the building and providing information to—and getting feedback from—the staff. More than 400 sensors, many embedded in the building's walls and floors during the renovation, monitor ambient air temperature, surface temperature, and the temperature of the building fabric, as well as relative humidity. The wireless sensor network, which KieranTimberlake is in the process of commercializing, is designed and fabricated in-house. The collected data will be used to develop a management plan to "tune" the building on a daily basis.
Already, according to Bates, they have found that air quality is exceptionally high. He also explains that while the old building is relatively leaky, the thermal mass of the concrete floors and masonry walls is so large that their surfaces' radiant temperature makes it possible to reduce the ambient air temperature without jeopardizing comfort. "We are currently experimenting to see the effect of cycling down the heating system at night," says Bates. He tells me that the long-term goal is to influence human behavior by passing on cost-savings directly to the staff.

A major part of the experiment will unfold this summer, because the building (except for the data room) will not be air-conditioned. This is a daring experiment in Philadelphia, where summers are hot and humid. The combination of active and passive cooling will depend on a variety of devices: opening windows in the monitor, using exhaust fans, supplying night-cooled air via the floor plenum, and dehumidifying air at the height of summer. "We're all a little nervous," says Bates. I tell him that I plan to return in August to experience it for myself. "Expect to see a lot of shorts," he says.
James Timberlake has described the firm's new home as "the model of a 21st-century office space." This is not hyperbole. However much LEED ratings are touted, the most effective way to reduce carbon emissions is not by building new buildings—no matter how energy-efficient—but by repurposing old ones instead. And real energy conservation, as opposed to greenwashing, requires more than fancy gadgets. It requires actual data on how buildings function environmentally and, equally important, real-life data on how their occupants behave: opening and closing windows, turning lights on and off, or even wearing shorts.
Daylighting and natural ventilation are not only energy issues. As Ron Friedman reminds us, productivity—and creativity—in the workplace are greatly enhanced when we experience a general sense of physical well-being. Sunlight, fresh air, views, and even tall ceilings trigger deep-seated human responses that contribute to this feeling. And desks on wheels are not just a design trick. The ability to control and adapt our surroundings, and to choose the surroundings—big or small, open or enclosed—that suit the work we are doing, represent a shift of emphasis away from centralized to individual control. That shift may well herald the future of the 21st-century office. The best place to work? A place with choices.