The street beneath a run of elevated "L" train tracks in Chicago's downtown business district could soon see the light. That's thanks to the "Wabash Lights," a site-specific public art project that plans to add more than 5,000 programmable LED tubes to the underside of the tracks that shroud the two-block stretch of Wabash Avenue between Madison and Monroe streets. The team behind the project recently got approval from the city's transit agencies to install a 12-foot-long version of the proposed work, which will feature 20,000 total feet of lights, in January. The beta will run six months to a year and test the lights in application to make a case for the final installation, which requires raising $5 million in additional capital.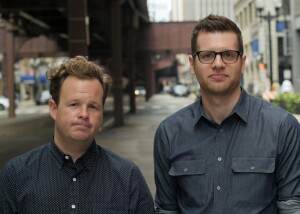 The project was conceived by Chicagoans Seth Unger, currently the architecture and design audience lead for Herman Miller's global marketing team, and Jack Newell, a filmmaker and program head of television, film, and digital at The Second City Training Center in Chicago. Their goal was less to drive foot traffic to Wabash Avenue—which runs parallel to the more popular north–south thoroughfares of State Street and Michigan Avenue—than to put a fresh spin on public art. "One of the things we noticed about a lot of public art was that it's supposed to be for everyone but it's usually paid for by just a few and usually created by a single artist," Newell says. "We were looking around the city and seeing pieces of public art that were supposed to be for us but we didn't feel that way and we said, 'Could we do [something like] this?'"
Wabash Avenue brought the right mix of history and proximity. Long a central commercial corridor that includes the Jeweler's Row historic district, it is sandwiched between State Street and Michigan Avenue, which today are lined with brand-name stores that draw tourists and locals alike. All that, along with the presence of the "L" tracks overhead, can make Wabash Avenue easy to pass up—albeit situated a block from the city's celebrated lakefront park system.
"Downtown Chicago transforms on Friday, Saturday, and Sunday into a place that a lot of tourists and out-of-towners come to visit, so for someone who hasn't been to Chicago before, there's something intimidating about … the noise and the grittiness and the actual physical structure of the tracks," Unger says. "We wanted to use the Wabash Lights project to bridge [State Street and Michigan Avenue] and connect downtown," Unger says.
A Kickstarter earlier this year raised nearly $60,000 to fund the beta installation, which will test how the system responds to the continual vibration caused by the L trains, the city's extreme weather variations, and general wear and tear. Unger and Newell also plan to add an interactive element to the final installation that will allow passersby to change the lights' colors using a companion app or website, which is currently in development. The installation will comprise runs of 4-foot-long Philips iColor Accent MX Powercore light tubes that are controllable every 1.2 inches. Partners include lighting and production studio Intelligent Lighting Creations in nearby Arlington Heights, Ill., and lighting designer Justin Wardell, currently a senior account director for Louisville, Ky.–based Axxis.
"We're trying to create a planned experience, trying to use the principles of place-making and urbanism to change your experience on Wabash," Newell says.