Lumber and engineered wood is everywhere on the jobsite—both when a building is going up, and when it's coming down. In a 2008 report, the U.S. Department of Agriculture cited a 1998 figure by the Environmental Protection Agency that the equivalent of roughly 250,000 single-family homes were being demolished annually in the U.S., resulting in more than one billion board feet of usable, structural lumber that could be reclaimed from those projects. Municipalities are slowly but surely awakening to that trend, and as a result are becoming more progressive on waste dumping, charging higher tipping fees, and not accepting certain types of materials, Anne Nicklin executive director for the Chicago-based Building Materials Reuse Association (BMRA) told ARCHITECT earlier this month. Others, like Seattle and Cook County, which includes the city of Chicago, are going so far as to encourage, or in the case of the latter, require, deconstruction for material salvage on some projects. Architects and builders are beginning to get on board, too.
"I don't think architects realize how much they can reuse on their own sites," Nicklin said. "On most sites there's a building that came down and still has a lot of [functional] materials—plywood, joists, glulam, stud walls, commercial steel— that are incredibly expensive to buy but are currently undervalued in the reuse market."
To that end, the BMRA has partnered with the American Wood Council, the Canadian Wood Council on the creation of a new website, Reusewood.org, to educate project teams on what types of waste wood are suitable for reuse, and in what capacity, and provides a database of North American suppliers, searchable by location, that buy and sell salvaged materials.
"This is a huge opportunity for designers to use reclaimed wood products as a means to reduce the environmental impact of the buildings they design and renovate," Robert Glowinski, president and CEO of the American Wood Council, told ARCHITECT by email. "The website can act as an easily-accessible tool to obtain responsibly reclaimed wood products in their area."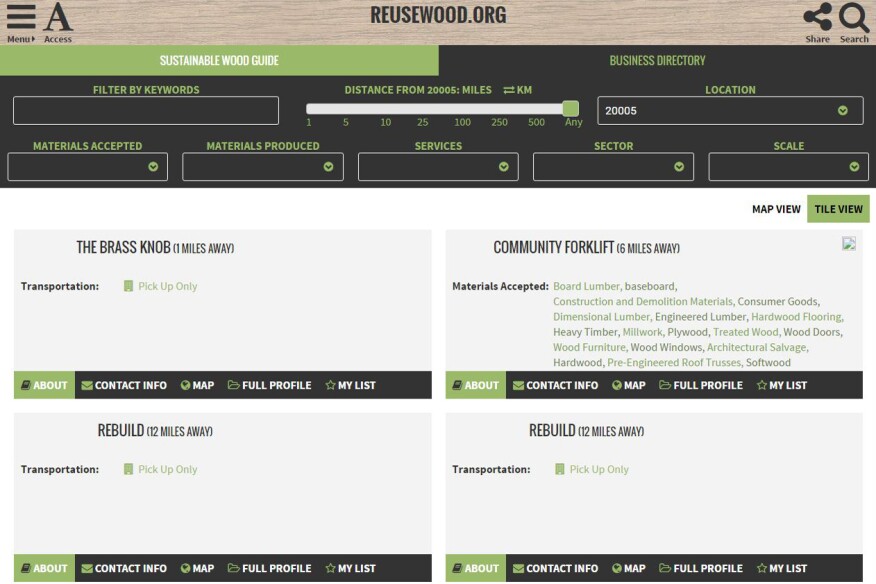 The site has two components: a Sustainable Wood Guide and a Business Directory. The guide includes material categories such as heavy-timber construction, engineered flooring, I-joists, urban wood, and wood chips. It offers basic information on each material category—how it's manufactured, what it's used for, and where it can be found—as well as options for reuse. The more interesting, and perhaps more useful, portion of the site, however, is the directory. Users can input their location, materials they're looking for, services provided (deconstruction, recycling, reuse dealers, for example), as well as a distance range.
"It is designed to help make connections between suppliers and customers at the sector level to provide joint solutions in the recycling and reuse of wood products," Glowinski explained. "For example, a demolition team might use the website to contact a nearby deconstruction or recycling vendor in order to responsibly dispose of their used wood products. Or, a builder hoping to find locally recycled wood for acoustic use in the atrium of a building can use the directory to find a dealer in their area."
As wood construction makes strides into the multi-story commercial and multifamily market, and project teams are encouraged by industry groups and a growing body of research to consider wood as a structural product, knowing how to reclaim and reuse the material is an important consideration.