This is the third post in a monthly series that explores the historical applications of building materials and systems, using resources from the Building Technology Heritage Library (BTHL), an online collection of AEC catalogs, brochures, trade publications, and more. The BTHL is a project of the Association for Preservation Technology, a joint U.S. and Canadian building preservation organization. Read more about the archive here.
The onset of the Industrial Revolution in the late-18th century changed the way metals were applied in construction. Long used to fabricate smaller elements like hardware and railings, the material took on a structural role with cast iron among its earliest innovations. Strong in compression but weak in tension, cast iron was generally limited to columns. It wasn't until the mid-19th century that steel came to the marketplace, allowing architecture and the profession to rise, quite literally, to new heights. The history of steel-frame construction and the urban high-rise is well-documented. But there were then, as there are today, many more uses for steel and other metals in both structural and cladding applications that help to tell the larger story of the materials' role in architecture.
A look through the BTHL reveals a sampling of historical trade and instructional materials that explore more than a few of them. They include: stamped steel panels for interior and exterior applications like ceilings and cornices; steel joists, trusses, and structural members; fences, railings, staircases, and ornamentation​; and, of course, pre-fabricated metal buildings dating from the mid-19th century. Below are a few examples of the catalogs, manuals, and other documentation that helped bring these and other architectural metal products into the modern building lexicon.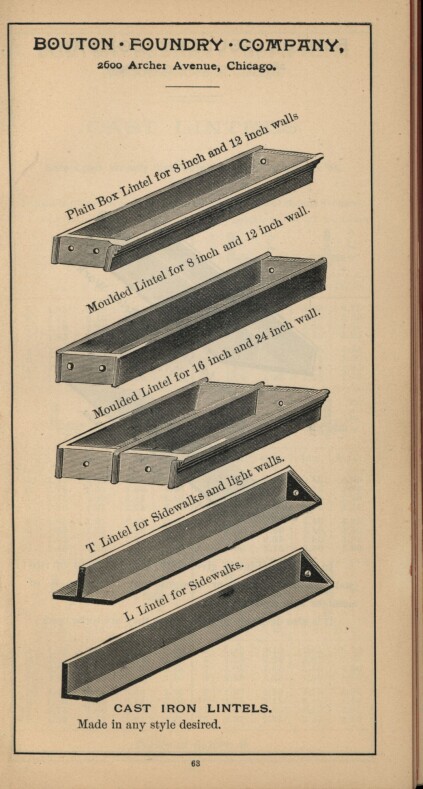 The cast-iron steel column was popular from the late 18th century (where it was often found in English mill buildings) to the early 20th century (where it added a decorative ​and structural element to storefronts in the U.S.). This catalog features an array of ornamental designs for cast-iron columns and structural lintels used routinely for light-commercial buildings, many of which still line America's "Main Streets."
The major steel companies​ regularly distributed catalogs featuring structural-steel members. Often, the texts would include structural-analysis tables, allowing them to double as engineering manuals. The Carnegie Steel Co., which made this guidebook, would go on to become a subsidiary of U.S. Steel after its owner and namesake Andrew Carnegie sold the company in the early 20th century. The fortune that Carnegie made from the sale funded the construction of many libraries throughout the U.S.
The Chicago-based Winslow Bros. Co. was a leading producer of ornamental ironwork for commercial buildings. To this day, their products can be found in structures such as Louis Sullivan's 1903 Carson, Pirie, Scott, and Co. Building (now the Sullivan Center), in Chicago, and the Bradbury Building, in Los Angeles, designed in 1893 by architects Sumner Hunt​ and George Wyman.​
Technical catalogs on construction techniques and processes are also a part of the BTHL. This 1930 catalog features electric arc welding, a then-novel fabrication technique replacing the use of rivets to join steel in structural applications.
In the early 20th century, steel companies began to shift from selling only components to selling entire buildings. The Truscon Steel Co. was a leader in this effort, particularly in the market for industrial buildings and warehouses.
Stamped sheet metal with galvanized coatings was a popular architectural use of the material in the late 19th and early 20th centuries. The Wheeling Corrugating Co. was a major producer of this product, but quite a few other companies are represented in the BTHL. Stamped metal enabled relatively lightweight architectural ornaments that soon replaced wood or carved stone for exterior cornices and other details.
Fences, exterior grilles, and railings were another common use of ornamental metal for sites and buildings. Woven wire and steel fences were popular​ catalog items marketed for farm use.
Geo. L. Mesker & Co. of Evansville, Ind., and the Mesker Bros. Iron Works of St. Louis were two specialty sheet-metal fabricators that sold metal building fronts. These stamped sheet metal fronts were particularly popular in America's small towns. The Mesker firms both sold similar products, which they advertised through catalogs. More than 8,000 fronts were sold from 1890 to 1910​.
Aluminum emerged in architecture in the mid-1930s and would gain traction following World War II, during which time it was used in windows, storefronts, and curtainwalls due to its economy in production and lightweight nature. This catalog features aluminum panels that can be used as a cladding material for various architectural applications.