Today, The American Institute of Architects announced that New York–based Architecture Research Office has been awarded the 2020 Architecture Firm Award, the highest honor that the Institute awards to architecture practices recognizing, "a firm that has consistently produced distinguished architecture for at least 10 years," according to AIA.
ARO was founded in New York in 1993 by Stephen Cassell, FAIA, Kim Yao, AIA, and Adam Yarinsky, FAIA. Over the last 26 years, ARO has been awarded six AIA Institute Honor Awards, the Cooper-Hewitt National Design Award for Architecture, and the Academy Award for Architecture from the American Academy of Arts and Letters. In 2018, ARO was named AIA New York's firm of the year.
"ARO's work, ranging from their extensive work on additional American university campuses, to the cultural work they are doing for the Rothko Chapel and have done for the Judd Foundation, to the research work that they've done on urban climate issues as well as material fabrication, has been consistently tight in its articulation (no excess), but it emerges from a keen understanding of each project and a keen appreciation for each deployed material rather than coming from a school of minimalism," wrote Sarah M. Whiting, Assoc. AIA, dean and Josep Lluís Sert professor of architecture at Harvard University, in a letter supporting ARO's nomination for the award.
"It takes the tireless efforts of firms like Architectural Research Office to construct a positive working environment within their offices that develop skills, discipline, and deep values to empower every young professional to achieve their own measure of success and purpose towards lifelong contributions to the profession and the broad realm of architecture," wrote Marlon Blackwell, FAIA, this year's AIA Gold Medal winner, in a letter supporting ARO's nomination. "I, too, admire their willingness to admit that they know enough to know that they don't know."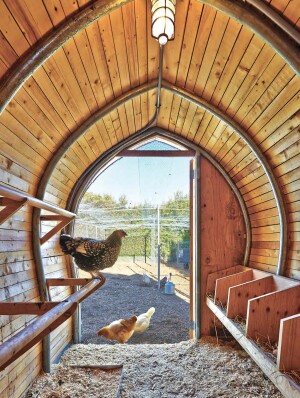 ARO will be recognized at the 2020 AIA Conference on Architecture in Los Angeles.
The jury for the 2020 AIA Architecture Firm Award was chaired by Kelly Hayes-McAlonie, FAIA, director of campus planning at the University of Buffalo, New York; and comprised Emily Grandstaff-Rice, FAIA, senior associate at Arrowstreet in Boston.; Norman Foster, Hon. FAIA, founder of Foster + Partners in London; Marsha Maytum, FAIA, founding principal of LMS in San Francisco; Takashi Yanai, FAIA, partner at Ehrlich Yanai Rhee Chaney Architects in Culver City, Calif.; Scott Shell, FAIA, principal at EHDD in San Francisco; Melissa Harlan, AIA, architect at Kiku Obata & Co. in St. Louis; and Maurice Cox former planning director for the City of Detroit.
This is a breaking news story and will continue to be updated.