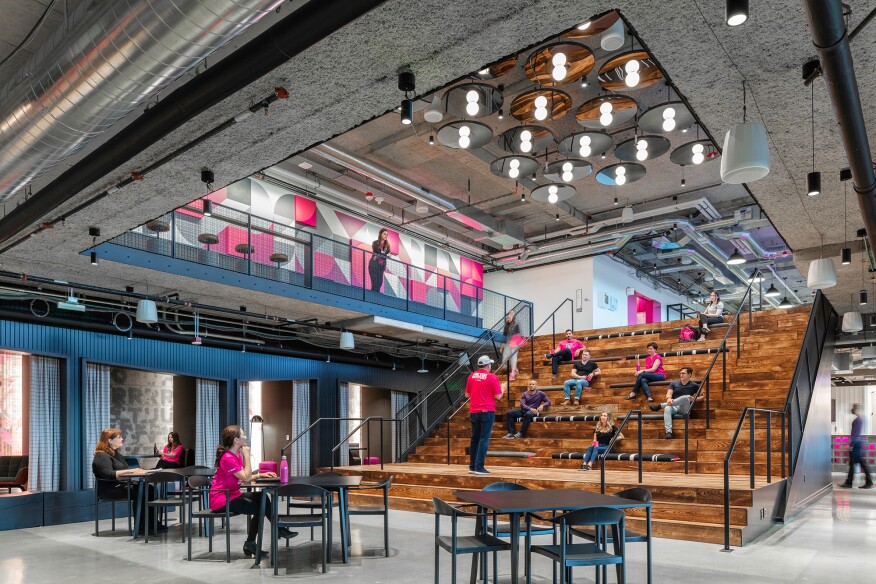 "The magenta LEDs further the brand and integrate with the design, which is very coherent and reasonable. The lighting keeps reinforcing, 'Here we are at T-Mobile.' I think it's a very nice response." —Juror Andrew Franz, AIA
Gensler's renovation of T-Mobile's 1.4-million-square-foot headquarters in Bellevue, Wash., with lighting design by Seattle-based Dark Light Design, updates the company's workspaces, connects a collection of campus buildings through a network of glowing bridges, and provides new amenities and services for employees.
T-Mobile's signature magenta color—a major symbol of the brand's cultural identity—was a key component used throughout the lighting design of the campus. The team was able to balance magenta and white light using carefully placed fixtures designed to improve workplace functionality and focus.
For the lighting designers, developing a unifying design lexicon for the campus, differentiating individual zones and spaces, and improving internal navigation were top of mind. For example, distinctive lighting in each building's elevator bay and globular multi-height luminaires help ease traffic flow by defining each unique area. In the collaboration spaces and focused work spots, vibrant vertical and horizontal lighting provides employees with visual intrigue throughout each workday by punctuating the materials, textures and surfaces used in the interior and exterior of the campus.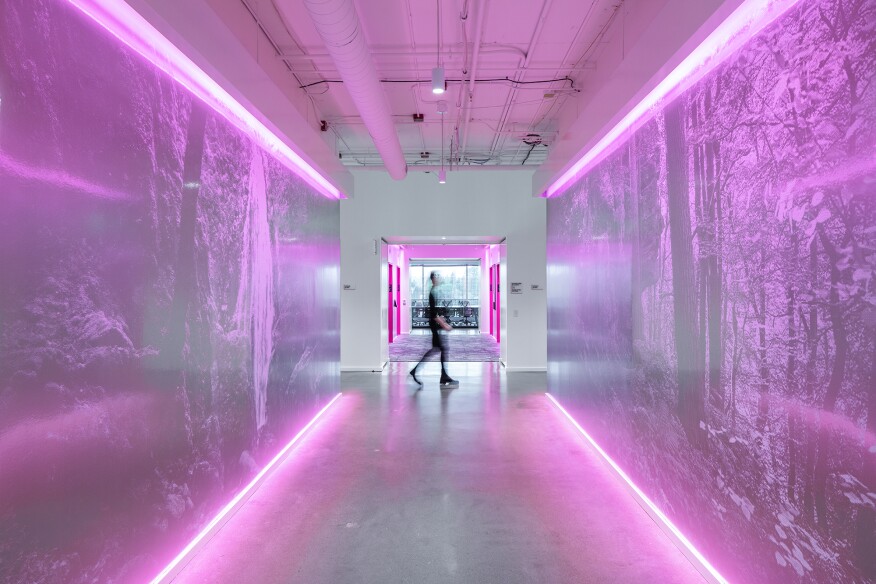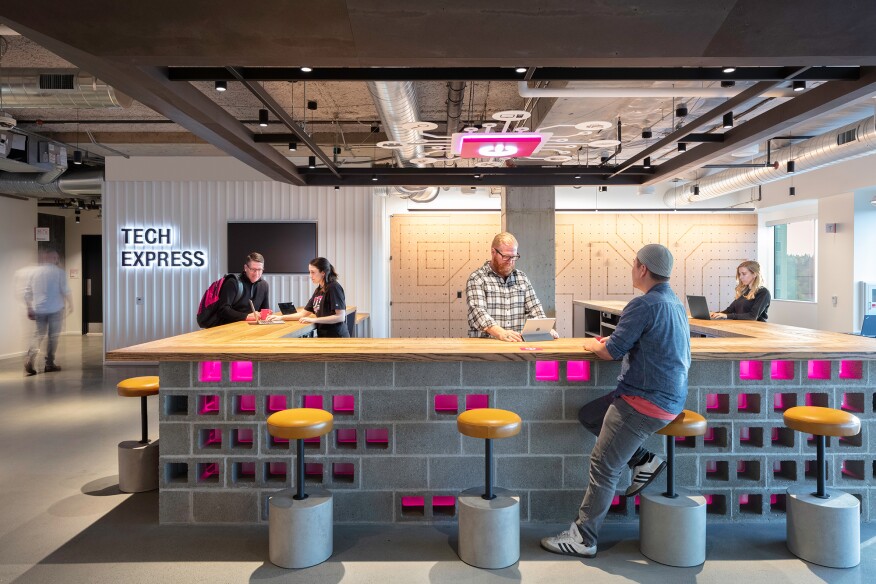 PROJECT CREDITS
Project Name: T-Mobile Headquarters
Location: Bellevue, Washington USA
Client/Owner: T-Mobile
Lighting Designer: Dark Light Design
Architect: Gensler
Photographer: Heywood Chan, YE-H PHOTOGRAPHY
Project Size: 1,007,000
Watts per Square Foot: 0.47 w/sf
Code Compliance: Washington Energy Code
Lighting Product Manufacturers: Decorative – Barn Light, Schoolhouse Electric, Allied Maker, Rich Brilliant Willing, Sonneman, Juniper, Pablo Designs, Flos, Graypants, Bega, ANDlight, Luceplan, Andrew Neyer; Office/Meeting Rooms – Lumenwerx, Marset, Finelite; Downlights/Track – Gotham, Tech Lighting, Lucifer Lighting, Intense, iGuzzini; Linear/Strip – Luminii, Kelvix, Vode; Other – Klik, GVA, Insight, Boca Flasher
This article first appeared in the January/Fenuary issue of ARCHITECT.