"What I like about this is that [the façade's] digital-ness did not take away from the rest of the lighting on the building. They worked together very nicely." —Juror Lauren Dandridge
Located in Wuhan, China's central business district, the approximately 20,451,440-square-foot MixedC Shopping Mall is cocooned in the Crystal Crown: a shimmering, double-skinned façade that creates a striking digital LED display.
With its layers of light and color, the Crystal Crown offers an eye-catching sensory experience, at once attracting shoppers and connecting the center to the vibrant and bustling neighborhood that surrounds it. Working closely with Hong Kong–based architect Lead8 and the curtain-wall consultant, Beijing lighting designer Grand Sight Design International developed a scheme relying on the architecture itself: Custom distribution lenses and diffusion film bring RGBW full-color light inside the faceted curtain wall, while linear, single-color lights brighten the project's exposed ribs.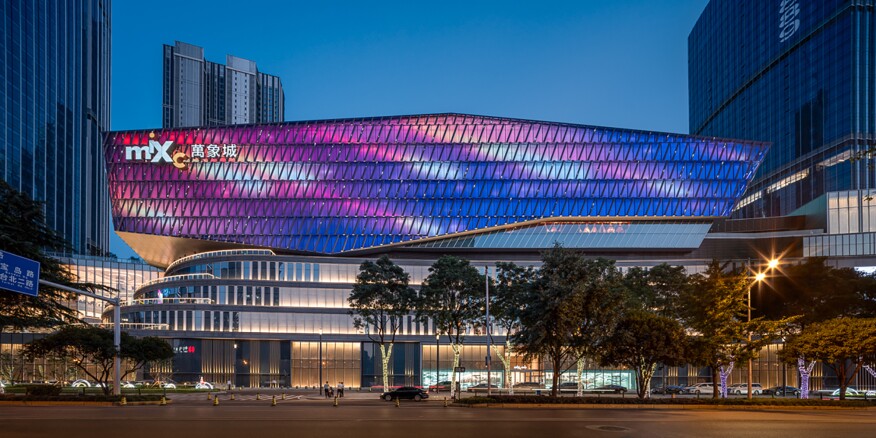 PROJECT CREDITS
Project Name: Wuhan MixC Shopping Mall
Location: Wuhan, China
Client/Owner: China Resources Land Development Co.
Lighting Designer: Grand Sight International Design, Beijing. Wang Yanzhi (chief designer); Tim Cheng (design director); Ren Hui (technical director)
Project Size: 1,819,100 square feet
Project Cost: 1.25 billion RMB
Lighting Cost: 5 million RMB
Watts per Square Foot: 0.3
Code Compliance: Code for lighting design of urban nightscape, China Industry Standards (JGJ-T163-2008)
Lighting Product Manufacturers: Strong LED; N-STAR
This article first appeared in the January/Febuary 2023 issue of ARCHITECT.