This week, we're sharing projects from Whistler, British Columbia to Shanghai, Dordrecht, the Netherlands, and São Paulo, with several stops in between. In addition to the projects that we give more detailed coverage, we highlight work that architecture firms share with us every day through the Project Gallery, the user-generated portion of ARCHITECT's web site. To date, we have more than 15,000 projects.
This weekly roundup showcases some of the coolest new projects to be added to the gallery—thanks to architects like you.
Pinghe Bibliotheater
Shanghai
Open Architecture
"The proscenium theater and the black box, which require the least natural light and the most acoustic isolation, occupy the lower part and the deep central area of the building, while the library occupies the upper part. A loop of different reading spaces rises and drops according to the varying heights of the theater volumes below, creating a terraced spatial sequence that climaxes at a central reading area that is surrounded by books and light."
Whistler Ski House
Whistler, British Columbia
Olson Kundig
"The house is designed as two separate structures connected by an 80-foot-long glass-walled bridge. The larger of the wings contains the living and dining area, master bedroom, and two guest rooms. The smaller wing, or kids' wing, has four rooms furnished with enough beds to accommodate the family's children [and] their friends and leaves room for future grandchildren."
Spoorzone Dordrecht
Dordrecht, the Netherlands
Mecanoo
"In 2040, the railway will no longer form a barrier in the city, but will become a place to stay, a place of connectivity with space for new developments. Dordrecht will be known as a city of wood, trade, and innovation, the symbiosis of nature and urban development, water, events, sports, cycling, and walking. A city that shows how we can resolve the major challenges of our time."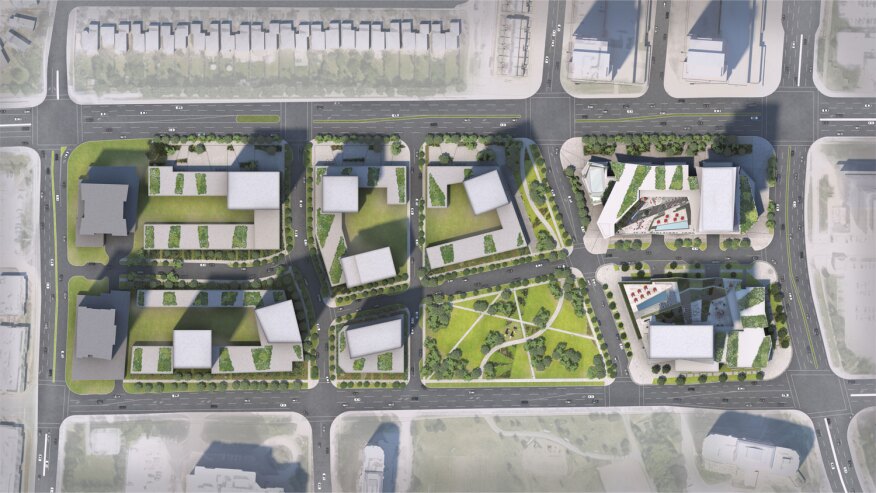 M City - Phase 1 and 2
Ontario, Canada
Core Architects
"The first and most visible phase of the project will be a 56-storey tower, on top of an extended 5-storey horizontal base or 'podium' of public facilities and retail and recreational uses. The tower has a special geometry that not only provides for excellent residential units but also contributes to the iconic role of this building on the urban skyline. The podium has a prismatic shape by virtue of its faceted glass walls, as well as a large rooftop amenity and green roof."
Pueri Domus Perdizes School
São Paulo
Perkins&Will
"The school was designed and built in record time: 11 months. The mission was accomplished thanks to the use of metallic structure, which not only allowed faster and cleaner construction, but also [created] larger spans, favoring natural lighting and ventilation. The wooded brise soleil also collaborate with this feature while giving the façade a modern visual, making the edifice stand out in the region."
The Blanton Museum of Art Grounds Redesign
Austin, Texas
Snøhetta
"A series of architectural additions work together with public shade sculptures and a lush landscape to give the Blanton Museum of Art a bold new presence that reflects its artistic direction. The Blanton's courtyard currently forms a gateway where Congress Avenue, the city's main north-south axis, meets the main pedestrian spine of the UT campus."
FP3
Boston
Hacin + Associates
"FP3 includes two fully renovated 19th century warehouse buildings, a new adjacent infill building and a terraced 3-story rooftop addition, adding 76 luxury lofts, three restaurants, and a lobby gallery to the Fort Point arts district of Boston. Through the unconventional use of materials and forms common to the area's industrial and mercantile past, FP3 reinterprets the architecture of the historic waterfront."
Samuel Oschin Cancer Center at Cedars-Sinai
Los Angeles
HGA
"The HGA-designed Samuel Oschin Cancer Center comprises 41 exam rooms, 53 infusion bays, and support spaces with an efficient organizational layout, comforting interiors and improved patient amenities. The design was guided by a vision for the space to optimize workflow and satisfaction for all users, while providing a nurturing and healing health care environment."
Butaro Oncology Support Centre
Butaro, Rwanda
MASS Design Group
Boston- and Kigali, Rwanda–based MASS Design Group is well-versed in the art of creating health care facilities that respond thoughtfully to the communities they serve. For the Butaro Oncology Support Center in Butaro, Rwanda, the firm emphasized accessibility and an extensive ventilation system. The firm's latest health care project, Family Health Center on Virginia, lies about 30 miles north of Dallas, in East McKinney, Texas, and opened in January. The 25,000-square-foot facility aims to help its rapidly growing community overcome health care disparities and provide a space that is "welcoming, open, and dignified," according to David Saladik, MASS design director and senior principal. "That the built environment can improve health when done well has been a core tenet of our work. Until this past year, the whole world didn't really think about their health being impacted by architecture. Now, everyone knows that that's true." Read more about the project, covered in ARCHITECT's latest Innovative Interiors feature, here.
Want to see your firm's work highlighted here? Sign up for an account with our Project Gallery, add your firm, and upload your projects. Go to the home page for the gallery and click on Create a Project.
This article has been updated to reflect that the project originally identified as The House of Hungarian Music, by Sou Fujimoto Architects is incorrect. The project is Snohetta's Blanton Museum of Art Grounds Redesign.