It is hard to find a religious experience in architecture these days. That is not because religion has disappeared from our society—far from it—but because the means of its delivery are now more akin to theatrical presentations than to stories told in stone around sermons pronounced in spirit-evoking spaces. One of the few major religions that still emphasizes the communal and real experience of a larger force expressed in built form, and that has the means to translate its needs into structures, is Islam. In recent years, some of the best religious designs I have seen have been those for mosques, and a highlight of such work to me is the Sancaklar Mosque on the outskirts of Istanbul.
I had the pleasure of visiting the building at the invitation of its architect, Emre Arolat, Hon. FAIA, who brought me to Turkey to write about his practice. Though he has a large and diverse practice whose mainstay is the design of luxury residential projects and mixed-use structures, the 2011 commission for this small mosque has led him to receive commissions for other such work. Together with a range of other designers, many of them working in Europe, Arolat has developed a less tradition-bound and more fundamental approach to the design of mosques.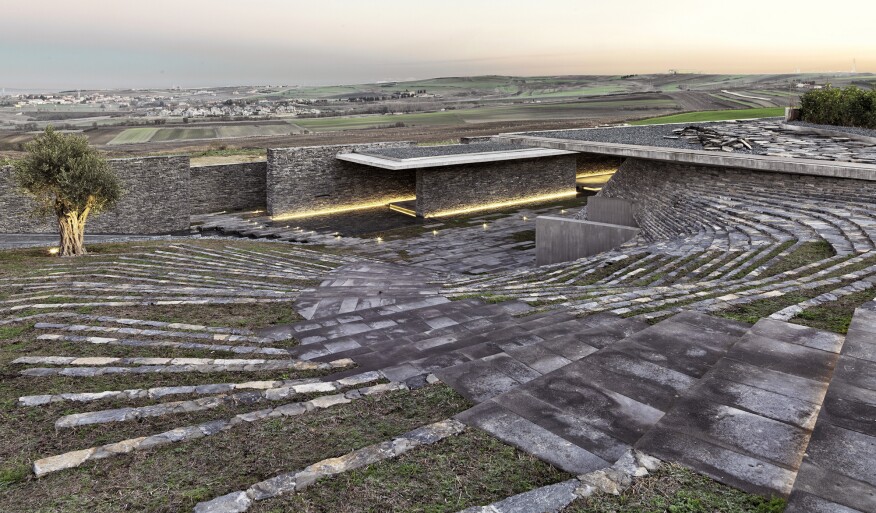 The only thing that is required for a mosque to function as such, at least according to the Quran, is that it be a shaded and clean place with a focus (the mihrab) on Mecca. It needs to be large enough for the community to pray while they sit shoulder to shoulder, and thus tends to be wider rather than longer and has little of the linear hierarchy we associate with churches. It also needs a place of ablution to maintain cleanliness. Anything else has been added to the type since, from the minrab where the iman preaches, to the minaret from which the believers are called to prayer. The idea of domes, arches, and other elements we now think of as integral to mosques are importations from the various cultures—from those of the Baghdad-based early sultanates to those of the Ottoman Empire—where the Islamic faith has been dominant over the centuries.
Arolat's response, when faced with the request by a small community that had just built a gated compound for itself in Istanbul's fast-growing periphery, was to go back to basics. When I approached the mosque on a windy day—a site that was nothing but open fields when Arolat received the commission, but is now increasingly surrounded by residential developments—all you see is a rough-stone-clad vertical slab announcing the presence of the mosque. This slab is also the instrument for the call to prayer, and around it are several horizontal walls covered with the same loose-set stone. Here, outdoor services and events take place, sheltered from the breezes that blow almost without stop. Cows are welcome to wander over from the nearby fields.
The hill dips down to one side, and what appear to be random stones on the ground arrange themselves into fanning arcs that step down and lead you to the entrance plaza below. Along the way, you curve by a bow of loosely laid stone, its bulging presence hinting at the weight of the building behind. You cross between the mosque proper to your right and an administration and classroom building to your left and proceed to a sparse space, covered in bare concrete, where, sitting on simple wood benches, you can perform the cleansing necessary before praying.
You then enter into the mosque itself, and the space reveals itself to you immediately. Like the hill, it slopes down, now leading you not to the view over the countryside but to a blank wall washed by a sunlight entering through a skylight that runs its entire length.
You feel yourself drawn to that light, making your way down the gentle steps (another break from tradition, as most mosques have flat floors) towards that wall, where a small slot acts as the mihrab and a spill of semicircular steps denotes the minrab. That is all there is. The ceiling above you recedes in darkness in a sequence of rough and shallow hexagons. All is quiet and you are removed from the scale, the wind, the noise, and the urban complexity that you left outside. Here you are in a cave, a return to the womb of humanity, coming to terms with something absolute and inexplicable, made real only through light and proportions, that you experience as part of a community.
Visiting the Sancaklar Mosque was a powerful experience. It made me realize how necessary such spaces are in our society, even to those of us who might not believe in a deity, let alone feel that the communal rituals that he or she demands will bring us together. A space that awakens a sense of awe and humbleness, of togetherness and of retreat, one that is part of the landscape and yet reveals the order of human design—that is something we do need, and Emre Arolat has delivered it in this remote corner of one of our great cities.