This week, we're sharing projects from Louisiana to Hawaii, San Diego, and British Columbia, with several stops in between. In addition to the projects that we cover in detail, we highlight work that architecture firms share with us every day through Project Gallery, the user-generated portion of ARCHITECT's website. To date, we have more than 16,000 projects.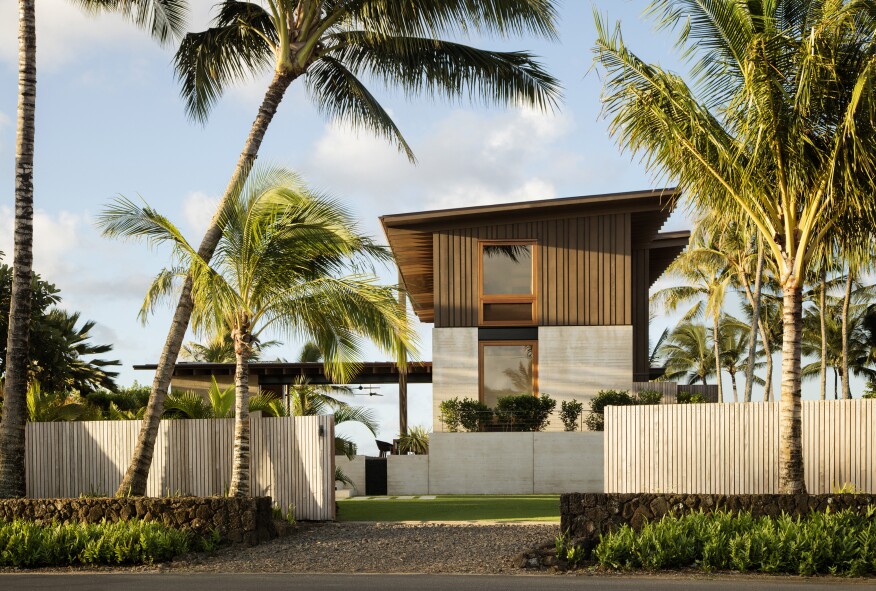 Hale Nukumoi, Kauai, Hawaii
Walker Warner Architects
"The main house and adjacent guest house—both L-shaped structures—feature pigmented, board-formed concrete base structures, with dark timber cladding the upper portions."
Maya & Olmeca Residence Halls, San Diego
Harley Ellis Devereaux
"Creating openness and flow through the buildings with lots of collaborative areas designed for studying, playing, eating, and hanging out became the main goal of the project."
Dartmouth Campus Master Plan, Hanover, N.H.
Beyer Blinder Belle Architects & Planners
"The Plan enables short- and long-term development by optimizing the reuse of existing buildings through space assessments, reorganizing vehicular circulation and parking to create opportunities for new pedestrian walkways, landscapes, and building sites, and integrating stormwater management with landscape to beautify the campus while improving hydrology."
MAST II Community Charter School, Philadelphia
EwingCole
"The exterior, with its gray corrugated metal panels and yellow composite metal paneling, is reminiscent of stacked cargo containers, paying homage to the site's rich maritime commercial history."
Geode, Lafayette, La.
Emerymcclure Architecture
"The exterior presents a gradient shingle skin and a dark gray [palette] to create drama between the inside and the outside."
County of Santa Clara Animal Services Center, San Martin, Calif.
Dreyfus & Blackford
"Taking a distinct departure from traditional shelter design, dog kennels are organized around an outdoor landscaped courtyard named 'The Park.'"
Thurgood Marshall Hall at Morgan State University, Baltimore
Hord Coplan Macht
"The building will form a new campus hub for student activity and strives to enliven the culture of community by creating a vibrant and robust space for gathering."
Nanaimo Airport Expansion, Nanaimo, British Columbia
Office of Mcfarlane Biggar Architects + Designers and Checkwitch Poiron
"Located south of the growing port city of Nanaimo, British Columbia, the airport reflects the raw beauty of the landscape, its rich natural resources, and the promising future of the local community."
Parsley Health NYC, New York
Alda Ly Architecture
For Parsley Health's 5,500-square-foot flagship in New York, local firm Alda Ly Architecture worked to "create a calming, comfortable care office that breaks from industry norms," according to its project description. With an airy member lounge and warm lighting scheme, Parsley Health aims to provide customers with "comfortable, safe, and seamless navigation." ALA brought that same attention to Tia LA, a recently completed health care project in the city's Silver Lake neighborhood. "We wanted to show patients that we really designed the space for them," ALA founder Alda Ly tells ARCHITECT. You can read more about the project, featured in ARCHITECT's latest Innovative Interiors, here. You can also get to know Ly and ALA, ARCHITECT's June Next Progressives firm, here.
Want to see your firm's work highlighted here? Sign up for an account with ARCHITECT's Project Gallery, add your firm, and upload your projects. Go to the Project Gallery's homepage and click Create a Project.