Concrete is not the first material that comes to mind when considering either a beachside retreat or the architecture of the Hamptons. But New York–based LevenBetts turned to the material to evoke the color of the nearby sand for the 8,000-square-foot 36SML Beach House in Amagansett, N.Y.
The vacation house is designed for both entertaining and for separating—but not isolating—the family's varied interests. The clients—a husband and wife and their three teenage children—wanted a house that could accommodate a range of activities, including tinkering with cars and motorcycles. "One really important factor was that he [the husband] could always be connected to the family, not out in the garage away from everybody," says partner David Leven, AIA, noting that the various programmatic zones "connect with one another in the public spaces."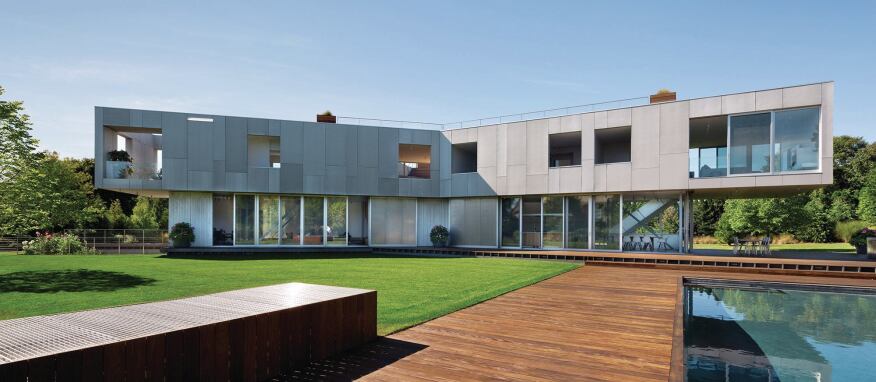 To create these different areas of activity, the house is organized around three spokes. On the ground level they comprise a three-car garage, a kitchen, and a living area. The house is oriented so the driveway cuts through a breezeway near the hub of the spokes, orbits a roundabout, and exits the site under a cantilever at the northwest end of the structure. "We were denying that formal front door with the front circle drive that you see a lot out in Long Island," partner Stella Betts says. Instead, there is a door that leads from the covered breezeway into the living area.
The second floor is divided into a wing for the master suite, a wing for the three teenagers' bedrooms, and a three-bedroom guest wing. The circulation is organized around a central indoor–outdoor space with wooden amphitheater seats leading up to a roof deck. Accent rear-projection film allows movies to be projected directly onto the surface of the glass.
The basement level of the house includes a living area and an extra bunk room that can sleep another six people. To bring light in, the architects excavated a below-grade patio with a stepped garden leading up to the south lawn. "In almost every room, you're connected to the outdoors," Betts says.
On the exterior, concrete is everywhere. The ground level is clad in glass-fiber reinforced concrete panels with stainless steel fasteners. Concrete continues inside as the floor in the kitchen and living areas, then switches to white oak for the central staircase and the living quarters. The second story is sheathed in cement-board panels, punctured by generous windows and sliding glass doors. Several of the windows slide into concealed pockets when open, removing the last, transparent barrier between the inside and out and proving that a concrete house can still be wide open to the sun and ocean breezes.
Drawings
---
Project Credits Project: 36SML Beach House, Amagansett, N.Y.
Architect: LevenBetts, New York—David Leven, AIA, Stella Betts (partners); Andrew Feuerstein (project architect); Deric Mizokami, Sebastian Mardi, Angi Tsang, Edwin May, Bret Quagliara (project team)
Structural Engineer: Guy Nordenson and Associates
Lighting Designer: Tillotson Design Associates
Contractor: Reinhardt O'Brien
Size: 8,000 square feet
Cost: Withheld