This week, we have projects to share with you from China to Wisconsin, and Portugal to India. As always, in addition to the projects we choose to give more detailed coverage to, we like to showcase some from the architecture firms that share their projects with us, and to you, directly—each and every day. The Project Gallery is a user-generated portion of our site where firms upload their latest projects. So far, we have more than 14,000 projects, making it a wealth of great design information.
In this space, each week, we'll try to give thanks to the firms who share their work with us by sharing a handful of the coolest new projects to join the gallery with you.
Kingboard Centre, in Shanghai, by Aedas
The firm "was commissioned by the Kingboard Group to design a multi-functional commercial complex at Kingboard Culture Plaza, a key nod and starting point of the central axis of Shanghai Hongqiao Business Zone, a future CBD at the heart of Yangtze River Delta."
2555 Park, in Palo Alto, Calif., by Heather Young Architects
This office building's "expanses of floor to ceiling glass on three sides of the upper floors open to views across Palo Alto to the Western hills while its vertical fins act as shading to keep the building's solar heat gain in check."
Woolscape, in Busan, South Korea, by Lawrence Kim / A+U LAB
"The aim was to utilize wool as the device that engages a viewer and shape perception of the space. The installation consists of recycled-yarn threads in orthogonal alignment with over 12,000 lines forming an assemblage of fifty-eight vertically suspended planes."
G5 Brewing Company, Beloit, Wis., by Cushing Terrell
"Melding aspects of Montana and the Midwest, the design balances local vernacular, contemporary details, and western materials to create a timeless brewery and restaurant to gather for good company and a pint or two."
White Mound County Park, in Hill Point, Wis., by Galbraith Carnahan Architects
"In addition to common sense sustainable strategies such as proper solar shading and building orientation, the new parks office employs the use of super-insulated walls and roofing. This allows the building to far exceed the code minimum requirements for insulation."
Marian Spencer Hall, University of Cincinnati, in Cincinnati, by GBBN Architects
"The overall mass of the building has its own tiered expression to provide a transition between the scales and materials of the neighboring residential halls. Brick, glass and concrete are carefully brought together to create a unique but unifying composition."
Dental Clinic Lisbon, in Lisbon, Portugal, by Sabrab SA
"The inspiration of this project [is a skylight that floods] the central area of the waiting room with natural light and around which all the compartments have developed."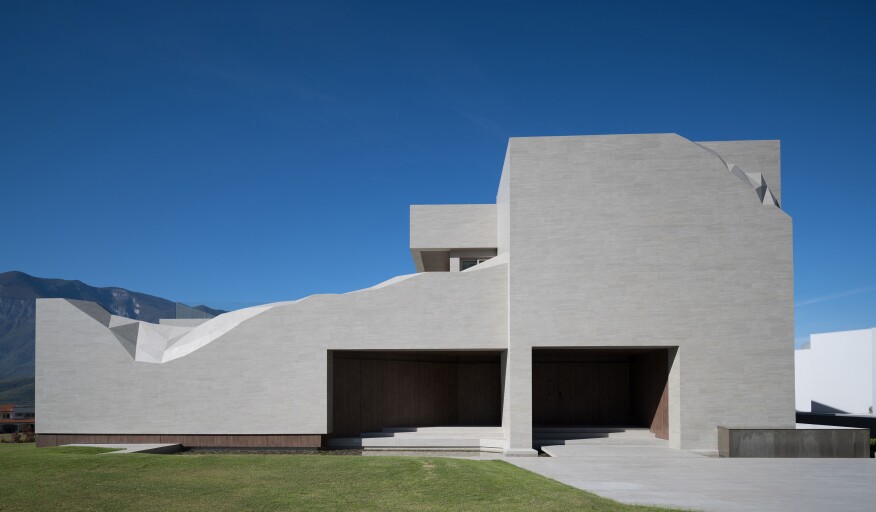 M+B Residence, in Monterrey, Mexico, by Bolivar Arquitectos
"The façade, which is clad in almost 13,000 square feet of quartzite-effect porcelain tiles from Provenza, has a jagged silhouette that mimics the topography of the surrounding mountains."
Tri Tessellate, in Noida, India, by Amit Khanna Design Associates
In the planned city of Noida, southeast of New Delhi, "while the glass panels [of this building] may appear randomly sprinkled, their positions are the result of interior daylighting requirements. The colors of the panels themselves have been chosen for better light absorption at lower levels, with higher levels of reflectivity closer to the top of the building."
Nordstern, in Basel, Switzerland, by Walters-Storyk Design Group
"When the celebrated EDM nightclub Nordstern was forced to vacate its original premises in an industrial building in Basel, Switzerland, owner Agi Isaku selected a former riverboat docked in the Rhine River for its new location."
Chouteau Greenway Framework Plan, in St. Louis, by Stoss Landscape Urbanism
This urban design plan for the Midwest city got an Award in our 67th annual Progressive Architecture Awards by connecting "four existing green spaces located several miles from one another: the famed Gateway Arch grounds on the Mississippi riverfront, the city's sprawling Forest Park to the west, Fairground Park to the north, and Tower Grove Park to the south. The Stoss team's plan achieves that objective and a great deal more—tying together not only the four sites but 20 adjacent neighborhoods to forge a remarkable new urban constellation." Learn about all of the 2020 P/A Awards winners here.
Want to see your firm's work in this space in the future? Sign up for an account with our Project Gallery, add your firm, and upload your projects. Just go to the home page for the gallery and click on Create a Project.