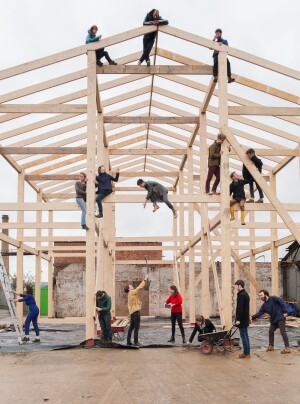 Today, Mayor Rahm Emanuel announced the roster of more than 60 participating firms and artists in the inaugural Chicago Architecture Biennial, which will run from Oct. 3, 2015, to Jan. 3, 2016. The participants were chosen by Biennial co-artistic directors Joseph Grima and Sarah Herda, who were backed by an advisory council that includes David Adjaye, Hon. FAIA; Elizabeth Diller; Jeanne Gang, FAIA; Frank Gehry, FAIA; Sylvia Lavin; Hans Ulrich Obrist; Lord Peter Palumbo; and Stanley Tigerman, FAIA.
Titled The State of the Art of Architecture, the exposition "is an occasion to explore the inspiring work that a new architectural generation is producing," Grima said in a press release. The biennial, which will be the largest international survey of contemporary architecture in North America, grew out of Mayor Emanuel's vision for showcasing the city's architecture and Chicago's 2012 cultural plan developed by the city's Department of Cultural Affairs and Special Events and its commissioner, Michelle Boone.
The architecture and design firms listed below will present their work as part of the Biennial exhibition in the Chicago Cultural Center and at iconic sites throughout the city, including Millennium Park, City Gallery in the historic Water Tower Place, 72 E. Randolph St., and the Stony Island Arts Bank. The final list of participants will be confirmed in the coming months.
Al Borde (Quito, Ecuador)
allzone/Rachaporn Choochuey (Bangok)
Andreas Angelidakis (Athens, Greece)
Andrés Jaque/ Office for Political Innovation (Madrid, New York)
Aranda\Lasch (Tucson, Ariz.; New York)
Assemble (London)
Atelier Bow-­‐Wow (Tokyo)
Iwan Baan (Amsterdam)
Erin Besler/ Besler & Sons (Chicago)
Tatiana Bilbao S.C. (Mexico City)
Bjarke Ingels Group (Copenhagen, Denmark)
Santiago Borja (Mexico City)
Carlos Bunga (Barcelona, Spain)
Bureau Spectacular/ Jimenez Lai (Los Angeles)
Csutoras & Liando (Jakarta, Indonesia; London)
Design With Company (Chicago)
El Equipo de Mazzanti/ Giancarlo Mazzanti (Bogota, Colombia)
Frida Escobedo/ Taller de Aquitectura (Mexico City)
Didier Faustino (Paris)
Moon Hoon (Seoul, Korea)
Indie Architecture + Paul Preissner Architects (Denver)
John Ronan Architects (Chicago)
Johnston Marklee (Los Angeles)
junya.ishigami+associates (Tokyo)
Kéré Architecture/ Francis Kéré (Gando, Burkina Faso; Berlin)
Kuehn Malvezzi (Berlin)
Anne Lacaton & Jean-­‐Philippe Vassal and Frederic Druot (Paris)
Yasmeen Lari/ Heritage Foundation Pakistan (Lahore, Pakistan)
Lateral Office (Toronto)
LIST/ Ido Avissar (Paris)
MAIO (Barcelona, Spain)
Marshall Brown Projects (Chicago)
Mass Studies/ Minsuk Cho (Seoul, Korea)
MOS/ Michael Meredith and Hilary Sample (New York)
New-­‐Territories/ Francois Roche & Camille Lacadee (New York)
NLÉ/ Kunlé Adeyemi (Lagos, Nigeria; Rotterdam, Netherlands)
Norman Kelley (Chicago)
OFFICE/ Kersten Geers David Van Severen (Brussels)
Onishimaki + Hyakuda Architects (Tokyo)
OPEN Architecture/ Li Hu & Huang Wenjing (Beijing)
Lluís Ortega / Sio2arch (Chicago; Barcelona, Spain)
otherothers/ David Neustein & Grace Mortlock (Sydney)
Pedro&Juana (Mexico City)
Pezo von Ellrichshaussen (Concepcion, Chile)
Plan:b Arquitectos/ Felipe Mesa & Federico Mesa (Medellin, Colombia)
PORT (Chicago)
Productora (Mexico City)
RAAAF/ Rietveld Architecture-­‐Art-­‐Affordances (Amsterdam)
Bryony Roberts (Los Angeles; Oslo, Norway)
RUA Arquitetos (Rio de Janeiro)
Rural Urban Framework (Hong Kong)
SO-­‐IL (New York)
Sou Fujimoto Architects (Tokyo)
studio Albori (Milan)
Studio [D]Tale (Harare, Zimbabwe; Capetown, South Africa; London)
Studio Gang/ Jeanne Gang (Chicago)
TOMA (Santiago, Chile)
UrbanLab/ Sarah Dunn and Martin Felson (Chicago)
VTN/ Vo Trong Nghia Architects (Ho Chi Minh City, Vietnam)
WAI Architecture Think Tank (Beijing)
Weathers/ Sean Lally (Chicago)
Amanda Williams (Chicago)
WORKac + Ant Farm / Amale Andraos, Dan Wood Chip Lord, & Curtis Schreier (New York)
Note: This post has been updated.