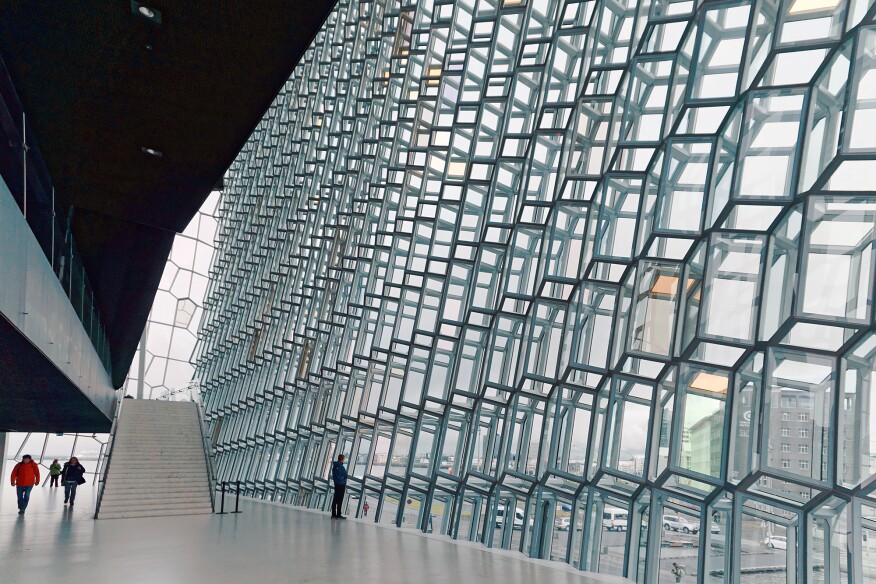 Glass is a ubiquitous material, yet its qualities are not easily describable or predictable. Transparency, translucency, reflectance, refraction, and coloration are all visual properties that make glass a chameleon-like substance that transforms with changes in illumination and perspective. One can appreciate the indescribable qualities of glass when attempting to represent it in a drawing. For example, consider the problem of representing glass in an architectural elevation: designers often show the material as invisible, highly reflective, or tinted; however, one's experience is much more nuanced and dynamic. In addition, the technological capacity of glass is evolving at a swift pace—enabling innovative building applications not previously possible.
Aki Ishida, AIA, addresses the advances and ever-changing qualities of glass in Blurred Transparencies in Contemporary Glass Architecture: Material, Culture, and Technology (Routledge, 2020). An architect and associate professor at the Virginia Tech School of Architecture + Design, Ishida spent four years working with James Carpenter, an established innovator in glass and other material applications. In her book, Ishida calls upon her combined background in practice and academia to evaluate the technical achievements and conceptual implications of glass as a contemporary building material. Blurred Transparencies investigates six consequential projects: Zonnestraal, a former sanatorium in Hilversum, the Netherlands; the Willis Building in Ipswich, England; the Jacob K. Javits Convention Center in New York; the Glass Pavilion of the Toledo Museum of Art in Ohio; Apple Fifth Avenue, or the glass cube Apple store in New York; and the Harpa Concert Hall and Conference Center in Reykjavik. The in-depth case studies of how glass is used in these buildings enhance our appreciation for this inscrutable material and its development in recent years.
Ishida's experience in architectural design and material detailing are evident in her scrutiny of the glass applications in the book. In her evaluation of SANAA's Glass Pavilion at the Toledo Museum of Art, she focuses on the architects' development of a double-glazing approach, which functions as a kind of spatialized insulated glazing unit (IGU). In the Glass Pavilion, a 30-inch zone encapsulated between glass panels separates interior occupied spaces from the exterior. The panels are effectively solid (not IGUs); the exterior surface is composed of two ½-inch laminated sheets, and the interior surface consists of two 3/8-inch laminated sheets. This in-between thermally mediated buffer (seen but not occupied) makes it possible to use expansive floor-to-ceiling glass in an energy-efficient manner despite the cold Ohio climate.
Experientially, the constructed building imparts baffling visual qualities. The 13-foot-tall glass panels used for most of the exterior and interior vertical surfaces are frameless (with structural silicone joints) and low iron (to reduce coloration). Yet despite the transparency and clarity of the material, the collective interplay of layered, curved, and reflecting surfaces creates an uncanny visual experience that is simultaneously transparent, translucent, and opaque—motivating Ishida to call the building "a carefully calibrated instrument of light, shadow, and reflection." According to the author, the result is "a complex, intensified space of perception and a novel interpretation of dynamic glass transparency."
Apple's glass cube on Manhattan's 5th Avenue, designed by Bohlin Cywinski Jackson, offers a different example of the mutability of glass. First constructed in 2006, the cube is now one of the top five most photographed landmarks in New York City. The pavilion serves as an iconic entry to a subterranean store built below the GM Plaza. The design team's goal was to maximize the use of glass and minimize the use of other supporting materials. Working in collaboration with structural engineer James O'Callaghan, manufacturer TriPyramid Structures, and the visionary client Steve Jobs, the architect designed a 32.5-foot cube composed of 90 multilayer laminated and heat-strengthened glass panels connected with metal fittings. Remarkably, the cube has been redesigned and rebuilt three times in 13 years (not unlike Japan's Ise Grand Shrine, Ishida notes, which is reconstructed every 20 years). Like the products that Apple regularly updates, the pavilion on 5th Avenue continues to metamorphose with the latest technology and design approaches. Over time, the structure is dematerializing: the latest cube consists of only 15 glass panels, with fewer and smaller metal fittings than the first structure. Despite this disappearing act, Ishida describes the building as monumental based on its landmark status and symbolic connection to the culturally transformative technology of the glass interface.
"The cube's materiality suggests a new type of monument appropriate for its time and purpose, made with a substance not traditionally associated with monuments," she argues.
The Harpa Conference Hall and Conference Center, designed by Henning Larsen and Batteríið Architects with artist Olafur Eliasson, features a very different strategy: an extensive envelope composed of geometric glass modules, each of which is roughly the size of a human adult. Described by Eliasson as "quasi-bricks," the 12-sided polygonal components allude to rock crystals, icebergs, and kaleidoscopes. These modules do not form a curtain wall as might be expected, given that multistory glazing is almost always hung from a building's structure. Instead, the quasi-bricks stack upon one another to form a self-supporting wall that is notably free of perimeter columns (some facades are non-structural, employing a polygonal pattern of mullions on a suspended curtain wall). Inspired by the investigations into lightweight structures by Buckminster Fuller and Frei Otto, the quasi-brick facade imparts visually arresting effects due to its modular depth and 10 different glass types, including anti-reflective, tinted, and dichroic glazing. The result is amplified by incorporating programmable colored LED strips within the facade modules. The overall experience of the building, which is further enhanced by its dramatic waterfront setting, is reminiscent of the early 20th-century dreams of colored glass architecture envisioned by Paul Scheerbart and Bruno Taut.
"In Harpa, Eliasson materializes buildings depicted as polychrome glass glaciers, mountains, and flowers in Taut's drawings," Ishida writes. Like the other noteworthy glass case studies Ishida investigates, Harpa demonstrates the extraordinary capacities of this continuously evolving building material.
The views and conclusions from this author are not necessarily those of ARCHITECT magazine or of The American Institute of Architects.