Project: Understood Workspace, New York
Client: Understood is a nonprofit organization that helps those who learn and think differently—for example, people with learning differences such as ADHD or dyslexia—discover their potential, take control, and find community. This office sets new standards in design and accessibility and specifically addresses the needs of the neurodiverse.
What were the guiding principles for your project?
After developing a proposed floor plan and surveying the entire staff in depth to understand the workflow of the team, we developed guiding principles for the project where the space would be welcoming, flexible, and inclusive in all senses of the word. We wanted the floor plan to be extremely intuitive, and we didn't want anybody to feel unsure about where they were going in the office, so we made sure to have clear visual landmarks as you moved throughout the space.
Designers: As co-founders of New York City-based design firm Float Studio, Nina Etnier and Brad Sherman, met in college and began working together eight years later to design headquarters for companies aging out of the coworking model. They found a niche, having designed and refreshed the headquarters of tech startup companies including Casper, Bonobos, Food52, and Bombas. They have since expanded into working in other sectors, such as healthcare and hospitality.
---
Inside the Project
Create an Intuitive Space.
The common core area has a blue curved wall at reception, which for people with low vision is helpful for navigating space. It encourages a person to move through the space in an intuitive manner.
Inclusive Design is Paramount.
The designers worked closely with an ADA consultant to develop an intuitive layout, with design interventions that cater to all senses and promote inclusivity in design decisions. A variety of furniture types and sizes was specified. The curved walls in the center of the office help define the path of circulation, especially for individuals with low vision. A table with pedestal base and appropriate clearances was selected.
Wayfinding Should be Concise and Legible.
Restroom signage points to gender-inclusive bathrooms. Tactile dots were installed on the floor to awaken vigilance and alert blind or visually impaired people.
Flexibility is Key.
Small desks are properly equipped and users are encouraged to have a flexible mindset about alternate work spaces. There's also a clean desk policy to reduce visual clutter.
Be Strategic When it Comes to Visual Stimulation.
The use of materiality, color, and texture was purposeful. Designers integrated natural elements where possible, and there was a strategic use of contrast.
Pay Attention to Acoustic Quality.
Wall-mounted phone booths were provided for phone calls, and other acoustic interventions included refining the background white noise, as well as providing noise-canceling options, and AV assistance for the hearing-impaired.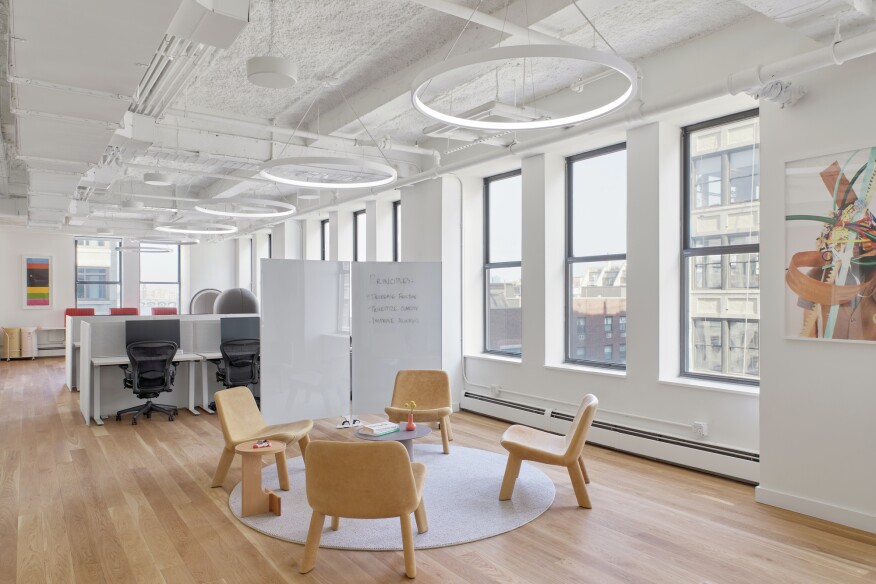 Prioritize Natural Light.
The floor plate isn't particularly large, so giving the team natural light throughout the space was important.
---
To see more Inside Out features, click here.