Drawing on Southern California's long history of experimentation and innovation, Los Angeles–based firm Murmur, founded in 2008 by Heather Roberge, Assoc. AIA, looks outside the discipline of architecture to the material and geometric logic of industries on the periphery of design practice, such as aerospace and fashion, to produce stimulating environments.
Also an associate professor at the University of California, Los Angeles (UCLA) Department of Architecture and Urban Design, as well as the director of its undergraduate program, Roberge finds ways to align her academic research with her firm's work, which ranges in scale from exhibitions and books to residential, civic, and master planning projects. "Anything that I'm interested in, I can weave into practice," she says.
Her latest installation, "En Pointe," at the SCI-Arc Gallery, features nine polygonal aluminum columns that lean on each other to create a self-supported massing with a figural and sculpted space between them. Her piece was the result of a research project she led at UCLA to unpack the genealogy of the column. " 'En Pointe' was designed around a particular disciplinary problem," Roberge says: "What new spatial implications might be produced using the column, and how would a particular method of working with material make that possible." The installation is a direct, physical translation of that research combined with Roberge's structural proficiency and knowledge of aluminum's material properties.
Roberge also explored the possibilities of aluminum in her design for an above-garage addition to a midcentury ranch house in Benedict Canyon, Calif. "I wanted to extend the spatial condition of the house to the addition without borrowing the aesthetics," she says. She added a modified butterfly roof, with four planes stitched together in the middle of the new volume, and an exterior staircase connecting the ground level to an upstairs terrace. The stair's guardrail is made of pleated, perforated aluminum sheets whose forms derive from garment-making research Roberge conducted at UCLA. The aluminum is self-supporting and produces a moiré pattern that varies with lighting conditions and times of day.
The concept of producing 3D objects from 2D patterns and shapes was further explored in Roberge's unbuilt proposal for the Taipei Museum of Art, in Taiwan. "We saw the skin of the building as a cloak that could be loosely arranged around the museum volume and could cascade into the landscape to produce spaces that weren't confined to the building massing," she says.
Vortex House, Murmur's second built project, seeks to draw the landscape inward to give character to the structure and to collapse natural and artificial geometries. Each face of the five-sided house has a specific relationship to the landscape that unfolds into a panorama of vast oceanfront, ridgeline and hilltop views. Measuring 1,300 square feet in area—small by Los Angeles standards—the house is arranged around a 500- square-foot patio at its core so that each room has at least two outdoor views.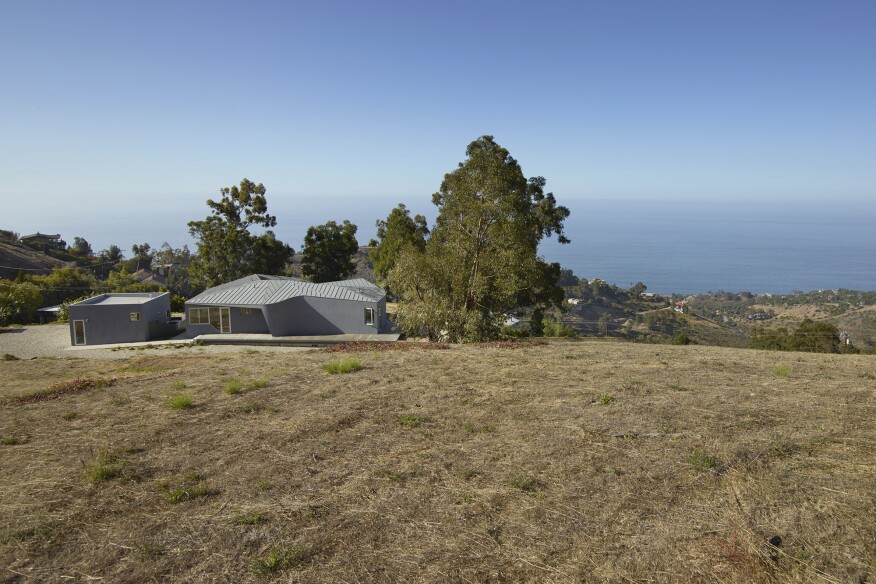 Murmur's Succulent House was developed in response to a prompt from the editors of 30,60,90 to address the American housing crisis of 2010. Roberge took the stance was that "architecture itself was not responding to environmentalism in ways that radically transformed organization or performance but rather placed Band-Aids on top of old organizations that weren't performing well." She set out to think about one environmental pressure, rainwater, and how harvesting it could radically alter the diagrammatic relationship of a house in Chicago. Focusing on runoff and the depletion of water tables, Roberge reversed the pitches of a typical roof to divert rainwater into a series of dynamic bladders that would visibly express the rainwater cycle and the house's water retention through their expansion or contraction. The roof was articulated to both slow and directly channel water into the two bladders, one in a winter garden and the other in an interior courtyard. The interior organization of the home was then distributed around these two ports, creating a figure-eight around the two active bladders.
The office's current focus, a self-initiated research project for the master plan of the Veterans Affairs campus in West Los Angeles, advances the same concepts pursued in the Vortex House with the use of technology: drone photography, GoPro cameras, and vehicle backup cameras. Roberge's students at UCLA will also have a chance to craft redevelopment plans for the site, which serves more than 90,000 area veterans, as an assignment.
Regardless of whether a project is an actual or academic exercise, Roberge focuses on defining problems over trying to solve them: "I'm interested in articulating what the problem is and dealing with it in an unconventional way."