As you approach the Pachtwoning house across a meadow of wildflowers, you immediately notice its mixture of old and new and finished and unfinished. A brand-new red tile roof has a slice cut out of it, revealing its underlying structure as it lies at an angle on top of a brick wall. Some of that wall's windows have no glass, but the brick expanse does sport a door painted a bright red in its middle. What should be the roof's end is left stranded by the gable's angle, leaving it to stand as a triangle outlined in concrete that frames a mottled brick plane. Approach more closely, and you see more odd bits and parts: a stack of yellow block peeping out here, a bricked-in window there and, strangest of all, the fact that the wall does not close off the house, but instead defines a small patio partially shaded by the jutting roof.
Move inside, and the confusion between new and old only increases. A slick concrete floor, a wood ceiling, and beams—supported at odd angles by baby blue–painted steel posts and I-beams—confront remnants of old brick walls, their openings left coverless and surmounted by wood beams screwed into some unseen structure with visible bolts. Take the spiral steel staircase upstairs, and you find yourself in wood cocoons that form the bedrooms, the dressing room, and the bathrooms where the occupants' private lives unfold. Even there, part of the old peeks through: Shutters are cut to match the arched form of the existing windows, the brick pops up here and there, and from the bedrooms' windows you can view the various structures of the building jumbling together in a mixture of brick, concrete, steel struts, wood, and tile. Rather than being a renovated building, this home is a collage of what was and what is, purposefully designed not as a fusion or a contrast, but an implosion of forms, textures, materials, colors, and periods in time that makes your eyes wander as you move through its rambling spaces.
Jo Taillieu—who designed this house in, or, rather, through a ruin on the grounds of a former monastery in Dilbeek, Belgium—is a member of a new group of imaginative reuse architects that has emerged in Flanders in the last few years. Its practitioners include 51N4E, whose work I discussed in my last post; Taillieu's former partners Jan de Vylder and Inge Vinck; and such hybrid firms as Rotor, a collective of architects, artists, and activists. All of these designers, most of whom are also teachers at various universities around Europe, are pursuing a path through time and space that gathers together what is left and what is underutilized, combines it with what is necessary to upcycle those remains, and then composes these parts into buildings or projects that delight in the confrontation, juxtaposition, and melding of all these elements. By doing so, they break down and reuse remains in such a such a way that where materials or buildings have come from becomes an active part of what they are today and opens up new ways of seeing and using this collage.
The renovation of the Paddenbroek Education Centre that Taillieu designed near Gooik, in the countryside southwest of Brussels, is even more explicit in its imaginative reuse. Here the architect placed a brand-new greenhouse structure over one brick farm building he repurposed; one he dismantled and used, together with new materials, to create a second structure; and partially over a third object that contains a working outdoor bread oven. The newly (sort of) unified and enlarged complex now serves as an information site for the surrounding natural area, as well as a place for community gatherings. A lively café and offices for the Nature Center complete the mix.
The prefabricated greenhouse structure turns the old buildings into relics, but they keep asserting themselves with textures and joints that catch your eye much more readily than the clean and transparent volumes of the new box that contains them. Taillieu here also enhanced the remains' expressive capacity by leaving what had been windows and doors empty and unfinished. He inserted new concrete and plywood in ways that show off the difference between their manufactured qualities and the laid-up and time-worn nature of what he found. He confronted these ruins with purposefully odd new additions, such as a chevron pattern of roof tiles that cover parts of both their and the new building's facades.
The exposed patching Taillieu left and the intersection of new steel armature with walls that now serve little structural purpose makes the messiness of what has happened in the few years since the Nature Center opened seem completely natural. The mismatched furniture, the signs and displays the very active café has added, as well as the wear and tear of thousands of hikers, bicyclists, and schoolkids wandering through the building only increase the sense that it is a lively and open place. By appearing unfinished, this and other Taillieu buildings invite future inventions and elaborations.
My favorite of the Taillieu buildings I saw on my brief, recent trip to Flanders was the renovation of a former mansion in the heart of the historical city of Ghent into a clothing boutique. From the outside, you would not notice anything had been done to this building beyond restoring its façade to its Neoclassical formality. Step in the front door of what is now Twiggy, though, and things fall apart all around you. Right next to the entrance area a cream-painted door, its original ornamentation picked out in a slightly darker hue, has been sawn in half to become a Dutch door. Peek through the open, top half and you find yourself staring into the void of what was once a salon. Taillieu removed the existing floor, leaving the marks of that operation clearly visible. The room's fireplace now holds for dear life onto the wall in midair above its twin, which is firmly rooted on the lower floor.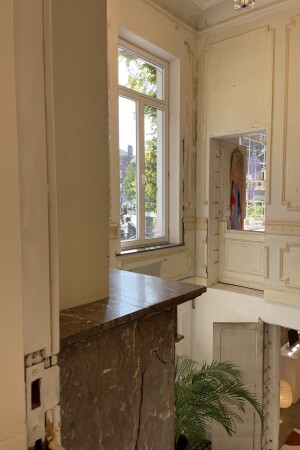 As in the other buildings by this inventive architect, the new mixes it up with the old—sometimes jamming itself into old rooms as new, metal stairs, sometimes just appearing as smooth walls, and at other times reaching over in the form of beams or struts to not-so-gently support what was left over in the renovation. The removal of so many doors and floors creates a flow that I am sure works well for the selling of clothes and accessories, but also makes for an openness that still gives you a sense of the formal, cellular character of the original building.
Not all of Taillieu's work takes the forms of such imaginative reuse. I visited a beautiful octagonal house in one of Ghent's suburbs, for instance, that develops around a courtyard in a continuous set of rooms that weave public and private together.
But, the best of his designs not only collaborate with what is already there, but elaborate, contradict, and joust with it in architecture's version of a rap battle. What makes this all sync is Taillieu's exquisite sense of proportion and detailing, which recalls the work of Carlo Scarpa as seen through the grandson of Rem Koolhaas, which he in a sense is: Taillieu gained that latter influence not only by osmosis, but also by having worked for former associates at OMA before starting his own firm. Wherever it came from, the architecture works, and works beautifully. It is rare that I have seen buildings recently that are more endlessly fascinating, if perhaps a bit fetishistic exactly about all those connections and intersections.
The views and conclusions from this author are not necessarily those of ARCHITECT magazine or of The American Institute of Architects.
Read more: The latest from columnist Aaron Betsky includes the 2023 Venice Biennale, road-tripping through Europe, and the work of 51N4E.