This spring, architecture and landscape architecture firms from all over the country submitted proposals to design D.C.'s 11th Street Bridge Park—an estimated-$25-million project that will transform the existing bridge spanning across the Anacostia River into an elevated park. In March, the D.C.–based nonprofit Building Bridges Across the River at THEARC (Town Hall Education Arts Recreation Campus) and the District's Office of Planning launched a national competition to design the park, with the goal of unifying what some call a "long-divided city," by connecting Capitol Hill and Anacostia, the neighborhoods on either side of the river. After receiving proposals from 41 teams that represent 80 landscape architecture and architecture firms, the jury shortlisted six lead design teams.
These six teams are: Wallace Roberts & Todd (WRT)/Next Architects, Piet Oudolf with Glenn LaRue Smith/PUSH Studio/WXY Architecture + Urban Design, OLIN/OMA, Workshop: Ken Smith Landscape/Davis Brody Bond, Stoss Landscape Urbanism/Höweler + Yoon Architecture, and Balmori Associates/Cooper, Robertson & Partners.
The 11th Street Bridge Park website highlights some past projects that the shortlisted firms have completed, including WXY's EAST River Blueway, Piet Oudolf's work on the New York High Line, Davis Brody Bond's St. Elizabeths East Gateway Pavilion.
Here's a look at what these firms have done in the past: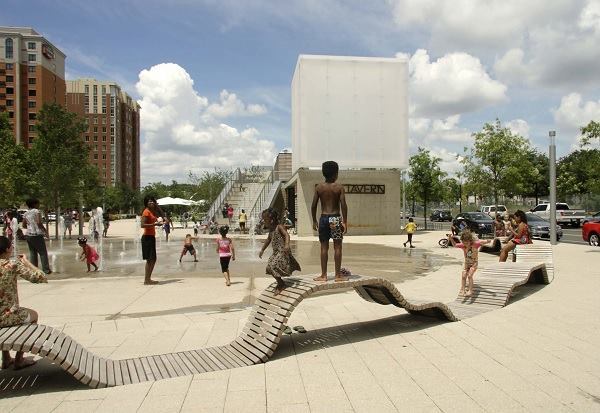 The six teams have been invited to create interdisciplinary teams to prepare for interviews with the jury later this month. A jury will announce the four finalists to proceed to the next round on May 27. In the next phase of competition, the lead designers will form their teams—which must include a structural engineer and a lighting designer—and submit portfolios of qualifications for all team members. In the final round, each design team will receive a $25,000 stipend to complete and submit design concepts for a 1,000-foot-long park up to 120 feet wide.
Final design teams will also participate in "meet the community" type events in D.C., similar to those held in the process for picking a team to renovate the Martin Luther King Jr. Memorial Library. The final concepts will be posted online for public comment and displayed at the Smithsonian's Anacostia Museum in late September and early October. The final design selection will be announced on Oct. 15.
The community has been heavily involved in the planning process, with over 200 town meetings attended by residents and community leaders. The project seeks to re-engage District residents with the riverfront, offer new, versatile civic space that fosters play and health, speak to the history and location of the park, and provide environmental education. The existing 11th Street Bridge is also being replaced as part of a $390-million District Department of Transportation project involving the construction of three new bridges to improve traffic flow and waterfront access.
The competition jury includes Howard Frumkin, dean and professor of environmental and occupational health sciences at the University of Washington School of Public Health; Toni Griffin, professor of architecture and founding director of the J. Max Bond Center on Design for the Just City at the Spitzer School of Architecture at the City College of New York; Carol Mayer-Reed, partner-in-charge of landscape architecture and urban design at Mayer/Reed; Michaele Pride, AIA, professor of architecture at the University of New Mexico; and Harry Robinson III, FAIA, professor of urban design and dean emeritus at Howard University's school of architecture and design. Patricia Zingsheim, associate director for the revitalization and design division at the D.C. Office of Planning, serves as an alternate juror.