Who is Virgil Abloh? In an age in which identities and verities can be fluid, you can say with certainty that he is a fashion designer, currently the men's wear designer for Louis Vuitton, whose own brands, most notably Off White, have had a major impact on the industry. You can also say that he is African-American, an identity he makes central to much of his work. And you can say he was trained as an engineer at the University of Wisconsin at Madison, and then as an architect at the Illinois Institute of Technology in Chicago.
Beyond that, who Abloh is and what he does becomes more difficult to grasp. That's made clear by "Figures of Speech," the current exhibition about his short career (no more than 15 years long, if you stretch it) mounted by the Museum of Contemporary Art Chicago. In addition to clothes, jewelry, and footwear, Abloh has produced furniture, performance sets, art work, and graphic design projects. Music fans know him for his work as a DJ and general adviser to Kanye West. Though the exhibition (which runs through September 22) shows his IIT thesis project—a fairly standard take on a skyscraper here enhanced by placing its Perspex shape in a huge, blue foam model of the city—what he has done since graduating is to design everything that takes place in and around actual buildings. If architecture appears, it is a backdrop, which is exactly the role Abloh assigned to Le Corbusier's Villa Savoye when he presented his 2015 women's wear fashion show there.
The other thing you can say about Abloh is that he is one of the most skillful appropriation artists out there, riffing on and even directly lifting moves from the clothing designs of Rei Kawakuba and Vivianne Westwood, the furniture design of Shiro Kuramata and members of the Droog collective, and the art of Caravaggio and Calder to Sterling Ruby. What makes him particularly good is both the bald-faced way in which he does it, and the minimalism of his efforts.
The best work in the Chicago exhibition ranges from a Pop Art-scale reproduction of his first CD case for Kanye West, which is as reduced in form as such objects come; an installation consisting of a billboard erected in the gallery and painted black, with only a blur of graffiti on the back to detract from its form; and hunks of skateboard ramps turned into furniture. Abloh is also a master of the flip and reverse, as when he turns military shoulder vests into Vuitton accessories or makes the trunk which made that company famous into a backpack. He produced a transparent version of the Rimowa metal roller suitcase and made a Calder stabile out of foam. And he uses designation—employing words and phrases as artwork—in the manner of Barbara Kruger, only more extreme. His first clothing line consisted of Ralph Lauren overstock shirts and hoodies he printed with the name "Pyrex", the number "23" for basketball legend Michael Jordan, and a Caravaggio painting. He turned a handbag into a piece of "sculpture" by printing that word, in quotes and in Helvetica, on the black fashion accessory and made it clear in a similar manner that high-heeled women's boots were, perhaps perversely, "for walking."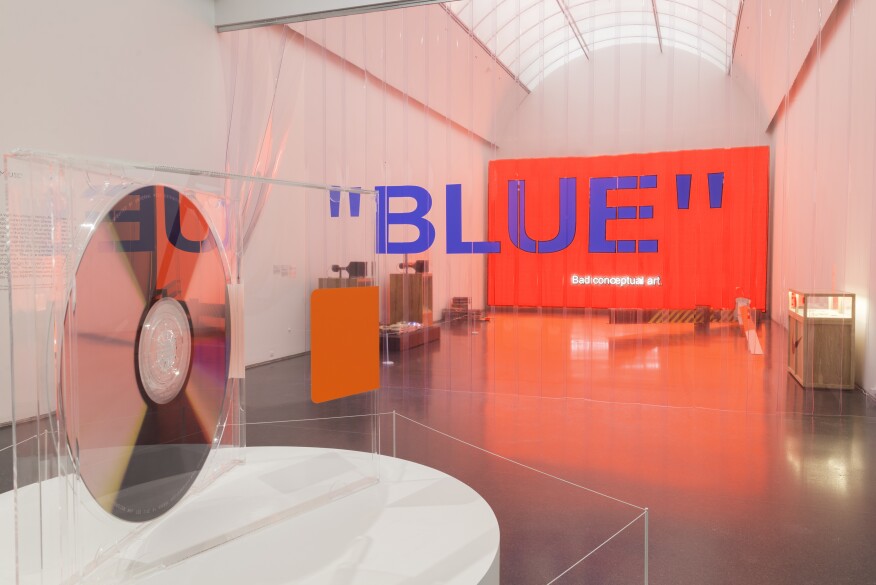 What Virgil Abloh is not is subtle. His work may be the most sophisticated expression of hip-hop culture—beyond music—that we have seen. It is, however, a particular kind of hip hop. Abloh belongs to the school of West, Drake, and Jay Z. This is declarative, mic-drop stuff, as subtle as a sledgehammer and, at its best, with just as much force. It's not the layered, intricate, and often ambiguous art of Migos, Lil Uzi Vert, ASAP, or Aha Gazelle.
Abloh's work blurs the distinction between the maker as creator or assimilator of influences, the producer or scenographer, and the persona who represents all this. By wearing or using something Abloh designs, you become him, or at least you become part of the act—part political, part fashion, part graphic—that he has staged. You could even say that the process of naming or appropriating blurs the boundaries between the user and the maker. For Abloh, the act of putting his names on the product is the work, and the act of buying something from him is not only a form of consumerism, but also, whether you like it or not, an affirmation of black power within the culture and fashion industry. The actual objects involved in either of these transactions matters less than the mix of political and economic statements represented by them.
I doubt that Virgil Abloh is ever going to design a building, even if Rem Koolhaas, Hon. FAIA, the most successful spotter of talent in allied fields that architecture has seen in the last century, has added him to his stable of associates (Koolhaas wrote a short statement and interviewed Abloh for the show's catalog). That is a shame, because, for better or worse, the semi-automatic production and short lifespan of buildings has made Abloh's sledgehammer approach feasible. What is sad to me is that this talented magician has evidently not chosen to pursue the discipline in which he was trained either because he has not gotten a chance or because in his world, given his political and financial, let alone self-definitional, aims, architecture just doesn't seem to matter.
Aaron Betsky is a regularly featured columnist whose views and conclusions are not necessarily those of ARCHITECT magazine nor of the American Institute of Architects.