On March 4, Virginia's Sweet Briar College, a liberal-arts college for women founded in 1901, prompted widespread shock when it announced that it will close this August due to insurmountable financial challenges. The decision by the board of directors left Sweet Briar's staff, faculty, and 700 students reeling, unsure where they will go next.
The fate of the college's pastoral 3,250-acre campus—located in the rolling foothills of the Blue Ridge Mountains in southwestern Virginia, about 12 miles from Lynchburg—is also unclear. The central campus and many of its buildings were designed by Ralph Adams Cram (1863-1942), who went on to shape the United States Military Academy at West Point, Princeton University, and Rice University, among other institutions. Cram became known as a master of the Gothic Revival, but at Sweet Briar—his first collegiate commission—he took his cues from Virginian tradition and produced a picturesque campus in the Neo-Georgian style. Architectural historians have compared the romantic classicism of Sweet Briar to the work of Sir Edwin Lutyens, the great British architect; Henry-Russell Hitchcock preferred it to many of Cram's better-known Gothic campuses.
In the 1990s, Sweet Briar was listed on the Virginia Landmarks Register and the National Register of Historic Places as a historic district with 22 contributing buildings. Sweet Briar House, a 19th-century Italianate villa that has served as the home of college presidents, was individually registered in 1970. Last year, the villa came first in a public poll of Virginia's favorite architecture run by the Virginia Center for Architecture, besting 99 other structures, including Thomas Jefferson's Monticello and the University of Virginia Rotunda.
Despite its historic designation and popular appeal, there are no guarantees about the campus' future. Unusually for a college that is closing, Sweet Briar still has a healthy endowment of $84 million (although much of that money is restricted, a potential complication as the college winds down). It owes about $25 million in debt. According to 2013 tax filings, the college's buildings are worth $46 million. By law, any of the college's leftover assets, or proceeds from the sale of those assets, must go to a tax-exempt entity engaged in activities similar to Sweet Briar's.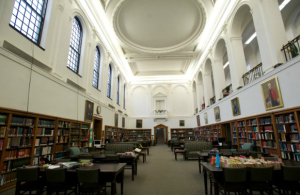 That would likely be another college or university. Liberty University, a large evangelical Christian institution in Lynchburg, told The Washington Post it wasn't interested in acquiring the Sweet Briar campus. But it's possible that other institutions in the region—such as the University of Virginia, the University of Richmond, or Hollins University, another all-female college, in Roanoke—or schools farther afield would be. Sweet Briar officials did not respond when asked if they will seek to keep the campus intact and whether historic preservation will be a factor in deciding its fate.
"We would hope that the future stewards of Sweet Briar's architectural treasures will treat them with the dignity and respect they deserve," said Helene Combs Dreiling, FAIA, executive director of the Virginia Center for Architecture who was also the 2014 AIA national president. Calder Loth, an architectural historian and an authority on Virginia architecture, called the campus "remarkable" and noted that the buildings are in excellent condition.
For now, the campus remains in limbo, as it no doubt will for some time. College alumnae have mounted a vigorous "Save Sweet Briar" campaign, and the faculty unanimously opposes the board's decision to close the college. If their fight moves to court, many months could pass before a resolution is reached.