Founded in Chicago in 1936, Skidmore, Owings & Merrill (SOM) is responsible for some of the world's most celebrated buildings. Sears (now Willis) Tower. John Hancock Center. Lever House. One World Trade Center. Over the course of 80-plus years, the venerable firm has completed more than 10,000 projects in over 50 countries. "In some ways, SOM is an old fart," says managing partner Ted J. Gottesdiener, FAIA, from his New York office. At the same time, he says, "We've always reinvented ourselves."
That's evident in the way SOM ascended to the top of the Architect 50 this year, becoming the first firm to be ranked Number One twice. When it took top honors in 2010, SOM had recently completed Dubai's Burj Khalifa, which remains (for now) the world's tallest building. In 2016, the firm's portfolio didn't include a single supertall, but rather featured a diversity of completed projects "that reflects the breadth of the work we do," says Gottesdiener. The design judges highlighted SOM's "beautifully detailed public work" with "sculptural surfaces and façades and structural forms."
U.S. District Courthouse (see more photos here)
In downtown Los Angeles, the U.S. District Courthouse, a glass cube that "floats" on a stone pedestal, reflects how SOM's commitment to sustainability hasn't undermined its pursuit of design excellence. Certified LEED Platinum and designed by San Francisco–based senior consulting design partner Craig Hartman, FAIA, the project boasts a number of sustainable features, including a rooftop solar array and a pleated-glass façade with opaque east- and west-facing panels to minimize solar gain.
Design partner Gary Haney, FAIA, took a similar cubist approach for the Public Safety Answering Center II, located in the Bronx. Designed to operate as one of New York's call centers during a natural disaster or large-scale emergency, the 450,000-square-foot blast-resistant cube was covered with an aluminum skin. "The idea of 'wellness' was a driving force in the design because of the intensity of the labor that goes on inside the building," Haney says.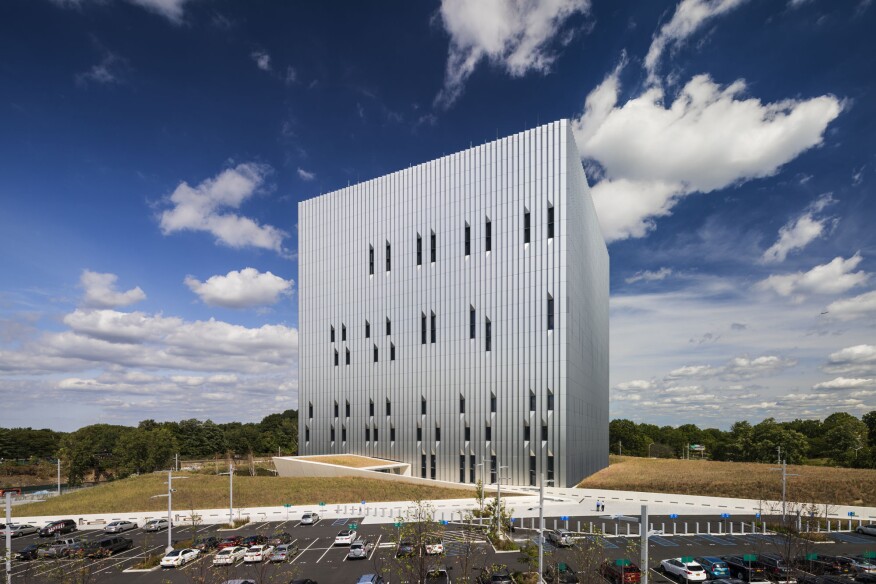 Public Safety Answering Center II (see more photos here)
The firm also once again left its mark on the U.S. Air Force Academy, the National Historic Landmark District campus designed by legendary SOM partner Walter Netsch in the 1950s. The first new project on the campus in decades, the Center for Character & Leadership Development, a 105-foot-tall tilted tower, was the work of design partner Roger Duffy, FAIA, of the firm's New York office, and required a nuanced consideration of its historic context.
Current projects, which helped contribute to SOM's strong financials, include phase one of Moynihan Train Hall, part of an expansion of New York's Penn Station, and the nearby Manhattan West development, which will include two office towers and a residential building.
Ningbo Bank of China (see more photos here)
Gottesdiener says a new generation of leaders is poised to take the reins at SOM in the coming years, as some longtime partners begin to retire. (The firm recently named Douglas Voigt, AIA, Kent Jackson, AIA, and Thomas Behr, AIA, as partners.) But, Gottesdiener says, the ethos will remain the same. "We're not about individuals; we're about the work," he says. "We're not about egos; we're about results."