This story was originally published in Builder.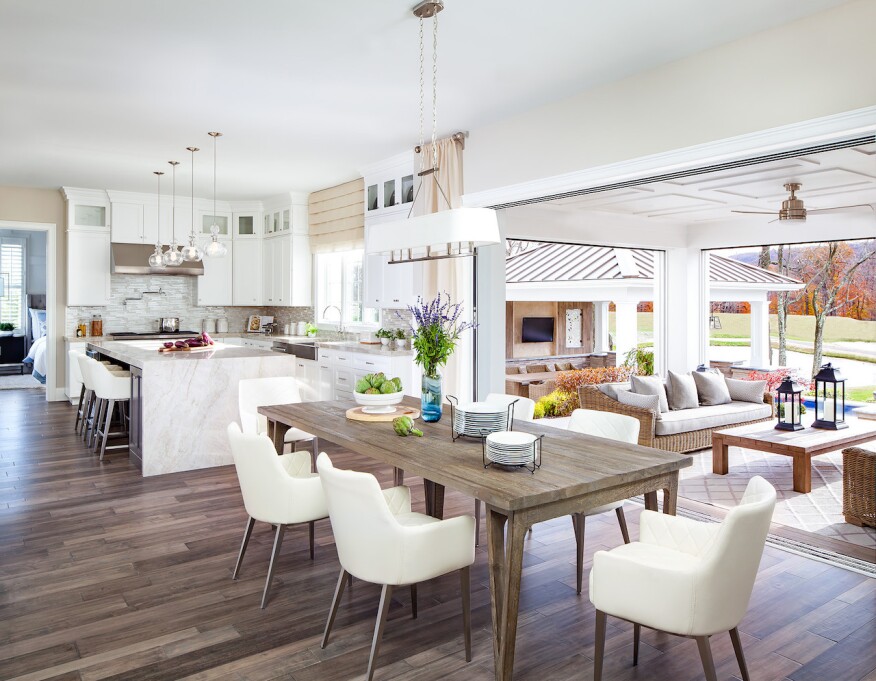 Clearly, 2019 will be a year for outliers.
Builders, designs, communities, price-points, processes, and sellers that set themselves apart from the pack, make themselves special for some reason, and exert unique and exclusive appeal to particular buyers with both the will and the wherewithal to act in today's dicey, volatile, choppy market will win.
Be the best, or be part of the rest.
Here--as part of an ongoing series of ways you and your team can be different from the crowd at a moment where differences matter--is one example on standing apart, and it comes from—where else?—clarity about who a customer is, where she, he, or they are in their journey to becoming a customer, and why she, he, or they will pull the trigger. It's a secret some have mined and leveraged into a point of difference in today's market, and many have not.
Toll Brothers has discovered it.
When will others?
It's the secret, until now rather well-kept, about indoor-outdoor living, one of residential real estate's truly transformative design- and product technology-fueled trends of the past decade.
The secret is this. The indoor-outdoor living phenomenon, believed by many until recently to apply to the most temperate of U.S. climate conditions, primarily in Sun Belt states, is geography-agnostic.
One out of every five homes Toll Brothers sold—nationally--in 2018 offered an indoor-outdoor living program feature. According to Andrea Meck, marketing account director, upwards of 35% of New Jersey buyers opt for it in Toll communities in that state.
Although the provenance and first sweep of adoption of the trend may trace to "California Room" floor-to-ceiling connectivity with four-season dining, relaxation, and recreational use, great back-yard views, and an easy flow across the formal bounds of the box, indoor-outdoor living has burst beyond initial geographical assumptions.
Too, this trend has breathed new life and meaning into the role and function of landscape architecture—now in multiple climates--in generating property and home value, to both current residents and future purchasers.
The question may be "why?" or "how?", or more interesting yet, "why does this matter when this feature seems to confine itself to move-up, second-time move-up, and luxury buyers, and the real demand opportunity is in the lower-price spectrum?"
Let's step back on this and reflect on what indoor-outdoor living programming's real value is. This marriage of structure and software springs from its expansion of the home into its wider property dimension. In a practical sense, indoor-outdoor living expands a floor-plan to where people living in a home can be outdoors, where air, nature, thermal and moisture composition is more balanced, more harmonious, more healthy.
Which is part—albeit unconscious—of why people like indoor-outdoor living, and opt to pay more for it. The "Million-Dollar view" may be only part of the story. An outdoor living or dinning or kitchen or recreational space expands the livable square footage.
Toll Brothers has discovered this, and has gone all-in on the programming for its just-opened community in Franklin Lakes, northern New Jersey, Reserve at Franklin Lakes, where its Signature Collection features Toll's "largest estate homes on expansive home sites."
Here's what else is going on at Reserve at Franklin Lakes, where Toll is doing what it does best, setting itself apart from others in both community and home design, and in ongoing customer service, per a provided fact sheet on the project:
220 home sites total
Two exclusive collections of luxury single-family homes with scenic vistas of the surrounding area – selling quickly – offering the best in high-end brand name features in high demand Signature Collection features Toll Brothers' largest estate homes on expansive home sites
Carriages Collection includes townhomes with available first-floor master suites and low-maintenance living
3 affordable housing condo buildings also on-site
4 model homes grand opened November 2018 – stunning decorating by Ryan Young Interiors, HRI Design, and Restoration Hardware
Plus, Virtual Reality tour of a professionally decorated Duncan single-family estate home available at the Signature Collection
Residents will have access to the on-site amenities and state-of-the-art clubhouse with pool, fitness, and recreational opportunities/community events where neighbors will meet, currently under construction, opening Spring 2019
Located adjacent to the Franklin Lakes Nature Preserve
Within commuting distance to New York City via train or bus
Community offers a customer concierge, Control 4 smart technology features, Kohler DTV system, Matterport online design wish list/Envision at DS, new state-of-the-art Design Studio coming in early 2019
Customer Concierge – Recognized a need in this digital world of self-service to provide a personalized home buying experience. The Customer Concierge is a buyer's Toll Brothers single point of contact with whom the home buyer has a direct line of communication from Agreement of Sale to Closing. The Customer Concierge connects the buyer to every step of their home purchase journey.
Virtual Reality (VR)– Customer perspective: Buyers can walk a fully decorated Toll Brothers model home virtually and experience something that has not yet been built. We are taking great care in ensuring that it reflects our typical model home brand standards. Customers will be seeing more of this experience in Toll Brothers communities across the country.
Trade/business perspective: VR allows us to bring communities to market before our model homes are built and allow us to gauge interest in new features and options before they are built. Potentially, a cost savings to the business by using VR as a supplement to fully decorated model home program.
TBI Smart Home Solutions
Below are the details re: new outstanding features in NJ homes:
Pre-Wire for a WiFi "Ready" Home Cat6 Pre-wires (2) to ceiling locations based on engineered heat mapping. 3 Pre-Wires in larger homes when required.
40" Structured Wire Enclosure
IP Power Conditioner with surge protection
Provides individually controlled outlets that can be remotely managed for remote network reboots by integrators.
SMART HOME PACKAGE
Keyless Entry Lock by Baldwin or Kwikset
WiFi Thermostat by Carrier
WiFi Garage control by Liftmaster or Genie
Individual App & Voice Control
Easily upgrades to a one-app control platform through TBI Smart Home Solutions or Control4 where devices can then speak to each other.
Toll Brothers 3D Kitchen Visualizer Tool - helps buyers test material and color options to plan their kitchen, and determine the perfect combination using our virtual kitchen.
Kohler DTV system in master bath shower - Kohler video will be looping in the master suite which gives a little demo
Design Studio – new Design Studio experience coming in 2019 which will include new product assortments, demonstration kitchens, Envision tool for customers (we already have this in NJ now), integrated smart home demos, and will provide a consistent, Toll-branded customer experience.
This story was originally published in Builder.