Firm name: IUA Ignacio Urquiza Arquitectos
Firm leadership: Ignacio Urquiza Seoane
Location: Mexico City
Year founded: 2019
Education: M.S. in advanced architectural design, Columbia University GSAPP; B.A. in architecture and urban design, Universidad Iberoamericana Ciudad de México; Studies in Professional Photography, Spéos—École Internationale de Photographie, Paris.
Firm size: 12 people
Firm mission: Our firm's mission is to produce architecture congruent to the present era (economic, political, social, and environmental). We pursue this goal by giving the same value and importance to the three elements we work with: architectural object (what we design); user (who we design for); and context (where the object lays). Our way of thinking relies on this principle. Actually, it is the clash of these three elements—each of a different nature—where our architecture is generated.
First commission: Casa en El Torón I. My first commissions and defining projects were the earliest developed in my former office, Centro de Colaboración Arquitectónica: Casa Estudio Hill, Torre de Tierra, Cuna de Tierra Winery, the first EBC Campus in Guadalajara, amongst some others, were the starting point of my career. These projects helped me understand how clients entrust architects with their patrimony. This way, I learned that we can challenge our understanding, our ideas, and materialize them with architecture, with constructed buildings.
Defining project and why: Las Rocas is a relevant project to the office because it provided the possibility to intervene in such a delicate and particular context. It is also one of the first projects that IUA designed in collaboration with my wife, Ana Paula de Alba, leading interior design.
Another important project: Apart from The Houses in El Torón, the Torre de Tierra & Cuna de Tierra Winery. These were some of the initial projects developed at my former office. They were very important as we were able to explore with different uses, programs, materials, and construction methods (poured tepetate, extracted from the excavation for the foundation) in a successful way.
Most successful collaboration: We believe in collaboration as a tool; almost half of our projects are produced in collaboration. We love to invite friends and colleagues to produce architecture with us. It is a way to expand the office in an agile and dynamic approach, as well as making a nice path to always keep our learning process open and active.
Right now, we are working on El Jabalí, a 40-hectare master plan in Oaxaca, Mexico, where we have invited 12 different firms* from Chile, Spain, Italy, France, New York, and Mexico to collaborate with us. It has been an amazing adventure.
How you decided to become an architect: My father is a photographer. Since I was a kid, I had the opportunity to travel with him around the country, assisting him in taking photographs and learning about the culture, traditions, gastronomy, and architecture of Mexico, meeting great people and places along the way. I guess those encounters really influenced me and are part of who I am today.
Special item in your studio space: Our plants and camera; our studio is as much as an architectural office as it is a photography studio. You can turn it into a set in just a couple of minutes.
Design tool of choice: Photography. We try to use it not only for the documentation of our finished buildings but as a part of our design process. Models, drawings, texts, collaboration, and round tables are also fundamental tools in our process.
Most important piece of criticism you ever received: That we are producing boring architecture—in a way, it is just what we are aiming for: boring but unexpected.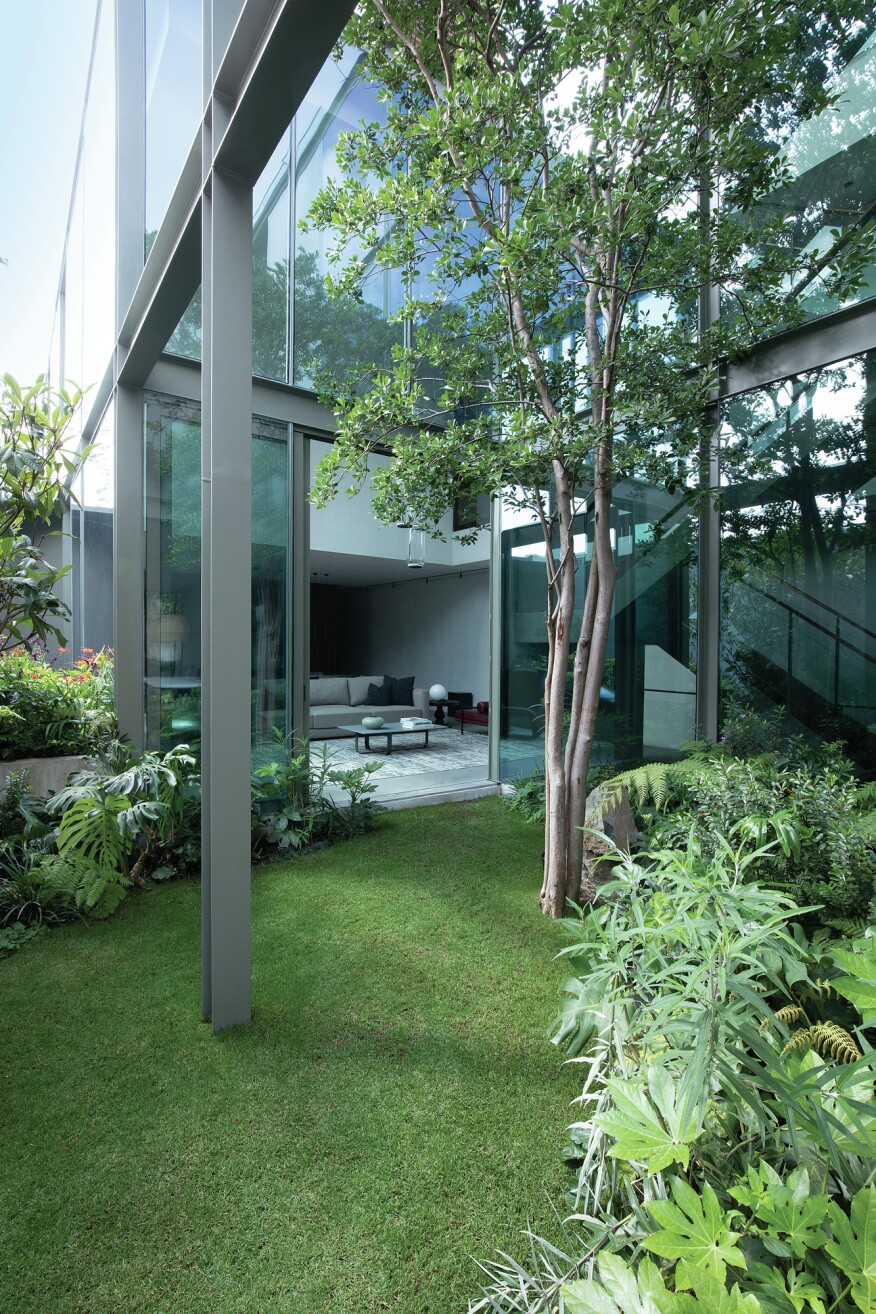 Biggest challenge in running a successful practice: Maintaining an adequate level between a creative and a sustainable practice.
Biggest challenge facing architects today: Engaging and responding in an agile and smart way toward the environmental crisis we are facing today with architecture that possesses this premise at its core. It is not a commodity but a necessity with no exception.
Favorite rule to break: We understand architecture as a complex system composed of an array of rules—we try to recognize and dominate them all. Then, in conjunction with the user and context in play, we try to break them all.
On your bookshelf: Right now, I'm trying not to read architecture books and I am reading the magnificent fictions by Jorge Luis Borges; still, it is amazing all the hidden architecture you can find in them. Although, I must say we somehow find ourselves always coming back to the same inspiring texts: authors like Andrea Palladio, Gottfried Semper, Aldo Rossi, Bernard Rudofsky, Le Corbusier, Alison and Peter Smithson, Robert Venturi, FAIA, and Denise Scott Brown, Hon. FAIA, Peter Reyner Banham, and Rem Koolhaas have always been present in our studio.
*The firms involved in El Jabalí in collaboration alongside IUA: WORKac in New York, Amale Andraos and Dan Wood; A6A in Bordeaux, France, Robero de Uña, Michel Hardoin, Antoine Ragonneau; Productora in Mexico City, Abel Perles, Carlos Bedoya, Victor Jaime, Wonne Ickx; Valari in Italy and the United Kingdom, Federica Russo, Nicoló Lewanski; Macera Koustae in New York and Cyprus, Emily Koustae, Andrés Emilio Macera; SdBa in New York and Spain, Esteban de Backer, Amadeu Santacana; StudioZV in Mexico, Carlos Zedillo Velasco, Rodrigo Zedillo Velasco; Max Von Werz Arquitectos in Mexico City, Max Von Werz; Izquierdo Lehmann Arquitectos in Santiago, Chile, Cristián Izquierdo Lehmann; RJVAA in Chile, Rodrigo Valenzuela Jerez; PPAA in Mexico City, Pablo Pérez Palacios; and Taller Hector Barroso in Mexico City, Mexico, Héctor Barroso Riba.
This article appeared in ARCHITECT's May/June 2022 issue.