The first thing that caught my eye at this year's Smartgeometry was the sandpit. Occupying the center of a giant warehouse at the Chalmers University of Technology, in Gothenburg, Sweden, where the event took place last week, the 12-foot-by-15-foot container was brimming with six tons of sand and a fleet of autonomous robots, each of which resembled a small, plastic front loader complete with little caterpillar tracks and a bucket.
NASA is currently evaluating whether similar robots could dig habitable architecture from the soil of Mars, said Richard Maddock, an associate and member of the Specialist Modeling Group (SMG) at Foster + Partners, in London. If NASA builds a base on Mars, one challenge—of many—is that it takes 20 minutes to communicate between there and Earth. With such latency, the robots can't wait for instructions from a foreperson on Earth. Instead, they'll have to make their own decisions about how to construct a shelter from the materials they find on the planet's surface.
Maddock and a team of architecture practitioners, students, and academics headed by Foster + Partners' SMG members Josef Musil and Jan Dierckx had gathered in Gothenburg to research the feasibility of teaching robots to autonomously build architecture. As one of the 10 clusters, or working charrettes, at Smartgeometry 2016, the aptly named Martian Autonomous Robot Swarm (MARS) aimed to build nine robots by the end of the four-day workshop and showcase their results as part of the two-day conference immediately following.
It was an ambitious goal, but one in keeping with Smartgeometry's aim of identifying practical uses for technology at the cusp of architectural practice. The event began 15 years ago as a gathering of people interested in applying the then-novel tools of parametric modeling to architectural projects. Over the years, as architectural technology evolved, algorithms improved, computers became faster, and sensors became cheaper, so too have the aspirations soared.
With the theme "Hybrid Domains," this year's event paired architects with experts outside the field of design. During the workshop period, architects toiled alongside cognitive scientists to develop environments that responded to brain activity, chemists worked with designers to produce crystalline architecture, and fabrication experts from Autodesk (Smartgeometry's main sponsor) sat with engineers and designers to create timber trusses from six species of trees, culled for their structural properties.
Although Smartgeometry bills itself as a conference about technology, it is at heart a conference about connecting like-minded people. The workshops serve as gathering points, daring those impassioned about technology to fly in from around the world and spend a week, for example, prototyping Martian robots. Unlike other technology conferences that tend to attract either students, practitioners, or academics (such as Autodesk University, the Architecture Association's Visiting School, or ACADIA), Smartgeometry is the only event I know of where designers from competing firms collaborate, academics work on new theories with practitioners, and everyone from current students to seasoned professionals labor side by side.
Intertwined with this year's workshops was a remarkable array of technology. Rob Mueller, a senior technologist for advanced project development in NASA's Swamp Works testing and engineering laboratory, expressed his awe at the participants' technical capabilities. "You all know how to program Arduino!" he exclaimed. "Robots arms are standard tools."
In the 20K Blocks workshop led by Anton Savov, founder of architecture studio Aware in Frankfurt, Germany, and game designer Ben Buckton, also in Frankfurt, participants constructed architectural models from wooden cubes using a robot they dubbed Ginger. Piece by piece, Ginger methodically picked up the wooden blocks, carried them to a gluing station, and then arranged them in the pattern specified by the designers through the computer game Minecraft. The choreography was hypnotizing, like watching a child intently construct with Legos.
Though Buckton conceded that Ginger wouldn't be able to construct large-scale architecture in her current configuration, he sees a link between gamification and robotic output as a step towards democratizing design in a world that would increasingly require, as he said, "many collaborators and many inhabitants."
The Atmospheric Delight team went sans robot but did use a number of newly released Bitalino circuits, which are small electronic chips capable of collecting basic biometric data, such as muscle activity, heart rate, and sweat response. The team used the circuits to test people's biological responses to different environmental conditions, such as changing light colors, to understand how temperature and lighting could be adjusted to satisfy particular individuals. Alicia Walf, a neuroscientist at Rensselaer Polytechnic Institute, in Troy, N.Y., says that the accessibility of biometric data today means that architecture can become personalized in much the same way as doctors are experimenting with personalized medicines.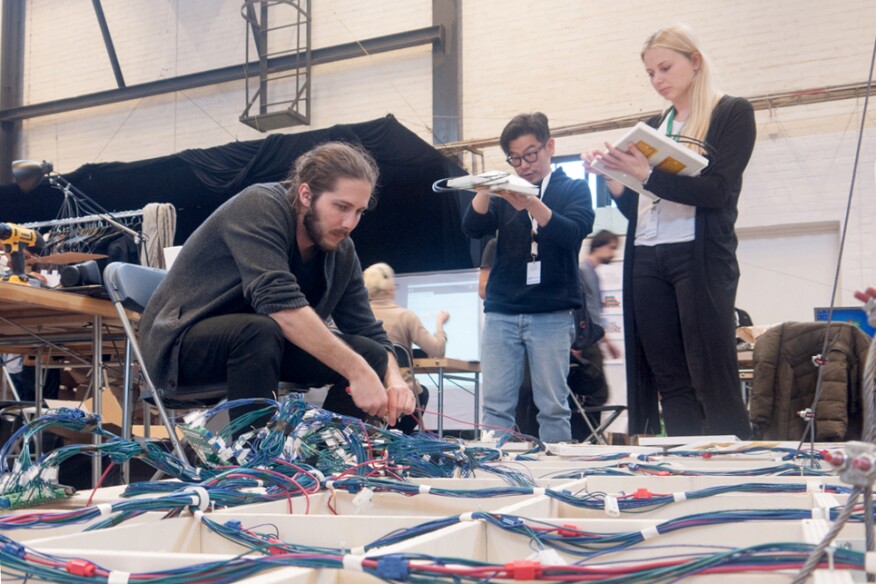 Throughout this year's workshop duration, I dropped in regularly to check the teams' progress. On the fourth and final day, I found the MARS robots sitting motionless in their giant sandpit, looking as exhausted as their human counterparts. The team had been struggling to develop an effective digging motion. After many late nights of writing programs to coax the robots into shoveling sand, they had come to accept that building on Mars might be harder than they imagined.
Having worked with NASA and Foster + Partners' ongoing research project investigating the viability of building in space, SMG director and Smartgeometry conference organizer Xavier De Kestelier observed that the group's problem stemmed from leverage: When the lightweight robots stuck their buckets into the ground, they tended to push themselves backwards rather than disinterring into the sand. While a human can lean on a spade, and a bulldozer has two tons of weight behind it, an interplanetary rover has to stay light enough to escape Earth's gravity, which runs counter to its ability to get traction on loose grains of sand. So the crux of the MARS project lied neither in the latency between Earth and Mars communications nor in the difficulty of programming machine intelligence. It was simply a matter of physics and obeying Newton's three laws of motion.
Frankly, it didn't matter whether the robots were successfully digging by the end of day four. What participants will remember from Smartgeometry is not the giant sandpit or infuriatingly inept robots. Instead, they will recall their experiences of working late with people who were just strangers a few days prior, debating over drinks with designers from around the world, and collectively conjuring the future of architecture, aided by technology.
Note: This story has been updated since first publication.