Energy efficiency has gained traction with homeowners in recent years, and no prominent builder wants to miss the boat. Energy-efficient home features help homeowners cut energy bills, can better insulate homes, and protect the living environment. But how does this message really come across? In March, the Deloitte Resource 2016 Study surveyed more than 1,500 U.S. residential consumers across all generations, sheds some light on the attitude consumers have about energy efficiency.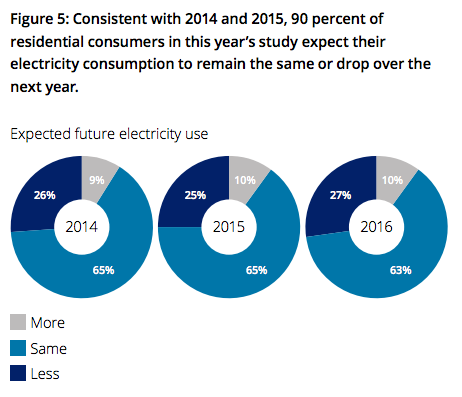 The good news is that a significant majority of the U.S. homeowners care about the environment, and hope to save energy at home. As high as 71% of surveyed consumers believe that climate change is caused by human actions and are very concerned about preserving the earth's important resources. About 82% of respondents say their families have taken some action to cut electric bills over the past year, and more than two-thirds believe they are doing all they can to reduce their bills even more. Looking forward, 90% of respondents expect to cut back electricity usage, or at least maintain the same level as in the previous year.
Millennials continue to be the target market for energy-efficient home features. According to the study, nearly half of all Millennial respondents expressed extreme interest in purchasing a share in a utility-scale solar installation in their community, followed by Gen X (40%), Baby Boomers (36%), and Matures age 68 and older (31%).
Not limited to solar products, Millennials are also in support of a surcharge from energy providers to promote renewable development. Nearly 60% of Millennials would accept a 4% extra premium for investment in renewable energy sources, compared to only 39% of Matures, despite the fact that older age groups have most likely accrued more savings and wealth during their careers.
Although there's increased interest in energy management, the study finds that consumers actually using energy-saving products at home are still the minority. Many consumers are holding onto the basics, such as turning off lights, replacing old bulbs with LEDs, and turning down thermostats by a few degrees, but feel reluctant to take steps further than that. Last year, more than 40% of consumers reported they would like to have better insulation, energy-efficient appliances, and install energy-efficient windows/doors, but the share of respondents who are actually implementing those changes dropped in this year's study.
As it turns out, what's keeping residents from buying energy-efficient products is awareness rather than money. When asked why they're not upgrading their basic thermostat, 60% of consumers say it's because their current device still works, while only 29% say they can't afford. There's still plenty of room for smart technology providers to educate residential consumers on the value of their products.
See the full Deloitte study here>>