On June 7, the high-profile AEC startup Katerra filed for bankruptcy, having spent more than $2 billion in just over six years. Its insolvency concludes the most well-funded attempt to redefine the architecture and construction industries through modular design, prefabrication, and supply-chain integration.
No doubt many architects are experiencing a bit of schadenfreude, relieved that efforts by the Menlo Park, Calif.–based company to usurp their business were unsuccessful. Meanwhile, many in the industry are hurting. The fallout from Katerra's collapse includes projects left in the lurch, contractors who haven't been paid, and hundreds of people who are now without work (three employees have filed a class-action lawsuit alleging inadequate notice of termination).
As lawyers begin to pick through the rubble, one question looms among the profession and other budding AEC startups: What went wrong? Katerra's mission to streamline building construction is a worthy aim. But if a company with Katerra's cash and ambition can't make it work, can anyone?
To find out, I combed through the company's history and interviewed several senior employees and industry experts. Katerra seemed to have the right idea but fumbled the execution. With thousands of employees who have seen what works—and what doesn't—the lofty vision of Katerra may still have life.
Origin Story
Katerra was founded as a materials and hardware supplier in 2015. Instead of procuring lumber from one vendor, an HVAC system from another, and hardware from another, you could just head to Katerra. The company would manage the supply chain, ship directly from factories, and eliminate the middlemen.
Daniel Hall attended an early pitch of Katerra, by co-founder and then-CEO Michael Marks. At the time, Hall was enrolled in an entrepreneurship class at Stanford University, where Marks spoke; now, he is an assistant professor of innovative and industrial construction at ETH Zurich who researches the relationship among business models in the AEC industry, supply chains, and project delivery.
Back then, Marks was probably best known as the former CEO of Flextronics, a manufacturer of electronic components and devices for companies like Microsoft. During his 13-year reign, he oversaw an aggressive expansion strategy, growing revenue from $100 million to over $14 billion. He did this primarily by acquiring companies and vertically integrating the heavily fragmented electronics supply chain.
At Stanford, Marks's message to the class was clear: He had made colossal sums of money streamlining the electronics industry, and he was about to do the same for the $10 trillion construction industry. With his driver still waiting, he took a few brief questions and then departed as quickly as he had arrived.
Hall was floored. He remembers thinking, "This is so big—the risk is if it fails, it could stop the momentum for industrial construction."
Even at this early stage of the burgeoning company, there were red flags. Katerra's leadership team, which had largely come from outside the building industry, would run headfirst into problems that those with experience in AEC would have likely foreseen. Chief among them was Katerra's original vision to become a one-stop shop for building materials. "Architects and designers weren't willing to specify Katerra's products, they wanted to use what they were familiar with," wrote Brian Potter, a former Katerra structural engineer, in his Construction Physics newsletter.
Another oversight is that buildings aren't as repetitive as electronics. Digital devices are mass-produced but buildings are largely one-offs—which means they have a much less predictable need for materials and components. Without a consistent number of orders coming in, Katerra couldn't get the scales of economy it needed.
In 2016, Katerra changed its business model. If architects weren't going to specify Katerra's products, then Katerra would design its own buildings and specify its own products. In theory, the company wouldn't even need to make money on design services since it got a cut of the profits from the materials and appliances used on its projects.
That year, Craig Curtis, FAIA, was hired as Katerra's chief architect. Like other former Katerra designers I spoke to, Curtis left traditional practice because he was motivated by Katerra's mission—he wanted to "try this new adventure."
Curtis and his team worked on many parts of Katerra's business, including developing a set of standard building types that could be rapidly designed and constructed. Among the modular designs were a three-story garden apartment, a catalog of single-family houses, and a mid-rise office space. Each project was composed from Katerra's library of materials and products.
Still, for the next five years, Katerra continued to encounter challenges related to the traditional operation of the architecture and construction sector. Rather than adapting to the industry, Katerra would attempt to replace or buy the obstacle in its way. When Katerra couldn't source enough mass timber, it built an enormous factory in Spokane Valley, Wash., effectively increasing overall North American production capacity by 50%. When off-the-shelf design software didn't meet its needs, it poached Autodesk employees and developed a custom suite dubbed Apollo.
"There was a misconception that the entire industry is broken," explained one former employee, who asked not to be named due to confidentiality agreements with Katerra. "That's not the case. There are portions that are in need of repair, but there is a lot that works well. Katerra launched into reinventing the entire industry."
Katerra declined to be interviewed for this story.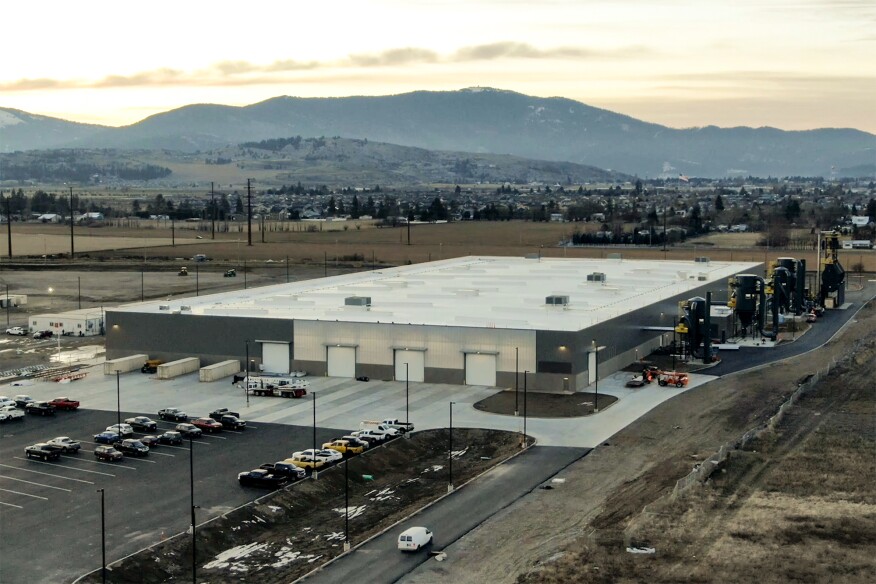 The Descent
By the time Katerra filed for bankruptcy, it was not only making design software, air conditioning systems, and windows, but also engaging in general contracting, architectural design, engineering, and project management. It even provided cleaning services.
In many ways, its strategy was reminiscent of the 1940s and 1950s Total Design movement—the idea that architects should design buildings along with every other aspect of the physical environment, from the superstructure down to the furnishings and decorations. Katerra sought to have total control, designing everything from the factory that milled the lumber to the programs managing the HVAC systems.
In a 2009 article prescient of Katerra's fate, Lebbeus Woods wrote that the original Total Design movement failed because doing everything was too expensive. "What began as a movement that could inspire industry to provide efficiency and beauty to the many, ended as a 'luxury goods' business for a relative few," Woods said.
In six short years, Katerra had grown from a small founding team to a 7,500-person company. That growth cost money—of which Katerra had plenty. Believing that Katerra could capture large swaths of the $10 trillion construction industry, SoftBank invested $2 billion in the company between 2018 and 2020 (SoftBank also bet big on another ill-fated architecture startup, WeWork. Disclosure: I was an employee at WeWork). Dividing that $2 billion over the company's six years of operation amounts to spending nearly $1 million a day, seven days a week.
Yet, although Katerra had clients and projects, it wasn't close to being a profitable business. Last December, signs of severe financial trouble for the company began to emerge publicly. SoftBank bailed Katerra out with another $200 million, but the infusion wasn't enough. Despite attempts to cut costs, Katerra filed for bankruptcy on June 7, 2021.
What Went Wrong
In the press release announcing its bankruptcy, Katerra blamed its downfall on a range of things: the pandemic, its inability to raise more money, and the "unexpected insolvency" of a former lender (an apparent reference to Greensill, another SoftBank-funded company that Katerra had relied on for financing and that had itself filed for bankruptcy in March 2021).
Katerra had other problems as well. In 2019, The Real Deal sounded a warning after finding that Katerra had "failed to complete roughly a dozen projects and could only name one that was delivered on time." It went on to document a raft of issues at the company, ranging from defects in factory-produced materials to allegations of poor corporate governance.
From my perspective, all of these issues were precipitated by three fundamental shortcomings at Katerra: a lack of focus, the wrong talent, and an inability to generate efficiencies using vertical integration.
Katerra's lack of focus is well documented. Even with 7,500 employees, Katerra stretched itself thin with its dizzying array of initiatives. "We lost our core vision of buildings as a product," acknowledged one former senior manager, who asked not to be named due to confidentiality agreements with Katerra. "We got distracted and looked at all sorts of different things like software development. We spent a lot of money developing internet-of-things technology that wasn't going to lead you to a more efficient building."
Without a clear focus, Katerra didn't have a clear customer—people weren't clamoring for a mainstay product or technology. The customers who did come—often brought in through connections to Katerra's investors and executive team—weren't after the same thing. Katerra ended up building single-family houses in Saudi Arabia, a Ronald McDonald House in Idaho, and a university building in Washington (which won a 2020 AIA Innovation Award).
The second problem Katerra faced was its workforce. As I noted earlier, its executive team was dominated by industry outsiders. This could have been a good thing, a way to bring fresh ideas into construction. Instead, these outsiders seemed to bring a potent mix of naivete and hubris. "Over time, I became more and more concerned about Katerra's lack of clear direction," says Michael Green, AIA, who sold a stake of his eponymous firm to Katerra in 2018 (he has since exited the deal and continues to run his firm independently). "The big idea was right, but the execution and leadership were not focused enough on the goal," he says. "Ambitions were diluted by ever new ventures that squandered the core opportunity. As in all failures, there are lessons to be learned."
While pointing fingers at Katerra's leaders is easy, other personnel problems existed. Katerra had hired many talented architects and engineers, but they mostly came from fairly traditional firms. Most hadn't worked at a startup before, and they weren't necessarily accustomed to thinking differently about their profession. "A lot of that calcified process was brought in," says Ian Janicki, an architect-turned-entrepreneur who had worked at Katerra.
On the tech side, Katerra hired many employees from established software companies like Autodesk. While Autodesk is an industry giant, it does not have the culture of a fast-moving startup.
Consequently, Katerra ended up with both leaders who didn't know how to navigate the industry and industry experts who were set in their old ways.
Without a clear focus, Katerra didn't have a clear customer—people weren't clamoring for a mainstay product or technology.
The final problem is that Katerra wasn't able to vertically integrate the company to generate the efficiencies it expected. Katerra billed itself as a company that did everything from soup-to-nuts. In practice, Katerra was fragmented. Its breakneck speed meant that it had often grown by acquiring other companies, including the architecture firms Lord Aeck Sargent and Nystrom Olson; the engineering firm Equilibrium; and the construction companies Bristlecone Construction, United Renovations, Fields Construction, and UEB Buildings. These companies already had their own processes and protocols and "came with strong executives and their own ideas," Curtis says.
Michael Green Architecture is an example. Despite Katerra's ownership stake, MGA continued to operate as an independent business, working for its own clients and on its own projects, Green says. Though Katerra talked extensively about the partnership between the two firms, they worked together on only two projects, making Katerra a relatively minor part of MGA's everyday business.
This lack of integration defined Katerra's structure. As parts of the company went in different directions, the business became mired in more bureaucracy and obstacles. "The biggest mistake they made is that they tried to be vertically integrated, but they had no product platform," Hall says. "After a few years, they started to develop a platform, but at the same time took a strategy that was to go fast and buy up a bunch of traditional firms that didn't know this platform product. I saw the acquisition of these firms as a huge mistake."
A former senior manager agreed: "We got in our own way."
The Future of Industrial Construction
Many in the AEC profession will cite Katerra as evidence for why industrial construction will never work—that people have been attempting to assemble buildings in factories for decades, without much success. And if Katerra's $2 billion couldn't crack it, what hope does anyone have?
But Katerra didn't fail because it entered the industrial construction market. Many of the company's problems—unchecked growth, ill-positioned staff, undefined goals—had nothing to do with architecture. "It's really important to remember a lot of people lost their jobs unnecessarily," Green says. "There is no reason for a company like Katerra to fail. It's not because the ideas were wrong. It's because the execution was wrong."
Katerra's bankruptcy will make some investors cautious about supporting another modular company. But as I've covered previously for ARCHITECT, an assortment of startups betting on industrial construction is flourishing. Many of these companies—including Juno, Apt, and Generate—aren't building factories but rather outsourcing the assembly to others. As a result, they don't need the same financial outlays that Katerra required.
One of Katerra's alumni re-entering this market is Ian Janicki. After a stint at the design software company Figma, he founded Outfit in May 2020. His company offers homeowners the ability to buy a DIY renovation from its website. Outfit then orders and ships the materials and provides step-by-step instructions for completing the work. It's not a reimagining of the entire architecture industry like Katerra was, but rather a company focused on serving a well-defined customer need. If this proof of concept succeeds, it's not hard to imagine the home-renovation company becoming something more extensive, which seems more sustainable than Katerra's strategy of doing everything at once.
Katerra's alumni network will be worth watching. For all the money that SoftBank and other investors poured into Katerra, one of the only things remaining is the lessons learned by its employees, including the many architects and engineers who left stable jobs to try something new. "The value is in the knowledge of those individuals," says Curtis, who is now a Seattle-based partner and the director of emerging building technologies at Mithun. "So those people that have experienced Katerra will take that knowledge and keep that vision alive. And it will spread. We've seen what doesn't work. That's very valuable experience."
Katerra didn't usurp the industry, but it did upskill a collection of people who will take their lessons forward into other roles. And though its investors won't reap the benefits directly, they may still end up changing the industry.