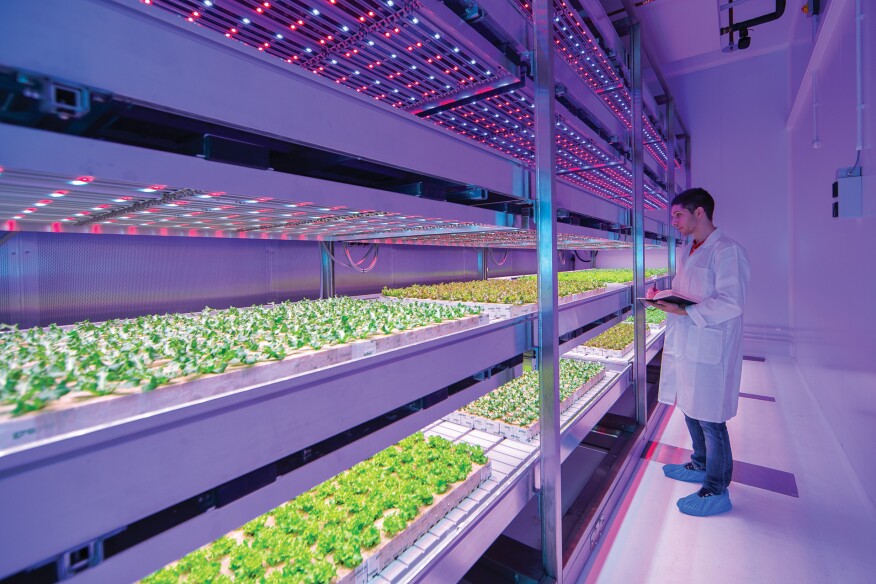 One of the fastest-growing sectors in the lighting industry is grow lights. Defined as fixtures for indoor farming, commercial greenhouses, vertical farming, and research applications, this market segment was valued at $2.5 billion in 2016 and is expected to reach $5.11 billion by 2022, according to market research firm MarketsandMarkets.
So why the increased demand for such a specialized type of luminaire and lighting system? Several factors are contributing to the interest in horticultural and agricultural lighting systems. First, greater attention is being paid to the correlation between world population growth and food supplies and prices. Crops, in both the developed and developing world, are at risk with the increase in number of climate-based and manmade disasters, which interrupt grow cycles, as well as the lack of access to clean water and ever diminishing water resources for many areas around the world.
Second is the legalization of marijuana in the United States. According to Governing.com, as of March 2017, 26 states and the District of Columbia "currently have laws broadly legalizing marijuana in some form." Medical usage has been the primary reason for the push to legalize the substance, but California, Colorado, Nevada, Oregon, Washington, Maine, Massachusetts, and the District of Columbia have also legalized marijuana for recreational use. And because marijuana cannot be transported across state lines, entire new industries are popping up in these states to meet the increased demand. According to an April 1 article in The New York Times, "A Real Estate Boom, Powered by Pot," the demand for industrial and warehouse spaces has increased so dramatically that it has pushed commercial real estate values up by more than 50 percent in less desirable neighborhoods.
THE NEED FOR SPACE—AND LIGHT
Growing plants, no matter the type or reason, requires a tremendous amount of space. This is not just for the vast quantity of seedlings, but to accommodate the cooling and ventilation systems that must be put in place to respond to the intense power consumption, and heat output from the high-wattage light fixtures required to see a crop through from germination to flowering plant. This is one instance where a lighting segment has not completely transitioned to LEDs. Different plant types require different amounts of light along the light spectrum, often requiring what is referred to as full-spectrum light, and growers usually determine a customized light formula to optimize growth. That is why high intensity discharge (HID) reflectors—as well as specially designed high-pressure sodium, metal halide, and ceramic metal halide lamps—are still used, particularly for the cultivation of cannabis. These lamps can range between 315W to 1,000W and can deliver as much as 150,000 initial lumens over a 24,000-hour lamp life. Multiply that amount of light in a facility that often has a minimum of 10,000 square feet and hundreds of plants and light fixtures, and you can understand why cooling and ventilation become so critical.
Aubrey Bradley, founder of Growlite, a lighting manufacturer that specializes in horticultural luminaires, points out that not many growers are willing to discuss what they do, since it only very recently became legal. Often, facilities are not ventilated correctly and personnel do not take the proper steps to wear protective eye gear to shield from the high wattage and intense light output. (Plants absorb light, whereas people see light.) Cannabis, Bradley notes, is a "heavy light saturation plant." His company has been working to bring safe and energy-efficient products to the market sector. "We were the first [company] to have a UL listing on our products. No one even understood what that meant and why it was important."
Further complicating the issue is that for a newly legalized crop such as cannabis, there are no strict regulations. Bradley believes that, in time, more regulations will come. And those regulations are in the interest of cannabis producers and users, he says, because they not only ensure safer growing environments, but a more consistent product for the end-user.
Additional regulation could also lead to further luminaire testing and crop research so that, potentially, different plants could be trained to respond to specific color temperatures. While Bradley doesn't think LEDs "are quite there yet" for the full grow-cycle of a cannabis plant, "LEDs are quite good for the vegetative state of the plant and the root structure," he says. Companies like his are starting to explore various combinations of HID and LED sources to provide a greater spectrum than just a heavy red (700nm range) or a heavy blue (400nm range).
"We're starting to prototype fixtures that can alter the [light] spectrum, some of them even on demand. We can actually come up with spectral prescriptions fixed to crops. What might work best for lettuce might be different from broccoli, or sunflowers, or geraniums," says Pete Rumsey, executive vice president of business development, at Lighting Science.
URBAN FARMING
At present, there are only a handful of lighting manufacturers producing products for growing applications. Lighting Science is one, and the company has developed an entire product line—VividGro, launched in 2015—around various types of planting scenarios. Most recently, it has turned its attention to vertical farming, which has become very popular in dense urban areas such as New York City, because of "the decreasing availability of cultivatable land" coupled with the demand for locally sourced food. Its T8 LED grow lamp, for example, is geared specifically toward vertical farming. According to MarketsandMarkets, this sector is expected to reach an estimated $3.88 billion by 2020, an increase from 2015, when it amounted to $1.1 billion.
And while vertical farming is still relatively new in the United States, in countries such as Singapore and Japan it is already a widely accepted form of farming. Philips has an entire division—Horticultural LED Solutions—dedicated to urban farming and is working with grow centers in the Netherlands, the United Kingdom, the United States, Singapore, and Japan to test new LED grow lamps and systems. According to Philips' research, a single city farm center can produce food to feed 50,000 people. With 6.4 billion city dwellers projected by 2050, urban farming becomes an increasingly attractive and necessary option in global food production.
Going forward, more companies will start to explore this particular market segment. In February, Philips collaborated with Colorado State University to host the first LED Horticulture Lighting Research Summit. The university's $7.5 million horticultural research center in Fort Collins, Colo., opened in 2015 and is set up with Philips' LED horticultural product line as investigators explore new applications. •
More about Lighting Science