As the holiday season approaches at the end of another jam-packed year, members of the ARCHITECT community have gathered more than 30 gift and donation suggestions aimed to spread delight whether you're shopping for a seasoned architect, for a loved one, or for yourself. Prices and availability are subject to change.
Recommended by James Garrett Jr., AIA, founding partner of the St. Paul, Minn.–based firm 4RM+ULA
NYC Skyline Chess Set, $135
Developed by the London-based architectural designers and Skyline Chess founders Ian Flood and Chris Prosser, this chess set honors the Big Apple's built-environment. All 32 double-weighted acrylic pieces have a felt base and are modeled after celebrated projects including the Empire State Building and Freedom Tower. "This chess set features my favorite, iconic, Art Deco skyscrapers: Empire State Building and Chrysler Building, among others," Garrett says. "Each piece is a miniature, highly detailed work of art and each passage of play moves pieces into unique skyline configurations across the board." store.moma.org
Give to: Juxtaposition Arts | Environmental Design Lab
This Minneapolis-based nonprofit "employs youth artists to reimagine how community can coexist in built spaces," Garrett says. juxtapositionarts.org
Recommended by Che-Wei Wang and Taylor Levy, principals of CW&T, Brooklyn, N.Y.
CW&T Pen Type-C, $60
Created and recommended by the Brooklyn-based product designers behind CW&T, this engravable titanium pen accommodates Pilot Hi-Tec-C Coleto ink cartridges. Plus, given its flat shape and detachable clip, the pen makes an excellent bookmark. "This is our go-to, everyday pen," the pair says. "It's customizable, super lightweight, small, and easy to carry in pockets, snuggled in a sketchbook, or clipped to a shirt." cwandt.com
CW&T Superlocal, $198
This 24-hour timepiece was developed with a fully customizable dial so users can "visualize how [they] actually spend [their] day," explain Wang and Levy. The clock, which can be wall-mounted, is made from steel and finished with a resilient black Melonite coating. cwandt.com
Give to: The School for Poetic Computation
With classes that range from an exploration of algorithmic botany to machine language, this experimental New York school is in the process of obtaining nonprofit status and supports " interdisciplinary study in art, code, hardware, and critical theory," Wang and Levy say. "There are many ways to engage with SFPC; by taking courses, attending workshops, and by supporting the scholarship fund to help make this very important work more accessible." sfpc.study
Recommended by J. Jih, AIA, principal of Boston-based Studio J. Jih and lecturer in architecture and design at MIT
Serax Collage Cast Iron Teapot, $119
Who says a teapot can't be a work of art? Equal parts elegant and functional, this cast-iron, Japanese-inspired model from Serax—dreamed up by Brent Neve and Giel Dedeurwaerder of Belgium-based Utilise.Objects—is pretty enough to display even when it's not boiling water. "This pot stays on my stove at all times in the winter, keeping me warm with a constant supply of tea," Jih says. finnishdesignshop.com
Give to: Sylvia Rivera Law Project
Named for civil rights activist Sylvia Rivera, this New York–based organization offers legal services and other programming to help ensure that "all people [are] free to self-determine their gender identity and expression, regardless of income or race, and without facing harassment, discrimination, or violence," according to the group's website. "As a non-binary person of color, the Sylvia Rivera Law Project's work is deeply important to me," Jih says. srlp.org
Recommended by ARCHITECT staff
John Francis Designs Triple Basket Weave Ravioli Mold, $95
Blending loves for woodworking and pasta has proven to be a winning recipe for artisan John Welch, who handmakes his ravioli molds—like this one, available in cherry, maple, and walnut—in a converted textile mill in North Chelmsford, Mass. johnfrancisdesigns.com
Give to: Room to Read
With programs designed to boost literacy among primary school children and support the education of adolescent girls, Room to Read has partnered with communities around the world to assist more than 32 million youngsters to date. The nonprofit is especially interested in serving schools in low-income areas, providing supplies, books, and mentors for students, as well as training workshops for teachers and librarians. roomtoread.org
Recommended by Emily Grandstaff-Rice, FAIA, The American Institute of Architects 2023 president-elect
Krista Knickerbocker Concrete Pearl Necklace, $95
With degrees in economics and architecture, Krista Knickerbocker spent a decade at design firms before pursuing her true passion: making jewelry. The Massachusetts-based artist's handcrafted pieces include this sterling-silver necklace, ornamented with cast-concrete pearls. "[Knickerbocker] has used her sensibility about materials and design eye to create jewelry with an architect's eye," Grandstaff-Rice says. "She even made me a custom piece to make my AIA Fellowship medal more versatile for formal events." kristaknickerbockerdesigns.com
Give to: The Architects Foundation
In partnership with The American Institute of Architects, the Architects Foundation works to nurture new design talent through a variety of initiatives. "[The organization] has been leading in supporting greater equity in the profession through its Diversity Advancement Scholarship Program and highlighting diverse designers through in-person exhibits at [a museum called] the Octagon in Washington, D.C.," Grandstaff-Rice notes. architectsfoundation.org
Recommended by Andrew Heid, AIA, founding principal of No Architecture and visiting assistant professor at Pratt Institute, Brooklyn, N.Y.
Motor Robe Throw with Carrier, $99.50
As temperatures plummet, a gift that adds warmth and style—such as the Pendleton Motor Robe Throw—will not go unappreciated. Made from 100% wool and available in a range of plaid prints, "these blankets are timeless design," Heid says. "My parents still use their Pendleton blankets given at their wedding." pendleton-usa.com
Give to: Kelp Forest Foundation
From sequestering carbon to supporting marine life, underwater kelp forests are crucial to the health of the planet. Based in the Netherlands, the Kelp Forest Foundation strives to raise awareness of these vital resources while also leading important research on the benefits of kelp-centric ecosystems. kelpforestfoundation.org
Recommended by Ming Thompson, AIA, and Christina Cho Yoo, AIA, cofounders of the San Francisco-based Atelier Cho Thompson and A Rising Tide
Carl Dukrow Candles, from $38
Handcrafted by the Philadelphia-based maker Carl Dukrow, this collection of sculptural candles is composed using a blend of beeswax and soy wax that results in an odorless and long-lasting burn. "I live in an old New Haven rowhouse that's bursting at the seams with life: artwork and toys from kids, drawings and mockups from work, and all the clutter of a rich and full home," Thompson says. "So, when I bring something new into the house, I have to choose carefully: any new object must be both functional and beautiful." 54celsius.com
Kinto Day Off Tumber, $37.50
Designed for a "relaxing yet active day off," according to Kinto, this vacuum-insulated, reusable bottle holds up to 17 oz. The bottle, which features a powder-coated, stainless steel body available in a range of colors, also has a "loop at the top [that] makes it easy to carry, especially when you have a lot in your hands," notes Cho Yoo. kinto-usa.com
Give to: A Rising Tide
Founded earlier this year by a team of nine designers, including recommenders Christina Cho Yoo and Ming Thompson, A Rising Tide aims to spotlight Asian and Pacific Islanders who are shaping the built environment. Among its first initiatives? Developing a directory of API designers as well as educational workshops focused on the challenges of the API design community. arisingtide.design
Recommended by ARCHITECT staff
Wooj Pleat Lamp, $179
Shopping for the design fiend on your list? These 3D-printed table lamps come in a range of colors including emerald and amber. Shaped to evoke the movement of a pleated skirt and printed using recycled PETG, the striking luminaire is fully created in Wooj's New York studio and is compatible with any LED bulb. wooj.design
Farmmm Sculptures, from $60
Each piece in this collection of fuzzy, candy-colored sculptures, all handmade by the New York–based designer Sasha Topolnytska, delights the mind and the senses. Developed to foster inclusive play, the biomorphic pieces—Ivar, Bow, Misha, and Lolo to name a few—double as joyful design objects and furniture. farmmm.us
Give to: Washington Project for the Arts
Founded in 1975 with the aim of ensuring that creatives receive fair pay, this Washington, D.C.–based platform "allows artists to experiment without absorbing financial burdens," according to WPA. In the decades since its creation, the organization has hosted more than 500 exhibitions, 1,000 performances, and 58 public art projects. wpadc.org
Recommended by Eran Chen, AIA, founding principal and executive director of ODA, New York
MIM Studio "The Factory" Sculpture, $315
Exchanging gifts with any Brutalism lovers? Aptly fashioned from concrete and stainless steel, this 7-pound sculpture—complete with 11 stainless-steel balls that roll from top to bottom—takes its creative cues from Brutalist buildings. "This intricate marble maze is beautiful, satisfying to watch, and happens to be in concrete—one of our favorite materials," Chen says. "It would make a playful addition to any office or living room, with the added bonus of supporting a small creative studio based in Mumbai." intoconcrete.com
Give to: Win
Since its inception in 1983, Win has become the largest provider of supportive housing in New York, sheltering as many as 2,100 families on a nightly basis. Focused on serving women and children, the organization also operates transitional housing and programs such as Camp Win: a 13-week summer camp for kids experiencing homelessness. "ODA believes in designing for a more equitable urban future and supports Win's mission of providing families in need with safe, affordable housing and services aimed at breaking the cycle of homelessness," Chen says. winnyc.org
Recommended by Scott Duncan, AIA, design partner at SOM, which has offices in Chicago, New York, San Francisco, Washington, D.C, Los Angeles, Seattle, London, Hong Kong, Dubai, Melbourne, and Shanghai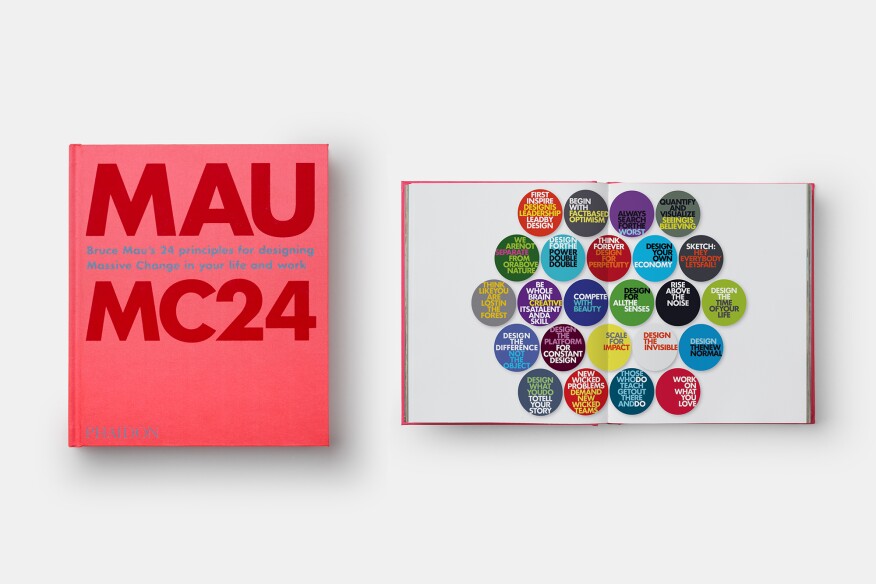 MC24: Bruce Mau's 24 Principles for Designing Massive Change in Your Life and Work, by Bruce Mau (Phaidon, 2020)
You don't have to be a designer to appreciate this thought-provoking Bruce Mau text, which Duncan calls "a must-read." The illustrated, 512-page tome is an approachable guide to using design principles to visualize and enact both personal and professional change. brucemaustudio.com
Give to: Giving What We Can
This England-based organization takes the guesswork out of donations, connecting givers with so-called "high-impact" charities and nonprofits devoted to at least one of three main causes: "improving human wellbeing, improving animal welfare, and creating a better future," according to the Giving What We Can website. "I am a big fan of the 'effective altruism' movement, which encourages those who [can] donate to make informed decisions about the organizations they support to help donations go further," Duncan says. givingwhatwecan.org
Recommended by Nader Tehrani, principal of Boston-based NADAAA
The Eames Toy, $118
"A proto-architectural toy," Tehrani says, this classic building kit—debuted by Charles and Ray Eames in 1951 and recently reintroduced by the Eames Office—comes with hardwood dowels, connection wires, and eight vinyl panels for creating all sorts of colorful, modular structures. "[It's] a way to educate through play," Tehrani adds. eamesoffice.com
Give to: IAWF
Founded in 2012, the IAWF—or Iranian American Women Foundation—champions "women who are leading women's rights today, locally and globally," Tehrani says. The group offers mentorship opportunities, a variety of scholarships for undergraduate and graduate students, a career-focused "Life Academy" program, plus leadership and networking events. iawfoundation.org
Recommended by Mark Talley, AIA, and Madison Talley, AIA, founding partners of the Ocean Springs, Miss.–based firm Tall Architects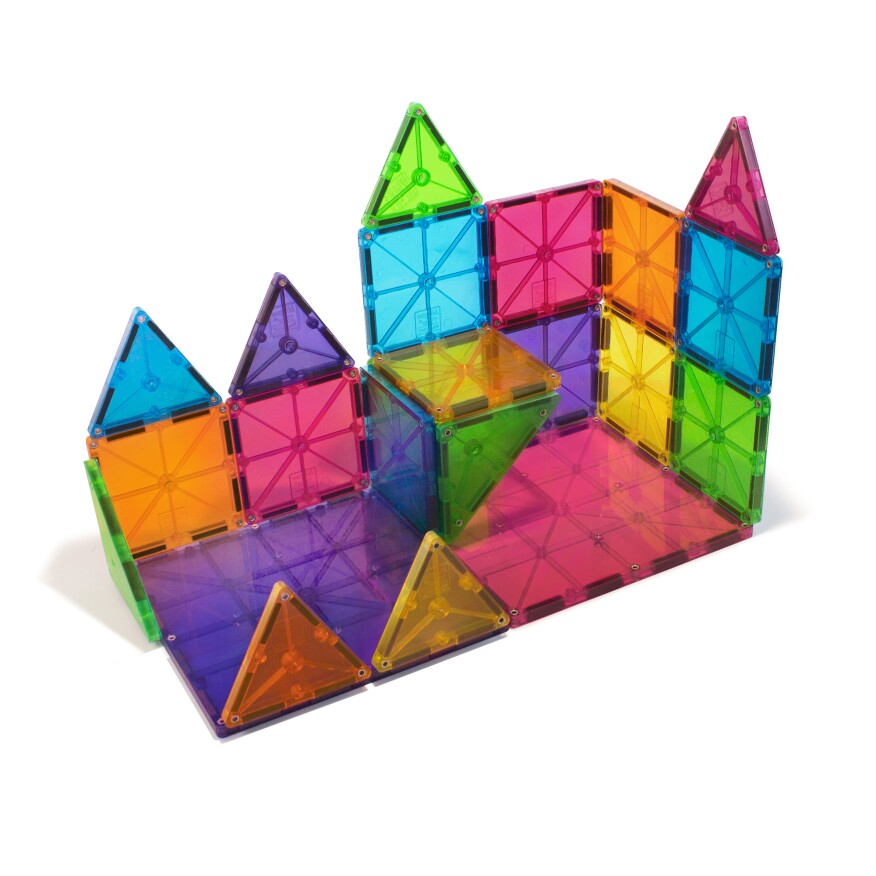 Magna-Tiles, from $119.99
These gleaming magnetic tiles let anyone follow their imaginations and construct everything from robotic prototypes to the world's next Taj Mahal. "Their functional simplicity and happy color palette make for endless building fun," explains Tall Architects. "They are intended for kids, but take it from us, they are addictive no matter your age." Made from food-grade ABS plastic, the 100-piece kit is compatible with all other Magna-Tiles sets. magnatiles.com
Roland Kiyola Piano
"Even if you never turn it on, the piano is stunning," says Tall Architects. And they're not wrong: This digital piano marries the organic appearance of its hand-crafted wood cabinet with cutting-edge technology in the form of dynamic sensing technology, according to the manufacturer. Available in walnut or pure oak finishes, the piano comes with foot pedals and an ergonomically considerate bench. roland.com
Give to: Bean Path
This Jackson, Miss.–based nonprofit provides local individuals and small businesses with a range of technical support. "From summer camps to a communal maker space to monthly 'Tech Talks', they are empowering future generations through STEAM education," Tall Architects says. beanpath.org
Recommended by ARCHITECT staff
Follies Bauhaus Set, $200
Composed of nontoxic, lightweight plastic, this modular toy was created by Chloe Varelidi, a trained architect turned toy developer. Each piece in this Bauhaus-inspired collection is recyclable and washable, and adorned in geometric patterns applied using a silk screen. playfollies.com
Field Notes Hatch Show Print, from $14.95
Developed with the iconic Nashville Hatch Show Print letterpress, this three-pack of pocket memo books is perfect for the graphic designers in your life. Each ruled, 3 1/2" × 5 1/2" notebook is bound using Horizon SPF-200L "Bookletmaker" stitcher, according to Field Notes. fieldnotesbrand.com
Recommended by Ellen Lupton, Betty Cooke and William O. Steinmetz Design chair at the Maryland Institute College of Art in Baltimore
"Don't Talk to Me Until I've Had My Abortion" Black Mug, $22
Created by The Reductress, a satirical platform founded by Beth Newell and Sarah Pappalardo, "this brilliant product captures our moment," Lupton says. The 11 oz. ceramic mug is microwave and dishwasher safe and 10% of the profits from its sale will go to the ARC Southeast Abortion fund. shop.reductress.com
Give to: Cooper Hewitt, Smithsonian Design Museum
We can't say it better than Lupton, the former senior curator of contemporary design at the Cooper Hewitt: "Support Cooper Hewitt, Smithsonian Design Museum, a brilliant institution devoted to the history and future of design." cooperhewitt.org
Need more gift ideas? Take a peek at ARCHITECT's 2021 and 2020 gift guides.