This year has relentlessly challenged designers, firms, and families in every way imaginable. Take a respite from reality by sending someone you appreciate—even the person in the mirror—a gift that brings them a slice of happiness. Here are 26 picks curated from the web browsing histories of ARCHITECT editors and contributors. For even more ideas, check out ARCHITECT's Gift Guide archive. Prices and availability are subject to change.
Art and Accessories
Foil Stamped Notecards, Block Shop ($34)
"Sending a physical thank-you note—or any thoughtful, handwritten message—is especially welcome this year. These thick, foil-stamped notecards with gold edging are an especially luxurious way to say hello." —Gideon Fink Shapiro
Put your unique architectural lettering to use by sending a handwritten note to unwitting recipients. These 4"-by-6" cards feature double-thick paper, gold edging, black foil-stamping, and bold graphics by Los Angeles textile, brand, and design studio Block Shop. Each set of six contains three patterns. Maybe keep one each for desk art. blockshoptextiles.com
Generative Pen Drawings, Andrew Heumann ($65)
"Andrew Heumann develops these unique spatial designs using architectural software. Each line is drawn by a computer-controlled drawing machine in his New York apartment, creating a robotically artisanal print." —Daniel Davis
Brooklyn, N.Y.–based Andrew Heumann was a generative artist well before the term became commonplace in the design workflow. The trained architect-turned-software developer creates 9"-by-12" prints on acid-free Bristol paper by coding his desired composition in Grasshopper and then deploying the open-source app Inkscape to control his AxiDraw pen plotter. shop.andrewheumann.com
Ruth Asawa Forever Stamps, U.S. Postal Service ($11 per sheet of 20 stamps)
Recommended by Katie Gerfen
The renowned sculptor (1926–2013) faced more adversity than most of us will ever know, cultivating her talent while she, her family, and approximately 120,000 other people of Japanese ancestry—mostly American citizens—were forced to live in internment camps during World War II. Asawa still found enough beauty in the world to inspire her art, using wire to generate space and ethereal forms. 10 designs per sheet. store.usps.com
Mt. Rushmore Women in Arch Clothing, Extra Office ($28)
"This T-shirt proudly celebrates some of the pioneering female architects while putting proceeds toward amplifying the next generation." —Daniel Davis
For anyone in need of a wardrobe staple, this cotton T-shirt by architectural critic Ryan Scavnicky with architectural designer and artist Kristen Mimms Scavnicky (also partners in life) lists the surnames of iconic architects, including Kazuyo Sejima and Lina Bo Bardi. Even better, 100% of each sale's proceeds go to a woman- and Black-owned small business "dedicated to increasing the visibility of women and people of color in architecture and academia," according to the studio's website, whose intentional retro design will send visitors back to the 1990s. extraoffice.co
The Olivetti Pattern Series Notecards, Princeton Architectural Press ($16.95)
"These vintage Olivetti patterns are a mesmerizing way to say hello." —Gideon Fink Shapiro
For the sentimental design- and paper-lover, a handwritten note will never lose its charm. This set of 12 5.5"-by-7" off-white cards is printed with one of four red-and-black patterns made on the 1963 Oliveitta Lettera 32 mechanical typewriter, the instrument of choice of novelist John Cheever, musician Leonard Cohen, and director Francis Ford Coppola. papress.com
Typodarium 2021, Verlag Hermann Schmidt ($24)
Selected by ARCHITECT art director Robb Ogle
For the typophile on your list, this 4.8"-by-3.4" tear-off calendar offers font inspirations and trends for every day of the new year. Rendered in 12 bright colors, the daily calendar features 365 fonts created by 256 designers from 33 different countries, capturing some of the hippest serifs and sans serifs around. With double-sided printing, the compact but dense calendar comes packaged in a solid, collectible box for saving your favorite typeface discoveries. cooperhewitt.org
Entertainment
Agate Puzzle, Nervous System ($TK)
"Perfect for snow days, Nervous System's laser-cut plywood generative design puzzle is artwork you can play with." —Terri Peters
For the puzzle-lover on your list, there's nothing quite like this colorful, 180-piece agate and geode puzzle. Crafted by Palenville, N.Y.–based generative design and 3D printing studio Nervous System, the mazelike gemstone puzzle is cut from ¼"-thick birch plywood using a computer algorithm that creates variations in its shape, pieces, and image. Each puzzle is unlike any other. n-e-r-v-o-u-s.com
Blockitecture Garden City Mega Set, Areaware ($75)
"I recommend any toy by Areaware for adults and children, but especially the Blockitecture Garden City Mega Set." —Evelyn Lee, AIA
A whimsical take on massing models, these architectural building blocks created by Chicago native and designer James Paulius come in array of hexagonal, cylindrical, and conical shapes. Stack, cantilever, and array them to form towers, pavilions, or Stefano Boeri's Forest City. Made of New Zealand pine and finished with water-based paint. For ages 6+. areaware.com
Blinks Combo Set, Move 38 ($198 $179 through December)
"Blinks deliver three things we've all likely craved this year: joy, togetherness, and technology that unites people more than it divides them." —Michael Caton, AIA
We might be spending more time in our homes this winter, which means one thing: more game nights. Blinks—sets of smart, magnetic, and illuminated hexagonal tiles—transitions tabletop games into the digital world, offering tactile, reactive pieces programmed with games drawn from a growing online library. From classics such as Whack-a-Mole to puzzles and team strategy games, the colorful Blinks will strengthen your reflexes and perhaps your familial ties (solo games abound too). move38.com
Books
A Slice through America: A Geological Atlas, Princeton Architectural Press ($60 hardcover)
"Another potential antidote to our current annus horribilis might be David Kassel's A Slice through America: A Geological Atlas (Princeton Architectural Press, 2020). In 50 plates, with many enlarged details, the New York–based artist takes us across the continent with an almost fetishistic devotion to the cross-sectional presentation of topography. A guaranteed crowd-pleaser among geology nerds and designers looking for inspiration from the graphical depiction of our planet's structure." papress.com —Edward Keegan, AIA
All We Can Save, One World, $29
"I just ordered All We Can Save: Truth, Courage, and Solutions for the Climate Crisis. It's a collection of essays from women at the forefront of the climate movement that people found it hopeful and inspiring." –Lindsay Rasmussen, Assoc. AIA
Save a loved one from doomscrolling by gifting them this collection of essays, poems, and art from 40-plus leaders at the forefront of climate action (One World, 2020). The contributors—all women—are experts in a wide gamut of industries, including science, agriculture, law, and tech. Making the design community proud are Scape founder and landscape architect Kate Orff and Mott Macdonald regenerative design lead Amanda Sturgeon, FAIA. allwecansave.earth
The Little Architect's Alphabet: Learning Your Letters Through Design, CreateSpace Independent Publishing Platform ($15)
"Even adults can learn something new from this hand-illustrated book! A great introduction to various details in architecture." —Evelyn Lee, AIA
For the budding architect, this alphabet book by Indianapolis-based L2 Design founder Lora Teagarden, AIA, offers an early primer in design. Each letter gets a two-page spread with related architectural terms starting with that letter along charming illustrations. You may even find yourself disinterring rarely used words from your lexicon: Q for quoin, anybody? amazon.com
Lo-TEK, Design by Radical Indigenism, Taschen ($50)
"Beautifully crafted and deeply researched, Julia Watson's expansive Lo-TEK, Design by Radical Indigenism is a global exploration of nature-based technologies, infrastructures, and systems rendered in hand-drawn illustrations and full-color photographs." —Timothy A. Schuler
New York–based, Australian-born architectural designer, activist, and academic Julia Watson believes ignoring wisdom gathered over millenia about living symbiotically with nature will result in designs that are inherently unsustainable. In this 420-page book filled with breathtaking photography and illustrations, Watson describes examples of nature-based innovations created by Indigenous communities in 18 countries that are living harmoniously with nature. Watson has pledged to donate a portion of the book's proceeds to support several of the communities featured in her book. taschen.com
Modern in the Middle: Chicago Houses, Monacelli Press 1929-1975 ($60)
"In Modern in the Middle: Chicago Houses 1929-1975, [Chicago-based architectural historians and preservationists] Susan Benjamin and Michelangelo Sabatino present a far broader consideration of high modernism in the Chicago area than has generally been acknowledged. Local aficionados will recognize some of the entries, but even the most provincial will find new work to inspire from more than four dozen projects discussed." —Edward Keegan, AIA
Along with pages of stunning photographs and illustrations, Modern in the Middle (Monacelli Press, 2020) highlights Chicago architects lesser known than Frank Lloyd Wright and Ludwig Mies van der Rohe, such as Lawrence Kenny, John Vinci, and Paul Schweikher. monacellipress.com
Pieometry, William Marrow Cookbooks ($32.50)
"Lauren Ko's cookbook Pieometry is a must-read. I'm asking for this even though I'm not planning to attempt a single one of them." —Terri Peters
For the aesthete who has joined the baking bandwagon, this 304-page guide of pie and tart recipes and luscious photography might take their hobby to the next level. Written by novice baker-turned-Instagram star Lauren Ko, Pieometry (William Marrow Cookbooks, 2020) brings together a collection of Ko's sweet and savory baked goods that feed both "the eye and the palate," thanks to their incredibly intricate designs. From "Once in a Tile" (a pumpkin, black-sesame pie with a geometric black sesame crust) or "Squiggle Room" (a grilled cinnamon pineapple pie adorned with curling bits of butter crust), the vivid imagery is something to savor regardless of your taste in desserts. harpercollins.com
Gadgets
Pen Type-B, CW&T ($160)
"Every architect has a favorite pen. The Pen Type-B by CW&T will probably be crowned the undisputed favorite of your dear architect friend." —Michael Caton, AIA
What is a gift guide for architects without a pen or two? This minimalist writing instrument for designers and illustrators alike is precision-machined with a subtle flat face to keep it from rolling off your desk. Release nervous energy by pulling the pen from its sleeve to a satisfying pop, and then let it descend home like a piston. Manufactured with a 20-step process in a multigenerational shop in Vermont, the 9.8mm diameter, 125mm pen comes with a brass (shown), titanium, or black Cerakote-coated titanium sleeve and with a black Pilot Hi-Tec-C cartridge with a 0.3mm tip. Additional line widths and more than 30 colors are available from Hi-Tec. cwandt.com
Safari Fountain Pen, Lamy ($19.99)
"The Lamy Safari is my favorite fountain pen. I always have at least two with different colors within reach." —Evelyn Lee, AIA
And for pen pick number 2: The Lamy fountain pen is something of a cult classic among members of the design community. Available in 11 colors, from white to the more bold aquamarine and mango, the sleek, German-made pen has a stainless steel nib, ABS plastic casing, and a spring-loaded clip. Plus, it comes with a box of ink cartridge refills. lamy.com
Pro 2 Color Sensor, Nix Sensor ($349)
"I'm fascinated with the Nix Color Sensor." —Blaine Brownell, FAIA
For the designer still toting swatch books and fan decks, this ping-pong ball–sized gadget can find a match for any hue in its library of 200,000+ paint colors from brands worldwide. Hold the device over the source color and the sensor will send its findings to Nix's mobile app. Nix also offers a Mini 2 sensor ($99) for tighter budgets and a professional QC sensor ($999) for bigger budgets. Through Dec. 31, use the code architect15 for 15% off the purchase of the Nix Mini 2 and Pro 2 units. nixsensor.com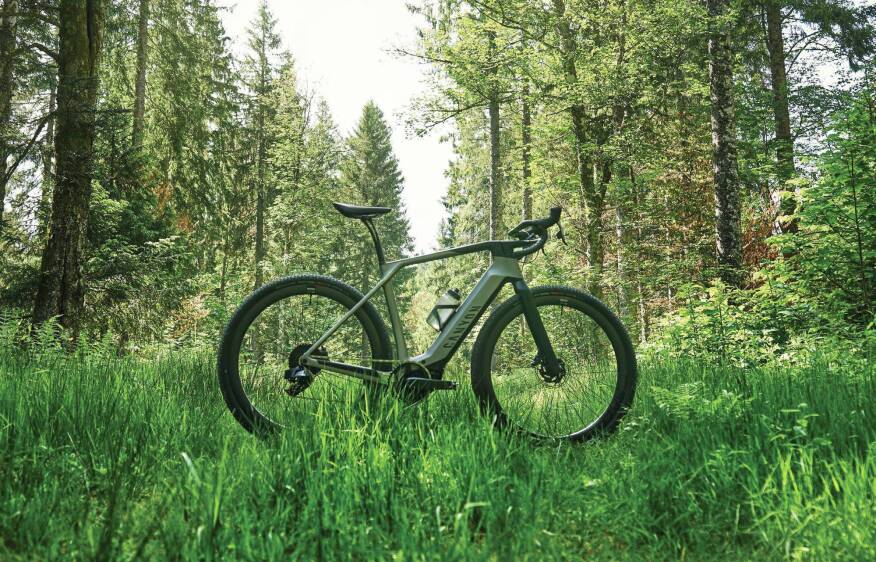 Grail:On E-Gravel Bike, Canyon Bikes (from $5,799)
"Bike. Red Dot Winner. One-fifth the price of a car. No parking issues. German." —Murrye Bernard, AIA
Designed to travel along trails, roads, and other rugged terrain, Grail:On is the ideal option for anyone looking to minimize their carbon footprint—and get an outdoor workout that makes the gym even more a foregone memory. The bike's upright design is intended to reduce back and shoulder pressure while its electric Bosch motor can triple pedaling force and lowers its center of gravity for added stability on hills. Available in seven sizes suitable for individuals between 5'4" and 6'4" tall. canyon.com
Housewares
Concrete After Lighting Scented Candle, D.S. & Durga ($65)
"Created by the architect-turned-perfumer Kavi Moltz and her husband, David, this candle allows you to savor the familiar fragrance of wet concrete inside and without a mask on." —Daniel Davis
A luxury candle with notes of curing concrete might seem strange, but it's perfect for anyone in the AEC industry yearning for a construction site visit. Produced and designed by the trained architect and self-taught perfumer duo, this hand-poured candle pairs top notes of electricity and panic grass with base notes of concrete and steam. Like all D.S. & Durga candles, it comes with "Hot City Jams," a Spotify playlist tailored to the candle scent. dsandurga.com
Skateboard Art, Accessories, and Furniture, AdrianMartinus Design (from $25)
"These handcrafted products give new life to things that would otherwise be in a landfill—plus they're made by a small business and successful in form and function." —Wanda Lau
Even broken skateboards can have new purpose in life. This Calgary, Canada–based studio and winner of the 2020 Etsy Design Awards painstakingly sands, cleans, and cuts discarded skateboards—themselves typically made of seven-ply maple—before turning them into jewelry (from $25), housewares, game boards, wall art, and mid-century modern–inspired furniture pieces, such as this solid walnut credenza with sliding tambour doors and an oil and hard wax finish (approximately $4,400). Custom sizes available; the Stackton stands 31" tall, 60" long, and 20" deep. adrianmartinus.com
Well Planter Light, Object Interface (from $345)
"Turn your kitchen into a winter garden with this light by Canadian office Object Interface. Since my desk is practically in my kitchen, I have two of these biophilic lights to make my coffee breaks greener and happier." —Terri Peters
Add light and life to the indoors with this duo pendant and planter. The 12"-diameter, 4"-deep basin, finished in glossy white powdercoat, is ideal for herbs or cascading plants. The machined brass spindle, either left unfinished (shown) or plated in nickel, is both elegant and functional, serving as a fulcrum for balance. Fits an E26 or E27 lamp (not included). objectinterface.ca
Clam Shell Lamp, Charlap Hyman & Herrero ($1,450)
Recommended by Ian Volner
From where else but Brooklyn, N.Y., this handmade, molded plastic, bivalve mollusk–inspired luminaire by Charlap Hyman & Herrero and Green River Project can become a hanging conversation piece or casually appear to wash up on your living room floor. The 7.5" tall, 17" wide, and 21.5" deep fixture is made from recycled materials. Order soon because they have a lead time of four to six weeks and a limited run of 50. ch-herrero.com
Architectural Concrete Planter, Rosenwood Studio (from $12)
"I plan to create a miniature, mental getaway by imagining myself inside this minimalist house planter surrounded by moss." —Wanda Lau
Handcrafted by a nature-loving Maryland couple with backgrounds in construction and art, these concrete planters for succulents or a mini-Zen garden can offer a sense of peace to your desktop or counter. With three architecture-related designs—a staircase, house with a pathway, and topography model—the 3.5"- or 4.5"-square planters are made from a bespoke concrete mix and hand-sanded. A drain hole is optional. Plants not included. rosenwoodstudio.com
Donate
World Monuments Fund
"My husband Peter suggested an extension of what we do for more and more of our friends, which is to suggest donations. It might be appropriate for architects, for instance, to donate to the World Monuments Fund or to their local component or the national AIA foundation." —Aaron Betsky
NOMA, Architects Foundation, The Hip-Hop Architecture Camp, and Colloqate
Recommended by Edward Mazria, FAIA, and Wanda Lau
Support organizations that are endeavoring to make architecture more equitable, including the National Organization of Minority Architects, which has several active initiatives; Architects Foundation, which offers scholarships and programming for budding designers; The Hip-Hop Architecture Camp, which introduces underserved middle school and high school students to design and planning firsthand; and Colloqate, which advocates for the design of equitable space as part of the movement to advance racial, cultural, and economic justice.
Note: This article has been updated since first publication to update the sale price of Blinks.