Looking for holiday gifting ideas for your clients, colleagues, and loved ones? ARCHITECT has compiled a list of high-design products that runs the gamut in price point, scale, and application.
The Colors of Michael Graves by Princeton Architectural Press ($24.95)
Developed in a collaboration with Michael Graves Architecture & Design, in Princeton, N.J., this set contains 24 colored pencils inspired by late architect's work. Graves, known for creating bold, postmodernist architecture, "was [also] widely admired for his mastery of color," according to the publisher's press release. The set comes in a colorful, textured box with a lift-off lid that pulls out of a glossy white sleeve that features a grid of die-cut squares—recalling Graves' penchant for arranging windows in a grid pattern. papress.com
Frank Lloyd Wright Wooden Dominoes Set by Frank Lloyd Wright Trust ($29.99)
This set of 28 double-sided dominoes makes a perfect gift for any Frank Lloyd Wright enthusiast. The set features the conventional dots on one face and on the other face, Frank Lloyd Wright motifs used extensively throughout his residential designs, from the furniture to the stained glass windows. The collectible wooden box with a sliding lid measures 7" long, 3" wide, and 4" tall. (Limited time promotion for ARCHITECT readers: Save 15% off the retail price by entering code A15 at the checkout.) shopwright.org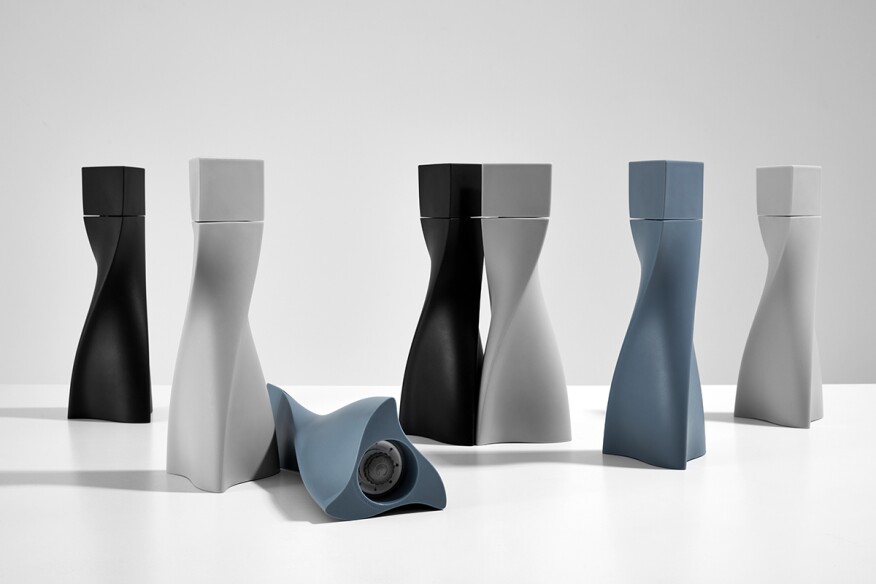 Duo Salt & Pepper Grinder by Zaha Hadid Design (£75; approximately $99)
As part of Zaha Hadid Design's 2018 collection, the Duo Salt and Pepper Grinder set can add whimsy to any dining table and kitchen. This set recalls the sculptural, twisting forms for which Hadid's architecture became known. Featuring a curved, triangular base, each piece twists upward to its three-pointed apex. Measuring 9.3" tall and 3.3" wide, the Duo set is made of polypropylene, with ceramic grinders, and comes in black, white, and blue, with a matte finish. zaha-hadid-design.com
Glow Placemats by Chilewich ($20 each)
Designed by Chilewich founder and creative director Sandy Chilewich, the Glow collection of placemats features a digitally printed design on translucent woven vinyl fabric. Each Glow mat is made with Chilewich's phthalate-free TerraStrand yarns that contain vegetable-based compounds. Suitable for indoor and outdoor use, the 13.5"-wide, 18.5"-long mats come in three colors—indigo (shown), orchid, and guava—all with an antimicrobial protection. chilewich.com
Skeleton by Nendo (from €461.90; approximately $530)
Inspired by an X-ray image of a skeleton, this set of flatware was designed by Japanese studio Nendo for Antwerp, Belgium–based design store Valerie Objects. Minimalist in shape, design, and construction, Skeleton may curry favor with designers who appreciate clean lines, minimalist forms, and functional objects. The 16-piece set comprises forks, knives, spoons, and teaspoons, and can be stored using the stand and wall hook that accompanies the gift box. Available in stainless steel (€461.90; approximately $530) and black physical vapor deposition (€578.20; approximately $663) coating. valerie-objects.com
KARVD Wood Panels by House Van Holland ($75)
House Van Holland's KARVD collection of modular, carved wooden panels are made in California from responsibly forested birch plywood. The decorative panels can be used as headboard and wall art, and be mixed and matched with the other designs in this collection. The 1.13"-thick, 19.75"-square KARVD panels come with a proprietary mounting system that enables their rotation in four directions, and can be paired with the company's slim-profile cabinet boxes. Each package includes one panel, drywall-mounting hardware, and a backing plate. Available in brown and gray. karvdwalls.com
Abstract Cushion Pink by Tom Dixon ($140)
As part of Tom Dixon's limited-edition Super Texture 2018 collection, the Abstract Cushion Pink is hand tufted in Varanasi, India, using traditional carpet weaving techniques. The thick, comfy-looking 17.7"-square cushion cover is made from New Zealand wool, backed with natural linen, and filled with duck down. Inspired by urban perspective sketches and the 1970s' decorative hippie wall hangings, the cushion's bold and saturated color block pattern is part of a supersized watercolor painting by British textile designer Josephine Ortega, who collaborated with Dixon on this project. tomdixon.net
Blooming Flower Vase by Aisato (¥18,000; approximately $158)
Zaha Hadid Architects' former lead designer Ai Sato has designed this curvaceous ceramic vase using computational software. Handmade using traditional pottery techniques, the Blooming Flower Vase comprises four petals, each twisting upward toward the apex. Measuring 3.1" wide, 5.9" high, and 3.1" in diameter, the vase comes in matte white. aisatodesign.com
Inside North Korea by Oliver Wainwright ($60)
Featuring 200 photographs from London-based Guardian architecture and design critic and photographer Oliver Wainwright, this book (Taschen, 2018) offers a rare look into notoriously isolated North Korea and its cinematic architecture. Largely rebuilt after the Korean War, starting in 1953, the Hermit Kingdom's architecture is truly a "socialist fairyland"—an official slogan of North Korea. It is Stalinist, Brutalist, monumental ... and surprisingly colorful. "My photographs are an attempt to offer a glimpse inside North Korea, revealing Pyongyang to be a place of candy-colored apartment buildings and pastel-hued interiors—a series of precisely composed stage sets that could be straight out of a Wes Anderson movie," Wainwright said in a press release. taschen.com
Chalk Drawers by Nikolas Bentel Designs ($28)
Created by New York–based designer Nikolas Bentel, these architectural drawing tools are 3D-printed chalk pieces that can entertain architects, designers, their kids, or anyone who wants to add complexity to their sketches. Produced on a quinary number system, each Chalk Drawer is "designed specially to either make dots, circles or straight lines." nikolasbentelstudio.com
Treya Lite by Moshi (from $209.95)
Moshi's new modular bag is a three-in-one carryall inspired by the classic European satchel. Made of vegan leather, Treya Lite is a backpack, a messenger bag that can fit everything from a 13" laptop to a smartphone, portable batteries, charging cables, documents, and books. Available in jet black and caramel brown, this carryall bag can be mixed and matched with the optional Treya Clutch ($44.95) and Treya Shoulder Strap ($29.95)—both available in multiple colors and sold separately. moshi.com
For more options, check out our Architects' Gift Guide for 2018, as well as our 2017, 2016, and 2015 gift guides.